Cover Your Health in 5 mins
Compare Premium.
Buy Now.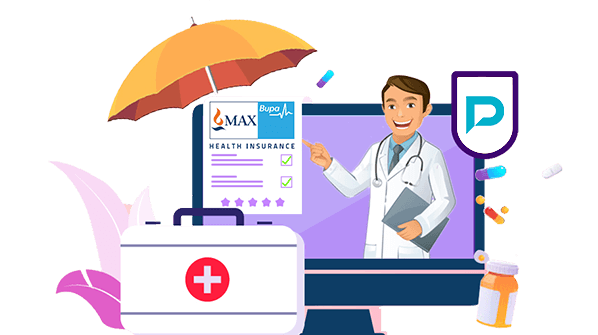 Compare

Individual Health Insurance Plans
Niva Bupa Health Companion Plan
Niva Bupa Health Companion plan is a comprehensive plan that safeguards you as well as your family members from expenses arising out of personal accidents, critical illnesses, and other health emergencies. The policy is available in four different variants: Variant 1, 2, 3, and Family First, each with its own set of coverage features and sum insured options. Overall, this plan is affordable and reliable, with all of the smart features you'll need to protect every member of your family from medical emergencies.
Policy Tenure
1/2 Years
Sum Insured
Rs. 2 Lakhs To Rs. 1 Crore
Waiting Period

For Variant 1: 48 Months

For Variant 2, Variant 3, & Family First: 36 Months (For Pre-Existing Diseases), 2 Years (For Specific Diseases/Conditions), 30 Days (Initial Waiting Period)

Number Of Family Members Covered
19 Members Covered Under 'Family First' Variant
Standout Features Of Niva Bupa Health Companion Plan
Following are some of the key features of the Niva Bupa Health Companion plan:
Refill Benefit: If you are looking for a policy that may offer you 100% of your minimum sum insured, then look no further than Niva Bupa Health Companion plan. Under the policy, if the policyholder's base sum insured gets exhausted, the plan offers 100% of your base sum insured as a refill benefit. 
Four Variants: The plan has four different variants to cover the needs of different individuals. The policyholder can choose from these plans as per their needs and requirements. The four variants are Variant 1, Variant 2, Variant 3, and Family First. 
Cashless Health Check-Ups: The policyholder can choose a test based on his/her needs and have cashless health check-ups under the plan. 
Any Age Enrolment: This plan is available to individuals at any age. One can also add a newborn (at least 91 days old) to this plan at the time of renewal. 
Lifelong Renewability: Regardless of the claim history of the insured person, the plan offers a lifelong renewability option with no extra loadings. With the lifetime renewability feature, the insured can assure that the policy can be renewed indefinitely, regardless of age or other restrictions. This ability to renew the plan for the rest of your life provides much-needed lifelong health insurance coverage.
No Claim Bonus: For every claim-free year, the insured will get 20% more sum insured at the time of renewal. This amount can rise up to a maximum of 100%. This amount does not reduce in case of a claim.
Tax Benefits: Under Section 80 D of the Income Tax Act, 1961, you can avail of tax benefits by buying this policy. The taxpayers can enjoy a deduction up to Rs. 25,000 from his/her taxable income for the premium of the health insurance plan. The amount is Rs. 30,000 for senior citizens.
Coverage Details Of Niva Bupa Health Companion Plan
Category
Status
Variant 1
Variant 2
Variant 3
Family First
In-Patient Care
Covered Up To Sum Insured
Pre-Hospitalization Expenses
30 Days
Post-Hospitalization Expenses
60 Days
Hospital Cash
Rs. 1000 Per Day
Rs. 2000 Per Day
Rs. 4000 Per Day
Rs. 1000 OR Rs. 2000 Per day
Vaccination For Animal Bite
Up To Rs. 2,500
Up To Rs. 5000
Up To Rs. 7,500
Up To Rs. 5000
Daycare Treatment
Covered Up To Sum Insured
Organ Donor Transplant
Covered Up To Sum Insured
Emergency Ambulance
Up To Rs. 3,000
Room Rent
Up To SI
Alternative Treatments
Covered Up To SI
Domiciliary Hospitalization
Covered Up To SI
Modern Treatments
Covered Up To SI
What's Not Covered By Niva Bupa Health Companion Plan?
The following expenses are not covered by the plan:
Maintenance of artificial life
Disaster & conflict
Hazardous activities
STDs (Sexually Transmitted Diseases)
Ancillary hospital charges
External congenital anomaly
Sleep disorders
Expenses related to convalescence & rehabilitation
Cosmetic and plastic surgery
Dental treatment
Eyesight & optical services
Puberty and menopause-related disorders
Treatment received outside India
Unrecognized physician or hospital
Behavioral, Neurodevelopmental, and Neurodegenerative Disorders
Circumcision
AYUSH treatments, except Ayurveda, Unani, Siddha, and Homeopathy
Experimental or unproven treatment
Reproductive medicine & other maternity expenses
Robotic-assisted surgery
Substance-related and addictive disorders:
Unlawful activity
HIV, AIDS, and related complex
Hospitalization not justified
Inconsistent, irrelevant, or incidental diagnostic procedures
Mental and psychiatric conditions
Non-medical expenses
Obesity and weight control programs
Off-label drug or treatment
Premium Calculation Of Niva Bupa Health Companion Plan
It is important to know the premium amount for Niva Bupa Health Companion plan before purchasing it. Therefore, we have calculated the premium amount for the plan concerning various parameters, such as sum insured, age, gender, etc.
Name
Age (Years)
Gender
Sum Insured
Premium
 
 
 
 
Variant 1
Variant 2
Variant 3
Gopal Yadav
29
Male
Rs. 3 Lakhs
Rs. 6,073
Rs. 7,703
Rs. 11,016
Sushmita Kumari
41
Female
Rs. 15 Lakhs
Rs. 7,741
Rs. 10,131
Rs. 14,887
Ram Sharma
61
Male
Rs. 20 Lakhs
Rs. 22,592
Rs. 28,528
Rs. 40,630
Dimple Khanna
24
Female
Rs. 30 Lakhs
Rs. 5,573
Rs. 7,067
Rs. 10,103
Frequently Asked Questions