Cover Your Health in 5 mins
Compare Premium.
Buy Now.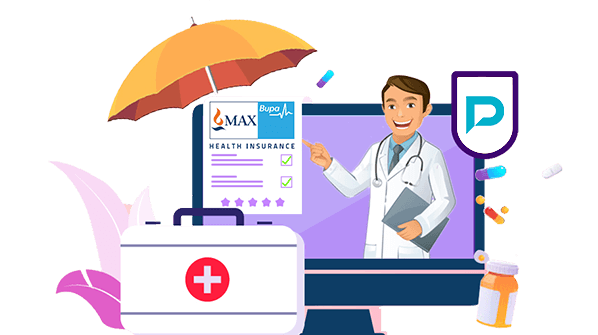 Compare

Individual Health Insurance Plans
Niva Bupa Health Recharge Plan
Niva Bupa Health Recharge, formerly Max Bupa Health Recharge, is a cost-effective Super Top-up plan that provides extra coverage if your current health plan is already in use. You, your spouse, and up to four dependent children are all covered under the plan. Additionally, the plan covers treatments for mental disorders and offers you the choice of critical illness coverage or personal accident coverage. The policy offers a variety of options for the sum insured per policy year, ranging from Rs. 2 Lakhs to Rs. 95 Lakhs.
The policy covers a variety of healthcare costs, including in-patient hospitalization costs, pre- and post-hospitalization costs, organ transplant costs, e-consultation costs, daycare costs, alternative treatments, and emergency ambulance costs. The major highlight of the policy is that it can cover up to 2 Adults and 4 Children.
By paying an additional premium at the time of purchasing the policy, you can also include add-on covers under it to further improve coverage. Personal accident insurance, critical illness insurance, and adjustments to room rent are among them.
Read on to know more about the Niva Bupa Health Recharge plan in detail!
Here are the eligibility criteria for the Niva Bupa Health Recharge Plan.
Parameters
Detail
Annual Aggregate Deductible

E-saver: 10k, 25k, 50k

Super Top-up: 1L to 10L in multiples of 1L

Loyalty Additions

Increase of 5% of expiring Base Sum Insured in a Policy Year; maximum up to 50% of Base Sum Insured; no increase in sub-limits

(This benefit is applicable only for Base Sum Insured up to Rs. 25 Lac)

Personal Accident cover

– Accident Death

– Accident Permanent Total Disability

– Accident Permanent Partial Disability

Options available: 1Lac, 2Lacs, and 5Lacs to 50Lacs

(in multiple of 5Lacs)

Critical illness cover
Options available: 1 Lac to 10 Lacs (in multiples of 1 Lac)
Emergency Ambulance
Up to Rs.1,500 per hospitalization
Modification in room rent
Single private room; covered up to Sum Insured (optional available only for deductible more than 50,000)
Pharmacy and diagnostic services
Available through the empanelled service provider
HIV / AIDS
Covered up to Sum Insured
Key Features and Benefits of Choosing Niva Bupa Health Recharge Insurance Plan
The following are the key features and benefits of considering the Niva Bupa Health Recharge Plan.
In-Patient Care (Hospitalization)
When you or a member of your insured family needs hospital care, the plan will pay for the associated medical expenses.
The policy covers the cost of hospital lodging up to one private room without a cap on room rental fees (for a Sum Insured of Rs. 5 lacs and above).
Pre & Post Hospitalization Medical Expenses
The pre-and post-hospitalization medical costs associated with illness or injury are covered by the policy. Before you are admitted to the hospital and for 90 days following your release are the treatment periods that are covered. In-patient Care hospitalization, daycare, or domiciliary hospitalization claim acceptance by Niva Bupa is a requirement for this.
Modifications in Room Rent
With this add-on, you can request coverage for a single private room up to the sum insured, which is covered.
Protection against accidental death, permanent total disability due to an accident (loss of limbs or sight, loss of independence), and permanent partial disability is provided by personal accident insurance.
Providing the organ is for the insured person's use, medical costs for an organ donor's inpatient treatment related to the harvesting of the donated organ are also covered.
Up to the amount insured, receive in-patient care through AYUSH (Ayurveda, Unani, Siddha, and Homoeopathy).
Additionally, the plan covers the ambulance costs to transport the insured to the closest hospital after an emergency. These costs are covered up to a maximum of Rs. 1,500 per hospitalisation, but only if the in-patient claim has been approved.
Assured Policy Renewal for Life
You will always be a customer of the Health Recharge plan as long as you continue to pay the premiums. Based on your claim history, the plan guarantees you are renewable for life without any additional loadings.
Niva Bupa believes that rather than chasing the claim settlement, you should concentrate on the care of your loved ones. As a result, their customer service department handles the processing of all claims directly.
The policy offers a 15-day free look period during which you can cancel your plan and give a reason if you're not satisfied.
If you are found to have one of the critical illnesses listed in the policy document, critical illness insurance will pay you a lump sum amount. If you live for 30 days after receiving a critical illness diagnosis while the policy is in effect, you may be eligible to receive the policy benefit.
Exclusions Under the Niva Bupa Health Recharge Plan
The following are the exclusions under the Niva Bupa Health Recharge Plan.
Ancillary hospital charges
Artificial life maintenance
Hazardous activities
Behavioral, Neurodevelopmental, and Neurodegenerative Disorders
Circumcision
AYUSH treatments, except inpatient treatments taken under Ayurveda, Unani, Siddha, and Homeopathy.
External congenital anomaly
Sleep disorders
Convalescence & rehabilitation
Conflict & Disaster
Cosmetic and reconstructive surgery
Dental/oral treatment
Eyesight & optical services
HIV, AIDS, and related complex
Hospitalisation not justified
Experimental or unproven treatment
Inconsistent, irrelevant, or incidental diagnostic procedures
Mental and psychiatric conditions
Non-medical expenses
Off-label drug or treatment
Puberty and menopause-related disorders
Reproductive medicine & other maternity expenses
Obesity and weight control programs
Robotic-assisted surgery, light amplification by stimulated emission of radiation (LASER) & light-based treatment
Sexually transmitted infections & diseases
Substance-related and addictive disorders:
Unlawful activity
Treatment received outside India
Unrecognized physician or hospital
Premium Illustration Of Niva Bupa Health Recharge Plan Work
Let's use Mr. Lokesh Meena, a sales executive who was born and raised in New Delhi, as an example. Because medical costs are on the rise and he wanted to be protected from high medical costs while also saving money, he was looking to buy a specific health insurance plan. After doing a lot of research, he ultimately decided to go with the Niva Bupa Health Recharge insurance plan.
| | | | |
| --- | --- | --- | --- |
| Age | Choose your cover | Deductible | Premium Amount |
| 30 Years | 10 Lakhs | Rs. 300000 | Rs. 1, 605 per annum |
| 30 Years | 40 lakhs | Rs. 1000000 | Rs. 782 per annum |
How to Buy Niva Bupa Health Recharge Plan?
Every person should have health insurance because of the rising cost of medical care and the rapid rise in lifestyle diseases among Indians. Anybody, at any time, can experience a medical emergency that has an emotional and financial impact on them. Due to lower premiums and fewer health issues, financial advisors advise purchasing a health insurance plan like the Niva Bupa Health Recharge Insurance Plan early in life.
If you are looking to buy a Niva Bupa Health recharge plan, listed below are the steps that you will need to follow.
Use your laptop or smartphone to visit the official website of Niva Bupa health insurance.
On the home page, locate the "Health Insurance" section at the top. Hover your mouse over it and then find "Health Recharge". Click on it.
The moment you click on it, the plan page will open. On the right-hand side, you will see a blue box, asking you "ARE YOU AN EXISTING POLICYHOLDER"?. Click on yes or No. Then, click on "Next".
By clicking the "Next" button after that, you will be prompted to enter your name, mobile number, and email address.
You must choose your city of residence in the fifth step. After entering your age, click "Next" once more.
You must choose your coverage amount in the sixth step. The next step is to select your deductible amount. When you're finished, select "Get a Quote".
Then a table will become available. To prevent inconsistencies, double-check all the information you have previously entered. Click the "Continue" button after that.
You will see a table with all the information, including the insured amount, the premium amount, your name, and more, in the following step. Click "Purchase Plan" after that.
After you click it, a payment page will appear, asking you to use your credit/debit card, Nett Banking, EMI, or UPI to make the payment. Choose the approach as you see fit. Click "Proceed to Pay" after that.
You will receive a message and the policy documents on your registered mobile number and email address in the final step.
How to File a Claim for Your Niva Bupa Health Recharge Plan?
Let's take a look at the both health insurance cashless and reimbursement claim process below:
Cashless Claim: Settlement Process:
The step-by-step procedure to avail of a cashless claim under the Niva Bupa Health Recharge insurance policy is as follows:
Get admitted to a hospital in your insurance provider's network, then get in touch with the insurance help desk there.
Present your insurance company's health card as proof of identity.
You will receive a pre-authorization form from the hospital and have your identity confirmed by the facility.
Complete and turn in the pre-authorization form at the insurance desk.
The network hospital will send Niva Bupa the pre-approval application.
According to the terms and conditions of your Health Recharge health insurance policy, the insurance company will examine your pre-authorization request along with the submitted documents and approve your cashless claim. A field doctor may also be appointed by some insurers to facilitate the cashless claim authorization process.
Pay for any medical costs that are not covered by your health insurance at the time of discharge.
Following the terms and conditions of your policy, Niva Bupa will pay the claim amount directly to the hospital.
Reimbursement Claim Settlement Process:
To file a reimbursement claim under a Niva Bupa Health Recharge insurance policy, follow the instructions below:
Tell Niva Bupa as soon as possible about your hospitalization.
Attend a hospital for treatment
Pay all hospital bills upon discharge and gather all paperwork.
Send your health insurance provider all the necessary paperwork.
The insurance company will examine all the supporting documentation and handle the claim by your health insurance policy's terms and conditions.
The claim amount will be paid to you after your claim has been approved.
Documents Required to File a Claim
The following documents should be submitted to file a Niva Bupa Health Recharge insurance claim:
Health Card (Health Insurance ID Card)
All the consultation papers provided by the doctor
Completely filled-in claim form
All the investigation and diagnosis reports, such as CT scans, X-rays, blood reports, etc.
Hospital bills with payment receipts
Medico-Legal Certificate (MLC) or/and FIR (in case of accidents)
Invoices of the pharmacy with respective prescriptions and payment receipts
Any other relevant documents requested by the insurer
How to Renew Your Niva Bupa Health Recharge Insurance Plan?
Your plan will expire if you don't renew it promptly. Then, if you choose to purchase a health insurance policy again, you might be required to pay higher premiums or even be denied coverage entirely due to your age or health. Therefore, it is best to renew your policy on time to keep it in effect. The procedures to renew your Niva Bupa Health Recharge Insurance Plan are as follows.
Navigate to Niva Bupa Health Insurance's official website.
Then find the "Renew" tab at the top. Toggle it on.
A page requesting your 14-digit policy number will then appear. After entering your policy number, select "Renew Now" by clicking.
On the following page, you will find your policy's specifics. Then, to renew your policy once more, you must pay the premium.
Once the payment has been received, a message will be sent to the registered email address and mobile number.
Frequently Asked Questions