Cover Your Health in 5 mins
Compare Premium.
Buy Now.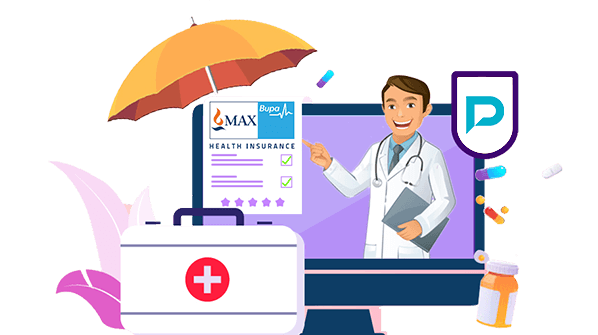 Compare

Individual Health Insurance Plans
The Niva Bupa (previously Max Bupa) Heartbeat Family First policy is a comprehensive health insurance program that will pay for the medical costs of you and your family in the event of an accident or illness. It's the ideal strategy for your family's health protection. These variants offer sum insured options ranging from Rs. 5 lakh to Rs. 1 crore. Depending on your needs, you can purchase the policy as an individual or family floater. By paying an additional premium, you can add many add-on benefits to this policy for additional coverage. There are two variations of the plan: Gold and Platinum.
Continue reading to know more about the Niva Bupa Heartbeat Plan's eligibility criteria, features, benefits, exclusions, buying process, claim process, renewal steps, and more.
Here are the eligibility criteria for the Niva Bupa Heartbeat insurance plan.
Parameters
Details
Health check-up
Up to ₹ 2,500
Loyalty Bonus
10% increase in sum insured annually
Alternative Treatment
Covered up to the Sum Insured
Day Care Treatment
Covered up to the Sum Insured
Living Organ Donor Transplant
Covered up to the Sum Insured
Vaccination of the newborn baby
Covered until newborn baby completes one year, vaccinations as per defined list
Emergency Ambulance

Network Hospital: Covered up to Sum Insured

Non-network Hospital: Covered up to ` 2,000 per event
Key Features and Benefits of the Niva Bupa Heartbeat Insurance Plan
The following are the key features and benefits of choosing the Heartbeat plan from Niva Bupa.
Covers the Entire Family: The entire family can be covered by the Niva Bupa Heartbeat Policy for hospitalization and other medical costs, as stated in the policy document. From newborns to senior citizens, the entire family is covered by a single plan.
Unique Features: The Heartbeat Platinum plan stands out from other health plans thanks to several distinctive features. Some of these features include international Cashless Treatment for nine serious illnesses, including organ transplant and cancer, through the insurance company's network in 190 foreign nations (treatment in the United States and Canada is not included). Additionally, this plan includes coverage for OPD costs.
Maternity Benefits: As long as the adult female is covered for at least two consecutive policy years, maternity benefits cover costs related to complications that could occur before, during, or after delivery. One of the shortest waiting periods in the insurance sector is 24 months.
Assured Renewal for Life: One of Niva Bupa Heartbeat Policy's most notable advantages is that it can be renewed indefinitely, unlike some other health plans that have a maximum maturity age. According to the policyholder's claim, the renewability benefit is applicable, free of any additional loadings, so long as the policyholder continues to pay premiums.
Hospital Cash: Depending on the chosen sum insured amount, you can receive daily cash payments of Rs. 1,500, Rs. 3,000, or Rs. 6,000 with this add-on.
Personal Accident Cover: If you are 18 years of age or older, this add-on offers you coverage in the event of an accident on an individual basis.
Newborn baby cover: This coverage is offered until the following policy year without requiring any additional premium payments. If you decide to keep insuring the child for the following policy year, the costs of vaccinations are also covered.
Geographical Scope for International Coverage: The USA and Canada will be covered for emergency hospitalization, emergency medical evacuation, and specific illness coverage with this add-on.
Premium Waiver: If the policyholder, who is also the insured person, passes away or develops a specific illness, the premium waiver add-on will waive once.
Daycare treatments covered: The insurer will also cover these expenses if you stay in the hospital for less than 24 hours instead of having a minor procedure. Consider minor surgeries, chemotherapy, or dialysis.
Inpatient Care: Significant and serious illnesses and accidents that necessitate hospitalization are covered by inpatient benefits.
Alternative Treatments: The insurance plan will cover any medical costs related to the insured person's hospitalization for Inpatient Care while receiving Ayurvedic, Unani, Siddha, or Homoeopathic treatment.
Pre-Hospitalization & Post-Hospitalization: The policy also offers cover for pre-hospitalization and post-hospitalization costs. The maximum Limit for Pre-Hospitalisation Medical Benefits is 60 days while the maximum Limit for Post Hospitalisation Medical Benefits is 90 days.
E-consultation: You can get an endless number of phone or online consultations with this add-on. The benefit is offered across all variations. By paying an additional premium at the time of purchasing the policy, you can add this add-on to the coverage.
What are the Exclusions Under the Niva Bupa Heartbeat Plan?
Listed below are the things not included under the Niva Bupa Heartbeat insurance plan.
Pre-Existing Conditions:
Customers with the Gold & Platinum plan must wait 24 months of continuous coverage from the first policy start date, while customers with the Silver plan must wait 48 months of continuous coverage from the first policy start date before pre-existing conditions can be covered.
Permanent Exclusions:
Ancillary Hospital Charges
Autoimmune Disorders
Hazardous Activities
Artificial life maintenance
Behavioral, Neurodevelopmental, and Neurodegenerative Disorders
Circumcision
Conflict & Disaster
Congenital Anomaly, Hereditary or Genetic Disorders
Convalescence & Rehabilitation
Complementary & Alternative Medicine
Dental/oral treatment
Eyesight & Optical Services
Cosmetic and Reconstructive Surgery
Mental and Psychiatric Conditions
Experimental/Investigational or Unproven Treatment
HIV, AIDS, and related complex
Hospitalization not justified
Inconsistent, Irrelevant, or Incidental Diagnostic procedures
Non-Medical Expenses
Obesity and Weight Control Programs
Off-label drug or treatment
Reproductive medicine & other Maternity Expenses: Any assessment or treatment method
Puberty and Menopause Related Disorders
Robotic Assisted Surgery, Light Amplification by Stimulated Emission of Radiation (LASER) & Light-based Treatment
Sleep disorders
Substance-related and Addictive Disorders
Sexually transmitted Infections & diseases
Traffic Offences & Unlawful Activity
Treatment received outside of India
Unrecognized Physician or Hospital
Any costs or expenses specified in the list of expenses are generally excluded.
Premium Illustration Of Niva Bupa Heartbeat Plan
Let's use Mr. Ayush Rana, a native of New Delhi and a manager of a software-based company, as an example. Because medical costs are on the rise and he wanted to be protected from high medical expenses while also saving money, he was looking to buy a specific heart care plan. After doing a lot of research, he ultimately decided to go with the Niva Bupa heartbeat Insurance plan.
| | | | | |
| --- | --- | --- | --- | --- |
| Age | Is Any of The Insured Members in Your Family Is Medical Practitioner? | Choose your cover | opt for a co-payment option | Premium Amount |
| 30 Years | No | 15 Lakhs | No | Rs. 38, 134 Per annum |
| 30 Years | No | 50 Lakhs | No | Rs. 60, 097 Per annum |
How to Buy the Niva Bupa Heartbeat Plan?
The obvious benefit of purchasing heart insurance like the Niva Bupa Heartbeat insurance plan is the financial relief it offers the policyholder and their family. Anyone can develop heart or cardiac diseases, and many people hesitate to get the right care because of the costs involved. Since the insurance covers all major expenses, it is much simpler to seek and receive the best treatment when you have heart insurance.
Visit the official website of Niva Bupa health insurance.
On the home page, locate the "Health Insurance" section at the top. Hover your mouse over it and then click on "View All Plans" in the corner. Click on it.
The moment you click on it, the plan page will open. Then, under "Our Most Popular Health Insurance Plans", scroll to the right and find the "Heartbeat" plan. Click on "Know More" to open the plan page.
On the right-hand side, you will see a blue box, asking you to enter your name. Enter it carefully. Then, click on "Next".
After that, you will need to enter your mobile number. Click on "Next". Then, enter your active email Id. Again, click on "Next.
In the fifth step, you will need to select your city of residence. Enter your age and then again click on "Next".
After that, you need to choose your coverage amount. Once you have done it, click the "Next" button. Then, you will see co-payment options, select your co-payment %. Then, click on "Next".
Then, click on the "Get a Quote" button. Ensure you cross-check all the details you have entered previously to save both your time and effort. After that, click on the "Continue" button.
In the next step, you will see a table, showing all the details like the sum insured, premium amount, your name, and more. Then, click on "Purchase Plan".
After clicking it, you will be taken to a payment page where you can use your credit/debit card, Nett Banking, EMI, or UPI to make the payment. Choose the approach as you see fit. Click "Proceed to Pay" after that.
You will receive a message and the policy documents on your registered mobile number and email address in the final step.
Claim Settlement Process of Heartbeat Family First Plan
Cashless Claim:
Look over the list of hospitals and pick the one that is closest to your home. Selecting a hospital within 72 hours of the treatment is advised.
You should carry your Niva Bupa (formerly Max Bupa) Health Card or your policy number along with any of the following documents to make identification easier.
The pre-authorization form will be submitted to the insurance provider, in this case, Niva Bupa (Formerly known as Max Bupa), after your identity has been verified by the hospital that has been granted authorization.
Niva Bupa (previously Max Bupa) will communicate the decision to the network hospital within 30 minutes; no additional paperwork will be needed on your end.
After being admitted to the hospital, you can sign the paperwork, bills, and forms once you are released. A relationship manager is assigned to help you through the claim process, which further simplifies the process.
According to the policy documents, payments are made for pre-approved medical care.
Reimbursement Claim:
When a policyholder for Niva Bupa Heartbeat hasn't been admitted to one of the insurer's network hospitals, this is applicable.
If you are hospitalized at a non-network hospital, you must first make a payment to the facility before submitting a claim for reimbursement.
Be sure to carefully gather all receipts, bills, doctor's prescriptions, medical reports, and the hospital's discharge certificate in original form.
Complete the claims form accurately, and send it to Niva Bupa with the aforementioned supporting documentation, as well as your current Proof of Identity and Proof of Age.
After reviewing the reimbursement claim, the insurer decides whether to accept it or reject it. According to the terms and conditions of the policy, it may also choose to raise a question or reject the request.
The insurer credits your bank account with the approved reimbursement amount.
Document Required For Claim Process
Niva Bupa Heartbeat Policy number
How to Renew Your Niva Bupa Heartbeat Insurance Plan?
Your Niva Bupa Heartbeat insurance will expire if you don't renew by the renewal deadline. This means that any claim made during that time will be outright rejected by the insurer, and you will be responsible for paying for your hospital bills.
The following are the steps to follow to renew your Niva Bupa Heartbeat Insurance Plan.
Go to the official website of Niva Bupa Health Insurance.
After that, locate the "Renew" tab at the top. Click on it.
A page will then appear on which you must enter your 14-digit policy number. Click "Renew Now" after entering your policy number.
On the following page, you will find the specifics of your policy. After that, you must pay the premium to renew your policy once more.
A message will be sent to your registered email address and mobile number once the payment has been received.
Frequently Asked Questions