Cover Your Health in 5 mins
Compare Premium.
Buy Now.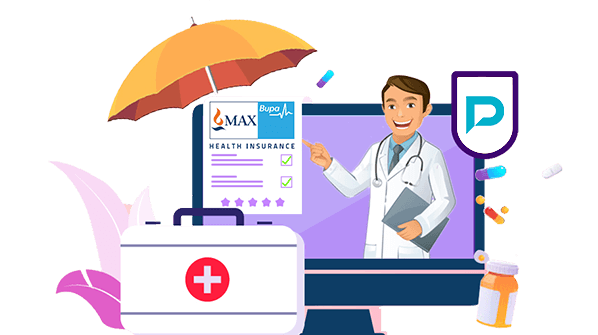 Compare

Individual Health Insurance Plans
Niva Bupa Money Saver Plan
The Niva Bupa (Formerly known as Max Bupa) Money Saver plan combines the Health Recharge and Health Companion plans, which provide stronger protection for the health of the individual and family. This health insurance plan has all the necessary features to give the insured access to quality healthcare and serves as a safeguard against rising medical costs in the present. One of the major highlights of the plan is that you will receive comprehensive coverage of Rs. 30 Lakhs starting at Rs. 620 per month. It comes in 2 variants- Individual and Family.
Read on to know more about the Niva Bupa Money Saver Plan in detail!
Here are the eligibility criteria for Niva Bupa Money Saver Insurance Plan.
Parameters
Details
In-patient Care
Covered up to the sum insured
Health Check Up
Annual check-up
Hospital Cash
Up to ₹ 1,000/- per day
Cover starts from
₹ 10.5 lakhs – ₹ 1 crore
Premium starts from
₹ 9,504 /Yr
100% Refill benefit
Yes

All Day Care

Procedures

Covered

Yes
Features and Benefits of Choosing Niva Bupa Money Saver Plan
Here are the key features and benefits of choosing the Niva Bupa Money Saver insurance plan.
In-patient Hospitalization Treatment: The Money Saver Family Floater plan from Niva Bupa (previously known as Max Bupa) pays for all in-patient hospitalization costs when the insured person is hospitalized for longer than 24 hours.
Pre-Hospitalization Expenses: This health insurance policy pays expenses up to the predetermined limit for a maximum of 30 days before hospitalization.
Post-Hospitalization Expenses: Up to the defined sum insured, all medical expenses are covered for a period of 60 days following hospital discharge.
Day Care Treatment: Day care procedures requiring less than a 24-hour hospital stay are covered by Niva Bupa (formerly Max Bupa) Money Savers Health Insurance.
Domiciliary Hospitalisation: Due to the lack of a hospital bed or the doctor's recommendation, the policy will pay for the medical care you receive at home.
Organ Donor Expenses: If the organ donor is someone whose organ was made available by and in compliance with The Transplantation Of Human Organs (Amendment) Bill, 2011, the company shall pay for the medical expenses of the organ donor, including surgery to remove the donor's organs.
Tax Benefits: The premiums paid for the term insurance policy may be tax-deductible by Section 80C of the Income Tax Act of 1961. Any policy proceeds are also tax-free according to Section 10(10D) of the Income Tax Act.
Free-Look Period: If the conditions and terms outlined in the policy documents do not satisfy the customer, they have the option of returning the policy to the insurer with the proper justification. The policy documentation must be returned within 30 days of receiving it. The regular premiums paid by the policyholder will be refunded, less the stamp tax and medical exam costs.
Renewal For Life: Based on your claim history, the policy guarantees that you can renew it for life without any additional loadings.
Main Exclusions Under the Niva Bupa Money Saver Plan
The following are the things not excluded under the Niva Bupa Money Saver Plan.
Artificial life maintenance
Behavioral, Neurodevelopmental, and Neurodegenerative Disorders
Ancillary hospital charges
Convalescence & rehabilitation
Cosmetic and reconstructive surgery
External congenital anomaly
Eyesight & optical services
Experimental or unproven treatment
Off-label drug or treatment
Puberty and menopause-related disorders
Treatment received outside of India
Reproductive medicine & other maternity expenses
Obesity and weight control programs
Sexually transmitted infections & diseases
Hospitalisation not justified
Inconsistent, irrelevant, or incidental diagnostic procedures
Substance-related and addictive disorders
Robotic-assisted surgery, light amplification by stimulated emission of radiation (LASER) & light-based treatment
Unrecognized physician or hospital
Generally, excluded expenses – Any costs or expenses specified in the list of expenses generally excluded.
Premium Illustration Of Niva Bupa Money Saver Plan
Let's use the New Delhi native and digital marketing manager Pritam Pankaj as an example. He was looking to purchase a specific health insurance plan because medical costs are rising and he wanted to be protected from significant medical costs while also saving money. He ultimately chose to go with the Niva Bupa Money Saver Insurance policy after doing extensive research.
| | | | |
| --- | --- | --- | --- |
| Age | Is Any of The Insured Members In Your Family Is Medical Practitioner? | Choose your cover | Premium Amount |
| 30 Years | No | 15 Lakhs | Rs. 9, 740 per annum |
| 30 Years | No | 30 Lakhs | Rs. 10, 141 per annum |
How To Buy Niva Bupa Money Saver Plan?
Medical care is expensive, especially in the private sector, so it's crucial that you and your family purchase a health insurance policy like the Niva Bupa Money Saver Plan. A hospital stay can break the bank and ruin your finances. If the person who brings in the money is now lying in a hospital bed, things will get even harder. Paying a small annual premium would alleviate your stress in the event of medical emergencies and allow you to avoid all of this.
A good health insurance plan like Money Saver from Niva Bupa will typically pay for expenses incurred for doctor consultations, medical test costs, ambulance fees, hospitalization costs, and, to a certain extent, post-hospitalization recovery costs. If you want to buy the Niva Bupa Money Saver Plan, listed below are the steps to follow.
Visit the official website of Niva Bupa health insurance.
On the home page, locate the "Health Insurance" section at the top. Hover your mouse over it and then find "Money Saver". Click on it.
The moment you click on it, the plan page will open. On the right-hand side, you will see a blue box, asking you to enter your name. Enter it carefully. Then, click on "Next".
After that, you will need to enter your mobile number. Click on "Next". Then, enter your active email Id. Again, click on "Next.
In the fifth step, you will need to select your city of residence. Enter your age and then again click on "Next".
Then, a question will be asked to you, "IS ANY OF THE INSURED MEMBERS IN YOUR FAMILY IS MEDICAL PRACTITIONER ?". If there is any, select "Yes", otherwise "No".
After that, you need to choose your coverage amount. Once you have done it, click on "Get a Quote".
Then, a table will open. Ensure you cross-check all the details you have entered previously to avoid discrepancies. After that, click on the "Continue" button.
In the next step, you will see a table, showing all the details like the sum insured, premium amount, your name, and more. Then, click on "Purchase Plan".
After clicking on it, you will see the payment page asking you to make the payment using your credit/debit card or Net banking, EMI, or UPI. Select the method at your convenience. Then, click on "Proceed to Pay".
In the final step, you will receive a message along with the policy documents on your registered mobile number and email ID.
How to File a Claim for Your Niva Bupa Money Saver Plan?
Perhaps the most crucial element of insurance for a business is getting a claim paid. After all, if the worst occurs, a business should anticipate a claim to be honoured to make things right after having paid its premium. Insurance claims are settled in stages, and there are important steps businesses can take to ensure their claim is settled quickly.
The claim can be settled in two ways:
Cashless Claim:
Let the insurance provider, i.e. Niva Bupa know in advance if you need a planned treatment. At least three to four days should pass before giving the warning to go to the hospital. It is necessary to fill out and submit a pre-authorization form to the insurance provider. This form serves as a notification of a claim. If hospitalization is anticipated, the form must be completed and delivered three to four days beforehand.
Then, the insurance company should be notified and the pre-authorization form should be submitted within 24 hours of the insured person being admitted to the hospital due to a medical emergency.
Following the submission of the pre-authorization form, Niva Bupa evaluates the claim based on the form and permits cashless claim settlements.
The insured person can then receive the necessary treatments without having to pay the associated medical expenses.
Submit to the insurance provider all medical bills, reports, and other related paperwork.
Original, dated proofs of any additional expenses that are being paid for should be submitted to Niva Bupa.
Reimbursement Claim:
Let your insurer (in this case, Niva Bupa) know about the hospital's specifics and the medical treatment you received.
Receive care at the hospital of your choice.
Pay off all hospital bills.
Make sure to get all original hospital records, including the discharge summary, diagnostic and laboratory reports, prescriptions, payment receipts, etc.
Print out the health insurance claim form from our website and accurately fill it out. Make sure the hospital signs and seals all the documents. For a list of typical documents needed to submit a claim, see the section below.
Submit your request for a reimbursement claim online or in writing to the business.
Submit the health insurance claim form and all supporting documentation for the hospitalization.
Niva Bupa will settle your claim by the terms and conditions of the policy if your claim is approved. It will explain the reason for the rejection if your claim is rejected.
Documents Required:
All the listed documents should be original:
Claim application Form – Duly filled and signed
investigation/diagnostic reports/X-Ray
Copy of FIR in case of an accidental emergency
Original medical bills and scripts
Relevant Investigation reports (Radiology, Pathology, etc) confirming the diagnosis
KYC – PAN card and Hospital Registration Card
Consultant's certificate with diagnosis (including the date when symptoms first occurred)
Certificate from the attending doctor/physician stating the condition of the patient
How To Renew Your Niva Bupa Money Saver Insurance Plan?
A health insurance plan typically has a one-year expiration date, and you must renew it. You have the chance to examine the coverage and alter the health plan as necessary. As your lifestyle changes, you may occasionally need to modify the plan's add-ons or increase or decrease the sum insured. After choosing your coverage, you must determine the most practical method for renewing your policy. The contactless online method seems like the best choice to save both your time and effort.
The following are the steps to follow to renew your Niva Bupa Money Saver Insurance Plan.
Go to the official website of Niva Bupa Health Insurance.
After that, locate the "Renew" tab at the top. Click on it.
Then, you will see a page asking you to enter your 14-digit policy number. Once you have entered your policy number, click on "Renew Now".
After that, you will see the details of your policy on the next page. Then, you need to make the premium payment to renew your policy again.
Once you've made the payment, a message will be sent to your registered email ID and mobile number.
Frequently Asked Questions