Cover Your Health in 5 mins
Compare Premium.
Buy Now.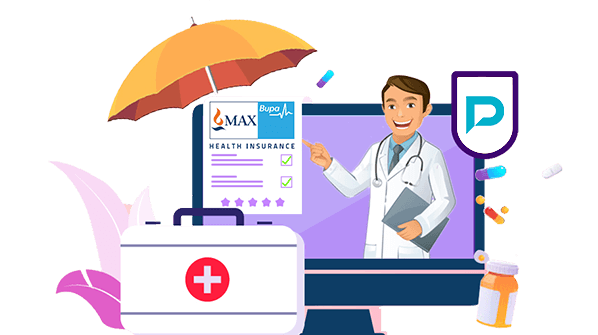 Compare

Individual Health Insurance Plans
Niva Bupa Senior First Policy
While retirement age is called the golden days of life, it is also the age of medical vulnerability as people are usually exposed to various types of health risks. But to ease your problem, Niva Bupa Health Insurance has come up with their Senior First plan that not only helps you to stay fit and healthy but also provides different unique benefits such as Reassure benefit, annual aggregate deductible, direct claim settlement facility without any third party, and many more. Let us know more about this plan.
Parameters 
Details 
Entry age

Minimum – 61 years

Maximum – 75 years

Plan type
Individual and Family Floater
Plan variants
Gold and Platinum
Base sum insured

Gola plan – Rs. 5 lakhs and Rs. 10 lakhs

Platinum plan – Rs. 5 lakhs, Rs. 10 lakhs, Rs. 15 lakhs, Rs. 20 lakhs, and Rs. 25 lakhs

Family combination
1 adult or 2 adults (self and spouse). 2 adults policy can be taken on an individual basis or floater basis sum insured.
Waiting period

General – 30 days

Pre-existing diseases – 24 months

Specified illnesses and procedures – 24 months

Renewal
Lifetime renewability
Coverage Details of Niva Bupa Senior First Plan
As this plan is specially designed for senior citizens, the benefits are also made keeping in mind their requirements. To know more details about the plan, keep an eye on the following table.
Parameters 
Key Highlights 
In-patient care, day care treatment, pre and post-hospitalization treatment, alternative (AYUSH) treatments, domiciliary hospitalization (treatment at home), organ donor expenses
Covered up to the sum insured
Room category

Gold plan – Shared room

Platinum plan – Single private room

Pre-hospitalization coverage
Up to 60 days
Post-hospitalization coverage
Up to 180 days
Modern treatments
Covered up to the sum insured but that comes with a sub-limit of Rs. 1 lakh per claim on a few robotic surgeries.
Emergency road ambulance cover
Up to Rs. 2000 per hospitalization
Emergency air ambulance cover
Up to Rs. 2,50,000 per hospitalization
No Claim Bonus (NCB)

Gold plan – Not applicable

Platinum plan – Increase of 10% of expiring base sum insured in a policy year only if it is a claim-free year that is subject to a maximum limit of 100%. In the case of a claim, there will be no reduction in the No Claim Bonus.

ReAssure benefit

Gold plan – Not applicable

Platinum plan – Unlimited up to the base sum insured. Applicable for both same and different illnesses.

Health check-up

(It is done annually and starts from day 1. It is applicable for pre-listed tests only.)

Gold plan – Not applicable

Platinum plan – The limit is up to Rs. 500 for every Rs. 1 lakh base sum insured.

Maximum limit:

For individual policy – Rs. 5000 per insured

For family floater policy – Rs. 10,000 per insured

Co-payment
50% (10% additional co-payment will be applicable if the treatment is taken in a higher room category than the eligible room category.
Other discounts
For staying healthy, you can get up to a 20% discount at the time of renewal.
Optional Benefits
Annual Aggregate deductible (This is an aggregate amount in a year that is incurred by the insured person during the hospitalization, which is not paid by the insurer)
Rs. 1 lakh, Rs. 2 lakhs, Rs. 3 lakhs, Rs. 4 lakhs, and Rs. 5 lakhs
Modification in co-payment

0%, 20%, 30%, or 40%.

Alternatively, you can choose a deductible amounting to 1/5th of your base sum insured.
Exclusions of Niva Bupa Senior First Policy
Without knowing the exclusion of an insurance policy, you should not buy that product as this ignorance may land you in a difficult situation, in the future. So, to have a comprehensive idea of this plan, here are exclusions for which the insurer does not compensate.
Expenses related to the investigation, evaluation, or any kind of diagnostic tests that are not related to the present medical condition are excluded from the policy benefits.
If the patient is enforced to have bed rest and does not receive any medical treatments, that will also fall under the category of exclusion.
The costs of dietary supplements and substances without a prescription, including but not limited to vitamins, minerals, organic substances, etc. are permanently excluded from the policy.
If you receive any treatment that is unrecognized, unauthorized, or illegal, the company does not take responsibility for that.
If your treating doctor, medical practitioner, or surgeon does not have a legal license and is not registered, you will not get any compensation for the incurred expenses.
Any treatment arising out of the consumption of drugs, alcohol, or any kind of intoxicating substance will be excluded from the policy.
Expenses arising out of the treatments of sterility, infertility, and maternity costs will not be compensated by the insurer.
If you take part in any kind of hazardous activities, or adventurous games such as skiing, para-gliding, mountaineering, etc., and you receive any injury arising out of it, the policy will not cover those expenses.
Plastic surgery, any procedure for gender treatments, and cosmetic surgery fall under the category of exclusion.
The following health conditions or procedures are not covered by the Senior First plan – Circumcision, External Congenital Anomaly, sexually transmitted Infections & diseases (other than HIV / AIDS), sleep disorders, and dental or oral treatments.
 Self-inflicted injury, suicide, or suicide attempts are excluded as well.
Niva Bupa Senior First Policy Premium
Calculating the premium for your policy and evaluating that is an important part of choosing a suitable plan for yourself. Therefore, for your better understanding of the plan, here is an example.
Suppose, Mr. Bose a 66-years-old, Mumbai based senior citizen has bought Niva Bupa Senior First Plan for himself and his wife. Let us find out, how much premium he has to pay for different sum insured options for the chosen data.
Type of policy
Number of people covered
Age of the insured persons
Plan variant
Base sum insured
The payable premium for 1 year
Premium break-up
Family Floater
2 adults

Mr. Bose -66 years

Mrs. Bose – 64 years

Platinum Plan
Rs. 10 lakhs
Rs. 45,356

Actual premium – Rs. 45,356

Base premium – Rs. 38,437

GST (18%) – Rs. 6919

Rs. 15 lakhs
Rs. 54,968

Actual premium – Rs. 54,968

Base premium – Rs. 46,583

GST (18%) – Rs. 8385

Rs. 20 lakhs
Rs. 63,521

Actual premium – Rs. 63,521

Base premium – Rs. 53,831

GST (18%) – Rs. 9690
Frequently Asked Questions