Cover Your Health in 5 mins
Compare Premium.
Buy Now.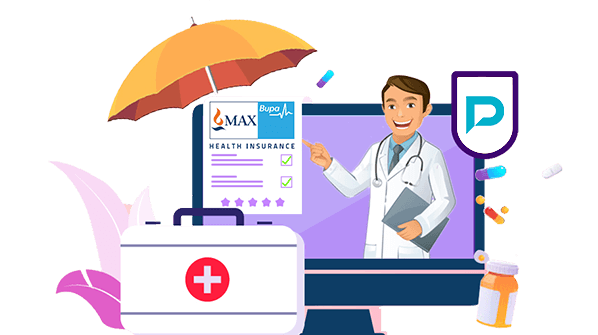 Compare

Individual Health Insurance Plans
Niva Bupa Super Saver Policy
Niva Bupa Super Saver Plan is a health insurance policy that covers your complete family. It provides coverage of up to Rs. 1 crore in the event of any hazards occurring during the policy period. The biggest highlight of the insurance plan is that when you opt for a multi-year payment, you can avail a discount of 7.5% on the 2nd year's premium. On the other hand, you will get an impressive 15% discount on the 3rd year's premium.
This policy has features like unlimited online or teleconsultation with your doctor, alternative treatments cover, pre-hospitalization and post-hospitalization cover, hassle-free claims process & annual health check-ups. The policy is further categorized into Individual and Family options.
Read on to know everything you need to know about Niva Bupa Super Saver
| | |
| --- | --- |
| Parameters | Values |
| Age | Minimum- 18 Years, Maximum- 65 Years |
| Coverage | Rs. 10.5 Lakhs- Rs. 1 Crore |
| Affordable Premium Starting | Rs. 9,214 per year |
What Are The Key Features And Benefits Of Niva Bupa Super Saver?
The following are the features and benefits of Niva Bupa Super Saver.
Annual Health Check-up: One of the major benefits of choosing the Bupa Super Saver policy is that you will likely get the facility of annual check-ups available from the second policy year onwards.
Pre & Post Hospitalisation Medical Expenses: Another feature of choosing the policy is that the policy covers pre and post hospitalization expenses with a coverage of up to the amount of sum insured.
Alternative Treatments: With the insurance policy, you will get comprehensive coverage for treatments under Ayurveda, Unani, Siddha, and Homeopathy up to Sum Insured.
Hassle-Free Claims: If you think that the policy is only confined to covering treatment, then you need to know about the feature of the hassle-free claim settlement process. When you choose the policy, you will get 30-minutes of cashless claim processing and in-house claim settlement. And the best part is that there will be no co-payment at the time of claim.
E-Consultation: Last but not the least, you will get access to unlimited tele/online consultations, allowing you to get the best medical advice over the call or via online methods.
What Will You Get With Niva Bupa Super Saver Plan?
Product Benefit Table
Base Sum Insured (SI) per Policy Year (in Lacs)
INR 1Cr.
In-Patient Treatment
Covered up to the sum insured
Nursing Charges for Hospitalization as an inpatient excluding Private Nursing charges
Medical Practitioner's fees, excluding any charges or fees for Standby Services
Intravenous fluids, blood transfusion, injection administration charges, and/or consumables
Cost of prosthetics and other devices or equipment if implanted internally during surgery
Operation Theatre charges
Intensive Care Unit charge
Pre-Hospitalization Medical Expenses
Post-Hospitalization Medical Expenses
Day Care Treatment
Domiciliary Treatment
Alternative Treatment
Living Organ Donor Transplant
Room Rent (per day)
Single Private Room
Emergency Ambulance
Up to INR 2,000 per hospitalization
Pharmacy and diagnostic services
Available through our empanelled service provider
Health Checkup
Annual, from 2nd policy year onwards
Mental Disorders Treatment
Covered as per Policy terms and conditions
e-Consultation
Unlimited tele/online consultations
Co-payment
No co-payment applicable
HIV / AIDS
Covered as per Policy terms and conditions
What Are Exclusions Of the Niva Bupa Super Saver?
Here's the list of the exclusions of the Niva Bupa Super Saver.
Investigation & Evaluation
Change-of-Gender treatments
Cosmetic or Plastic Surgery
Rest Cure, rehabilitation and respite care
Obesity/ Weight Control
Hazardous or Adventure sports
Breach of law
Conflict & Disaster
External Congenital Anomaly
Excluded Providers
Refractive Error
Unproven Treatments
Birth control, Sterility and Infertility
Unrecognized Physician or Hospital
Maternity Expenses
Circumcision
(Please note that the foregoing is only a limited list of policy exclusions. The full list of exclusions can be found in the policy contract.)
Permanent Exclusions For Critical Illness Cover (If Opted)
Unless otherwise stated in the Policy, the firm is not obliged to make any payment under Critical Illness Cover that is directly or indirectly caused by, based on, arising out of, or in any way traceable to any of the following.
AYUSH Treatment: Any covered Critical Illnesses diagnosed and/or treated by an AYUSH-trained Medical Practitioner.
Conflict & Disaster: Treatment for any injury or illness caused directly or indirectly by nuclear or radioactive emissions, war or war-like conditions (whether declared or not), rebellion (armed resistance to a government or leader), or acts of terrorism.
External Congenital Anomaly: External Congenital Anomaly screening, counselling, or treatment.
Cosmetic and Reconstructive Surgery: Any Critical Illnesses resulting from treatment done solely to improve one's look for cosmetic or psychological reasons.
Permanent Exclusion For Personal Accident Cover (If Opted)
If the claim is traceable to or based on, arises out of, or is directly or indirectly connected to any of the following, the firm will not be obligated to make any payment under any benefits under the Personal Accident Cover:
Whether the insured person is medically sane or mad, suicide or self-inflicted injury.
Treatment for any damage or disease caused directly or indirectly by nuclear or radioactive emissions, war or war-like conditions (whether declared or not), rebellion (armed opposition to an established government or leader), or acts of terrorism.
During peacetime, service in the armed forces or any police organisation of any country, whether at war or peace, or service in any force of an international body, or participation in any naval, military, or air force action
Any change in the profession after the policy's inception that increases our risk if it is not acknowledged and endorsed by us on the policy's schedule.
Assaulting someone, committing a crime, or breaking the law with the purpose to commit a crime.
Taking or absorbing any intoxicating liquor, drug, stimulant, medication, sedative, or toxin, whether intentionally or unintentionally, except as recommended by a medical practitioner other than the policyholder or an insured person.
Aviation/marine participation, excluding as a passenger in an aircraft/watercraft allowed by the relevant legislation to transport such people between established airports or ports.
Engaging in or participating in professional/adventure sports or any dangerous pursuits, such as bungee jumping, paragliding, hang gliding, ballooning, parachuting, skydiving, mountain or rock climbing requiring the use of guides or ropes, potholing, abseiling, deep-sea diving using a hard helmet and breathing apparatus, polo, snow, ice sports, hunting, and so on.
Any sickness or ailment of the body or mind, unless the condition originates directly as a result of an accident within the policy period. This exclusion, however, does not apply to requests for the Permanent Partial Disability payment.
Premium Calculation of Niva Bupa Super Saver
| | | | | | | | |
| --- | --- | --- | --- | --- | --- | --- | --- |
| Name of the Person | City | Adults/Children | Type of Policy | Age of the Eldest | Choose Your Coverage | Deductibles | Payable Premium |
| Himanshu | New Delhi | 2/ 0 | Family | 29 Years | 10.5 Lakhs | Rs. 300000 | Rs. 10,351 |
| Priya | Mumbai | 2/1 | Family | 39 Years | 15 Lakhs | Rs. 500000 | Rs. 16, 314 |
| Rakesh | Bengaluru | 0 | Individual | 49 Years | 1 Crore | Rs. 500000 | Rs. 20,311 |
Frequently Asked Questions