Cover Your Health in 5 mins
Compare Premium.
Buy Now.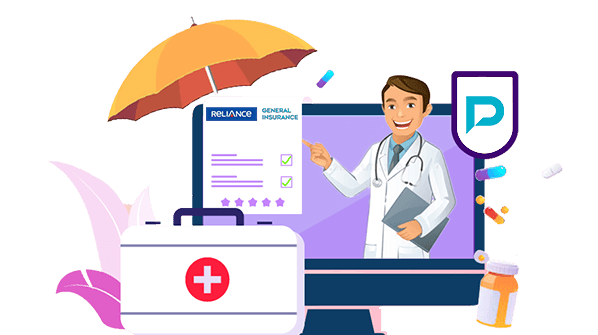 Compare

Individual Health Insurance Plans
Reliance Critical Illness Insurance Policy
Reliance Critical Illness Policy offers extensive insurance coverage that protects the insured's future by paying for the high medical costs associated with serious diseases. One of Reliance General Insurance Co. Ltd.'s top products is the Reliance Critical Illness coverage. The major highlight of the plan is that it covers your entire hospital stay as well as additional expenses. Any hospital or nursing home in India can provide the best care for the Reliance Critical Illness policyholder.
If a confirmed diagnosis of a critical disease is made, it offers an option of a sum covered between Rs. 5 lakhs and Rs. 10 lakhs that may be paid out as a lump sum. The illnesses are divided into two categories based on whether they pose a threat to life or result in impairment.
Read on to learn more about the Reliance Critical Illness Insurance policy in detail!
Here are the eligibility criteria for the Reliance Critical Illness Insurance Policy.
Parameters
Details
Age

Minimum- 18 Years

Maximum- 65 Years

Sum Insured
5, 7, 10 Lakhs
Policy Period
1 and 3 Years
Policy Type
Individual
No Medical Tests
Up to 45 Years
Here are the coverage details for the Reliance Critical Illness Insurance Policy.
| | |
| --- | --- |
| Parameters | Details |
| Critical Illness | 10 Critical Illnesses Covered |
| Waiting Period | 3 Months |
| Survival Period | 30/60 Days |
| Save Big on Taxes | Under Section 80D |
Main Benefits of Choosing the Reliance Critical Illness Insurance Policy
Here are the key features and benefits of considering the Reliance Critical Illness Insurance Policy.
In-patient Treatment Cover:
The major feature and benefit of choosing the Reliance Critical Illness insurance policy is that it covers all hospitalization expenses, including charges for room rent, boarding, nursing, ICU, diagnostic tests, physician charges, drugs, blood, oxygen, and equipment charges, are covered up to sum insured.
Pre & Post hospitalization Cover:
With the Reliance Critical Illness plan, Pre and post-hospitalization expenses are covered for the diseases and illnesses mentioned, up to the sum insured.
Organ Donor:
Another major benefit of choosing the Reliance Critical Illness insurance plan is that it covers Organ donor expenses, excluding the prices of organs, which are covered by the Policy.
NCB Benefits:
There will be a 5% bonus if there have been no claims for the first year. Additionally, there is a 10% no-claim incentive that can be increased to a maximum of 50% over three claim-free years.
Emergency Ambulance Charges:
Emergency and domestic on-road ambulance expenses are covered for the diseases mentioned.
Tax Benefits:
This premium paid under this Policy is eligible for tax savings under Section 80D of the Income Tax Act 1961.
Critical Illness Benefit:
Many critical illnesses are covered by the insurance for the insured, and there are two categories for the costs of such treatments:
Category 1
Cancer of specified severity
Multiple Sclerosis
Aorta Graft Surgery
Third Degree Burns
Major Organ / Bone Marrow Transplant
Category 2
Open Heart Replacement Surgery or Repair of Valves
Quadriplegia / Permanent Paralysis of all four limbs
Total Blindness
Coma of Specified Severity
Kidney Failure with Regular Dialysis
Exclusions Under the Reliance Critical Illness Insurance Policy
It can be challenging to cover every circumstance since critical disease or its effects can be highly complex. Take a look at some of the key policy exclusions to make sure you won't get any unpleasant surprises when filing a claim:
All diseases, illnesses, and injuries that already exist at the time this policy's coverage begins.
A critical disease that develops or manifests within three months of the policy's start date (this exclusion is not applicable for successive renewals with the company without a gap).
Certification/diagnostic provided by a family member, someone who is not a licenced medical professional, or any diagnosis that is not accepted by science
Any catastrophic illness resulting from a congenital ailment, condition, or illness, internal or external.
A critical illness or condition that is caused by, contributes to, is aggravated by, prolongs during, or results from delivery or pregnancy.
Any serious sickness caused by alcohol, smoking, using other tobacco products, or abusing drugs.
Any procedure or surgery for a sex change, any cosmetic procedure, or any procedure or surgery, complications, or illnesses resulting from such a procedure or surgery.
Infection with the Human Immunodeficiency Virus (HIV) can result in serious illness.
Critical illness brought on by purposeful self-harm, suicide, or suicide attempt
Critical illnesses and surgeries brought on by war, terrorism, or nuclear weapons
Premium Illustration- How Does the Reliance Critical Illness Insurance Policy Work?
Let's take the example of Mr. Prakash Dhiman. He is a young professional from New Delhi who serves as the marketing director for a business that designs clothing. He decided to insure himself against any serious disease because medical costs were skyrocketing. He cannot take any chances because he lives alone in Delhi with no one to care for him. Mr. Dhiman carefully considered his options before selecting the Reliance Critical Illness Insurance Policy.
Age
Members Covered
Sum Insured
Policy period
Premium Amount
30 Years
1
Rs. 5, 00, 000
1 Year
Rs. 1, 1615 (Including Tax)
30 Years
1
Rs. 10, 00, 000
3 Years

Rs. 8, 721

(Including Tax)
How to Buy Reliance Critical Illness Insurance Policy?
You may be able to get financial assistance from a critical illness benefit to pay for things like medical consultation fees and medication costs. A critical illness benefit can be used to pay for pre- and post-hospitalization fees as well as ambulance and room rent. Critical illness insurance like the Reliance Critical Illness Insurance plan can assist you in covering high medical costs associated with a certain group of disorders. You will receive a lump sum or a series of payments to cover the medical condition if any illness is identified and qualifies under the terms of the insurance.
If you are looking to buy the Reliance Critical Illness Insurance policy, then listed below are the steps to follow.
Go to the official website of Reliance General Insurance.
Just put your mouse cursor on Explore Products on the top, and locate the "Critical Illness Insurance" under the health insurance section. Click on it to open the plan page.
Once the plan page is opened, you will see empty blanks on the left side, asking you to select your sum insured, date of birth of insured, tenure, and email address, and then enter your correct mobile number. After that, click on "Check Our Prices".
The moment you click on the button, you will see the premium amount. After that, if you are satisfied with the amount, then you can click on "Continue to Buy".
Then, you will see blanks appear on the top, asking you to enter your PAN and DOB and then click on "Validate PAN". On the other hand, if you don't have PAN, you will need to select the option, and then Form No. 60 will appear asking you to enter your details like name, address, father's name, and more. Then, click on "Generate OTP".
Once the OTP is received on your mobile number, enter it and then proceed with the buying process.
When you click it, a payment page will open, allowing you to complete the transaction with a credit/debit card, Nett Banking, EMI, or UPI. Choose the strategy that will serve you best. After that, click "Proceed to Pay".
In the last step, the policy details will be sent to you through email and your registered mobile number as the final step.
How To File a Claim for Reliance Critical Illness Insurance Policy?
Follow the steps mentioned below to make claims under a critical illness insurance policy:
As soon as possible, notify the insurance provider, Reliance General, of the diagnosis.
The company will provide you with a precise list of the documents you need to submit.
Gather the aforementioned documentation and submit it within 90 days of the condition's first diagnosis.
The claim money will be released after the provided documents are verified, and the recipient may use it as they see fit.
Documents Required for Claim Process:
The following documents are needed for filing claims:
Claim form (duly filled & signed)
Copy of hospital summary, discharge papers, prescription, medical reference, etc.
Copy of medical reports, records
Any other relevant document, as requested by the Insurer
Renewal Process of Reliance Critical Illness Insurance Plan
If the policy is not renewed by the due date or the grace period, health care coverage ends, and all accrued benefits are forfeited. The loss of collected benefits can be a significant setback, especially if the policy has been in effect for a long period. Getting another health insurance coverage is a potential option with the Reliance Critical Illness Insurance plan. A financial crisis, on top of a medical emergency, is a double blow if there is no coverage in place. Critical illness and hospitalization for unrelated causes might strike at any time.
Go to the official website of Reliance General Insurance.
You can select "Renewal" from the menu at the top. Click "Renew Health Insurance" only once.
Once you click on it, you will find that you have a choice between renewing the policy using your cell number or your policy number.
Make sure you select the appropriate one for you.
An OTP will be given to your registered mobile number as soon as you enter your mobile number, which is all that is required. After entering it, carry out the renewal procedure.
The information about the policy will then appear on your screen.
After that, you must pay the renewal premium for your insurance. You can then renew your policy using a credit or debit card at that point.
Congratulations- Your policy has been renewed successfully.
Frequently Asked Questions