Cover Your Health in 5 mins
Compare Premium.
Buy Now.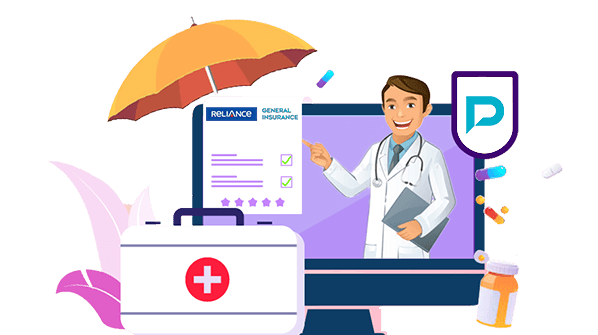 Compare

Individual Health Insurance Plans
Reliance Super Top up Policy
The Reliance Super Top-up Insurance plan offers the insured comprehensive medical coverage in the event of unforeseen medical costs. This plan has mandatory deductibles, and Reliance General Insurance Company will only offer coverage if medical costs exceed the deductible cap. The plan includes with global cover, deductible buyback rider, and maternity cover, and it is offered in two different varieties. Because this plan gives a sum insured (SI) ranging from Rs 5 lakh to Rs 1.30 crore, you may be able to avoid using your funds in the interim.
Customers can get financial assistance from them through their super top-up plan to cover things like prescription charges, hospital stays, and medical expenditures. This super top-up plan can be purchased alone, without a regular health insurance policy, or as an additional plan to supplement the coverage of your basic plan.
Read on to know more about the Reliance Super Top-up policy's eligibility, benefits, coverage, inclusions, exclusions, and more.
Here is the eligibility criteria for Reliance Super Top-up insurance policy.
Parameters
Details
Age Entry
18 years to 65 years
Policy Type

Individual and the following family members

legally wedded spouse.
Parents and Parents-in-law
Dependent Children (between the ages of 3 months and 25 years), whether they are biological or lawfully adopted. The youngster will be transferred to an Individual Policy with a separate Sum Insured and treated as an Adult if they are over 18 and financially independent.
Pre-Policy medical examinations for those 55 years of age or older, as well as proposals with deductibles plus sums insured of at least 25 lakhs.

Policy Period​
1 year, 2 years & 3 Years​ , and offers
Lifelong renewal
Available
Sum Insured
Rs. 5 Lacs to Rs. 1.3 crores
Features & Benefits of Reliance Super Top-up Policy
Here is the list of the salient features and benefits of Reliance Super Top-up Policy
Wide network hospital
With more than 8000 network hospitals worldwide, you can access cashless treatment options far from where you now reside. Receive medical care anywhere in the globe, including features like air ambulance coverage, even when you are traveling abroad.
No medical test
Your insurer won't request a medical exam if you are under 45 years old while purchasing the coverage. If necessary, you may be required to provide a declaration noting any current medical issues, such as diabetes, hypertension, etc.
Attractive discounts
When purchasing this coverage, take advantage of tempting discounts of up to 35% under numerous headings. There is also an 11% discount for purchasing multi-year plans, starting with a 5% discount for girl children and an extra 5% discount for online purchases.
Customizable Choice
Your healthcare needs may differ from what a given policy covers. Your health insurance plan can now be modified in terms of the policy length, sum insured, and deductibles. Your budget would also be taken care of.
One-time deductibles
Pay an annual deductible once only for insurance with a one-year expiration date, and combine deductibles for long-term plans. If you file a claim under a long-term plan, you must pay the deductible amount at least two years after the plan's inception.
Receive care wherever
Depending on the type of plan, you can decide whether to receive hospitalization and medical care domestically or overseas. Worldwide, numerous network hospitals provide top-notch healthcare.
Pandemic cover
Get protected from costs associated with COVID-19 treatment and save yourself from having to pay astronomical hospital bills out of pocket. The benefits could be available after a 15-day waiting period.
High insured amount
Depending on your needs, you can choose an insurance amount between Rs. 5 lakh and Rs. 1.30 crore. Subject to the provisions of the insurance, you may use the total amount insured for hospitalization, domiciliary care, home health care, etc.
What Does the Reliance Super Top-up Plan Cover?
Here are the things covered under Reliance Super Top-up Plan Cover
| | |
| --- | --- |
| Coverage | Details |
| Hospitalization Expenses | Up to the Sum Insured, limited to the selected combination of Annual Aggregate Deductible |
| Domiciliary Hospitalization | ​Up to Sum Insured, subject to Annual Aggregate Deductible |
| Maternity Cover | Max up to ₹ 2 lakhs subject to Annual Aggregate Deductible |
| Organ Donor | Up to the Sum Insured subject to Annual Aggregate Deductible |
| AYUSH Treatment | Up to the Sum Insured subject to Annual Aggregate Deductible |
| Ambulance Cover | Rs. 3500 per hospitalization |
| Emergency Air Ambulance Cover | For plans with a sum insured of less than Rs. 10 lakhs, the maximum accessible once per policy year is Rs. 2 lakhs, and for policies with a sum insured of Rs. 10 lakhs or more, the maximum available is Rs. 5 lakhs. |
| Modern Treatments | Up to the Sum Insured subject to Annual Aggregate Deductible |
| Additional Item Cover | Up to the Sum Insured subject to Annual Aggregate Deductible |
| Cumulative Bonus | After a claim-free policy year, this renewal benefit will pay out 10% of the base sum insured for the remaining policy year as a cumulative bonus, up to a maximum of 50% of the base sum insured. |
| Health Check Up | The mentioned medical check-up charges will be covered by this benefit after every three consecutive and continuous policy years. The payout is capped at Rs 3,000 for insurance with deductibles under Rs. 10,000 and up to Rs. 5,000 for policies with deductibles between Rs. 10,000. The advantage will only be accessible without cash. |
What Are Things Not Included Under Reliance Super Top-up Policy?
Listed below are the things not covered under Reliance Top-up Policy.
Investigation & Evaluation
Rest Cure, rehabilitation, and respite care
Change-of-Gender treatments
Cosmetic or plastic surgery, barring burns, cancer, or accidents
Hazardous or Adventure sports
Obesity/ Weight Control unless life-threatening
Breach of law
Excluded Providers
Drugs or treatments
Wellness and Rejuvenation
Dietary Supplements & Substances
Refractive Error
Birth control, Sterility, and Infertility
Deductible
External Congenital Anomaly
Outpatient treatment
Treatment other than Medically Necessary Treatment
Charges other than Reasonable & Customary Charges
Overseas treatment except for benefits provided under the Worldwide Emergency Cover
Self-injury or suicide
Treatment Outside of Discipline
Nuclear Attack
War
Premium Illustration - How Does the Reliance Super Top-Up Policy?
Let's take an example to understand!
A man, named Mr. Rakesh Punia, who is 30 years old, looking to protect his family against rising diseases and expenses so he can save for his children and fulfill his dreams. After getting many suggestions from friends and searching on the internet, he stumbled upon the Reliance Super Top Up Policy and found it a great deal of investment to protect against medical emergencies. Mr. Punia, then, decided to safeguard his family with this plan.
Here's what he will get under different circumstances.
| | | | | |
| --- | --- | --- | --- | --- |
| Deductible amount | Sum insured | Members to insure | Policy period | Premium |
| 5 Lacs | 5 lacs | 2 | 1 year | Rs. 2, 907 (including GST) |
| 10 Lacs | 15 lacs | 2 | 3 years | Rs. 8, 893 (Including GST) |
Frequently Asked Questions