Cover Your Health in 5 mins
Compare Premium.
Buy Now.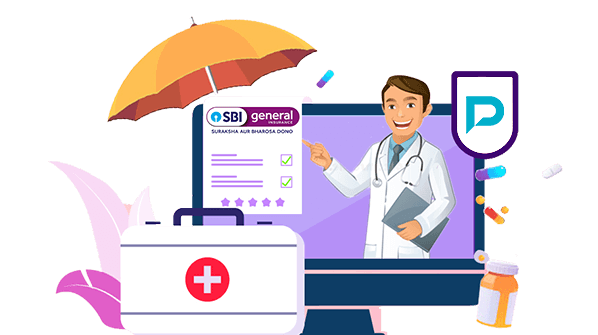 Compare

Individual Health Insurance Plans
SBI Arogya Plus Health Insurance Policy
SBI Arogya Plus policy is a credible health insurance policy offered by SBI that offers 100% coverage against your actual medical expenses. The plan can be taken on an individual or a family floater basis covering your family members. The plan offers coverage for both inpatient and outpatient expenses and comes at an affordable and fixed premium. Be it OPD or hospitalization, the policy allows you to primarily focus on receiving the best treatment possible so that you can continue your normal life as soon as possible.
With 141 day-care expenses covered, you can rest assured that you will receive the best medical treatment without burning a hole in your pocket. The policy also offers a "Family Option" which means it is available for self, spouse, and two children (maximum).
| | |
| --- | --- |
| Parameters | SBI Arogya Plus Policy |
| Age | Minimum- 3 Months, Maximum- 65 Years |
| Sum Insured Options | Rs. 1 Lakhs, Rs. 2 Lakhs, Rs. 3 Lakhs |
| Tenure | 1, 2, 3 Years |
Features & Benefits of the SBI Arogya Plus Policy
The following are the key features and benefits of the SBI Arogya Plus Policy.
No Pre-medical test: One of the biggest benefits of choosing the SBI Arogya policy is that there is no pre-medical check-up for people up to the age of 55 years with no medical history of chronic health issues.
Coverage: If you are looking to safeguard your health, choosing the SBI Arogya policy is the best decision you will ever make. The policy offers coverage of 60 days pre and 90 days post-hospitalization expenses.
Exempt Income Tax: Another feature of the SBI Arogya Plus Policy is that the premium amount will be exempted from income tax under section 80 D of the income tax act.
Maternity Expenses: If you think the policy doesn't cover maternity expenses, you are probably mistaken! The policy covers maternity expenses up to the OPD limit in the policy.
Includes OPD Expenses: Last but not the least, the policy covers OPD expenses that won't burn a hole in your pocket.
Here are the things that are covered under the SBI Arogya plus plan.
| | |
| --- | --- |
| Inclusions | Details |
| Hospitalization expenses | Room rent, boarding expenses, ICU (Intensive care unit), nursing expenses, blood, oxygen, diagnostic expenses, X-ray, dialysis, chemotherapy, medicines and consumables, radiotherapy, cost of pacemaker, prosthesis, implants, and cost of medical expenses incurred as a part of the operation. |
| OPD treatment | OPD consultant expenses or teleconsultation up to the specified limit. |
| Ambulance expenses | Rs. 1500 |
| Domiciliary Expenses | Reasonable and customary charges towards domiciliary hospitalization |
| Genetic disorder | Covers up to the limit of Rs. 50,000 |
| Internal Congenital Expenses | Covers up to 10% of the sum insured. |
| HIV/AIDS Covered | Up to the sum insured as mentioned in the policy schedule. |
What Are Not Included In SBI Arogya Plus Policy?
The following are the things not included in the SBI Arogya Plus Policy.
Treatment that has been taken outside India
Expenses for cosmetic or plastic surgery
Injury or diseases directly or indirectly caused by or contributed to by nuclear materials or weapons.
Admission is primarily for investigation and evaluation.
Admission primarily for a rest cure, rehabilitation, and respite care.
Expenses related to the surgical treatment of obesity that doesn't fulfill certain conditions.
Change of Gender treatments.
Expenses for any therapy are required as a result of engaging in dangerous or adventure sports.
Refractive error
Breach of Law
Sterility and Infertility
Unproven Treatments
War and war-like situations
Premium Calculation of SBI Arogya Plus
Name of the person
No. of Family To be Insured
Type of Plan (Floater or Non-Floater)
Sum Insured
Tenure
Premium Amount
Rinku

Self- 29 Years

Spouse- 28 Yeas

Floater
Rs. 100,000
1 Years
Rs. 8900
Himanshi

Self- 29 Years

Child- 10 Years

Father- 50 Years

Non-Floater Plan
Rs. 200,000
2 Years
Rs. 46725
Piyush

Self- 29 Years

Father- 50 Years

Mother- 47 Years

Non-Floater Plan
Rs. 300,000
3 Years
Rs. 68085
Frequently Asked Questions
Yes, the SBI Arogya plan offers a grace period of 30 days to renew your plan. However, you must not forget the fact that you will not get any coverage during the grace period.
No matter what difficulty you face during the policy period, make sure you send an email at customer.care@sbigeneral.in or you can call them at their toll-free number, i.e. 1800 102 1111.
No, you cannot change the amount of sum insured during the period of the policy. You will have the flexibility to increase the sum insured amount only at the time of renewal.