Cover Your Health in 5 mins
Compare Premium.
Buy Now.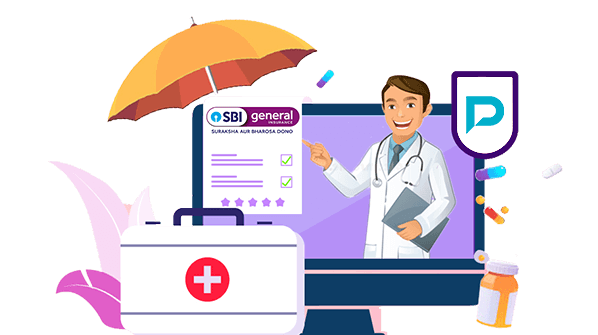 Compare

Individual Health Insurance Plans
SBI Health Insurance Arogya Premier Policy
SBI Arogya Premier policy is specifically designed to satisfy the different medical needs of you and your family, and it comes with unique coverage features at a reasonable price. This health insurance plan gives a variety of flexible alternatives as well as access to the greatest medical care. The policy has a lifetime renewability benefit, which allows you to keep the coverage as long as you pay the needed premium on time.
Read along to know more about the SBI Arogya Premier plan.
| | |
| --- | --- |
| Minimum Entry Age | 3 Months |
| Maximum Entry Age | 65 Years |
| Policy Tenure | 1/2/3 Years |
| Type Of Coverage | Individual & Family Floater |
| Sum Insured | Rs. 10 Lakhs To Rs. 30 Lakhs |
Why Should You Go For SBI Arogya Premier Plan?
Some of the major reasons why you should choose the Arogya Premier plan from SBI are as follows:
No Pre-Medical Test: If the insured person's age is less than 55 years and he/she has no medical history, the plan requires no pre-medical check-up. In case the insured has a medical history, he/she should inform the company while purchasing the SBI Arogya Premier plan.
No Claim Bonus: For every claim-free year, the plan gives no claim bonus of 10% of the sum insured. The bonus can maximum go up to 50%.
Auto Reinstatement Of Sum Insured: In case your sum insured gets exhausted due to the claims made, the plan allows you to automatically reinstate the sum insured amount without paying any additional premium.
Reimbursement Of Health Check-Up: If there is no claim for 4 consecutive years, the plan offers the reimbursement of health check-ups up to Rs. 5000.
Tax Benefits: Under Section 80 D of the Income Tax Act, 1961, the plan provides tax deductions on the premium amount paid for the policy. In this way, the insured can save a significant amount of money.
SBI Arogya Premier Plan Coverage Detail
| | |
| --- | --- |
| Category | Status |
| Hospitalization Expenses | Covered |
| Pre-Hospitalization Expenses | 60 Days |
| Post-Hospitalization Expenses | 90 Days |
| Day Care Expenses | 141 Covered |
| Ambulance Expenses | Up To Rs. 1 Lakh (Including Air Ambulance) |
| Organ Donor | Covered |
| Alternative Treatment | Covered |
| Domiciliary Hospitalization | Covered |
| Maternity Expenses | Covered |
| Mental Illnesses | Covered Up To Sum Insured |
| Genetic Disorder | Up To Rs. 1 Lakh |
| Internal Congenital Diseases | Covered Up To 10% Of SI |
| Advanced Treatments | 12 Advanced Treatments Covered Up To 50% Of SI |
Exclusions Under SBI Arogya Premier Plan
The following things are not covered under the SBI Arogya Premier plan:
Treatment taken outside the demographical location of India
Obesity and weight control treatments
Gender change treatments and surgeries
Cosmetic or plastic surgery
Treatments related to infertility and sterility
Breach of law
War or war-like situations
Treatments arising out of nuclear weapons or materials.
Refractive error
Treatments for the purpose of investigation or evaluation
Expenses for rehabilitation, rest, cure, and respite care
Premium Calculation Of SBI Arogya Premier Plan
If you wish to buy the SBI Arogya Premier plan, you must have a rough idea of how much premium amount you will need to pay for the plan. Therefore, we have calculated the premium amount of the plan with respect to different parameters, such as age and sum insured.
| | | | | |
| --- | --- | --- | --- | --- |
| Name | Age (Years) | Gender | Sum Insured | Premium Amount |
| Avantika Mishra | 19 | Female | Rs. 10 Lakhs | Rs. 9385 |
| Gopal Singh | 36 | Male | Rs. 12 Lakhs | Rs. 11,116 |
| Rajesh Arora | 42 | Male | Rs. 15 Lakhs | Rs. 14,722 |
| Akansha Gupta | 56 | Female | Rs. 25 Lakhs | Rs. 38,064 |
Frequently Asked Questions