Cover Your Health in 5 mins
Compare Premium.
Buy Now.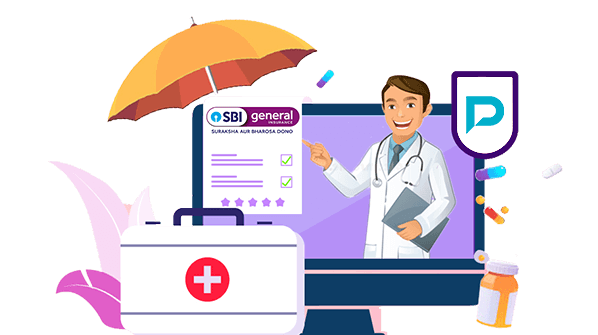 Compare

Individual Health Insurance Plans
SBI Health Insurance Claim
Are you looking forward to making a health insurance claim at SBI? Are you thinking that the claim process would be hectic to deal with? Well, precisely no. The health insurance claim process at SBI is completely hassle-free and simplified by all means. It has a network with more than 6000 hospitals, which ensures smooth claim processes. This health insurance service provider has handled multiple claims to date through a transparent procedure and boosts an incurred claim ratio of 60.7%. The major goal of this health insurance provider is to make sure that the customers can take control of their finances.
How To Intimate & Settle Health Claims With SBI General Insurance?
The following will help you to discover the process of claim intimation and settlement of claims. All you need to do is follow the steps carefully to obtain the results successfully. 
Intimation
You can get the claim number or the reference number by calling on 1800 102 111. Other than that, you can also choose to send an SMS to 561612, or email the required details to customer.care@sbigeneral.in. You can also submit your claim by entering your information by visiting the claim intimation portal on the official website of SBI General insurance. For that, you need to go to the company's official website, click on the 'Claim' tab and choose the 3rd option from the menu. 
Claim Settlement Process 
You need to get your claim number or the reference number by calling on 1800 22 1111. Apart from that, you can also choose to send the word "CLAIM" to 561612. After that, a customer service specialist from SBI General insurance will offer you the papers that you may need to start and process the claim.
Once you submit the claims, you need to wait for the next 24 hours as you may receive a call from the Claims Manager. In this step, you need to make sure to submit all relevant documents to our Claims Manager to proceed with the verification against the original documents that have been offered. It is important to note that, all the admissible claims at SBI General Insurance are resolved within 30 days as per the IRDAI policyholder interest regulation 2017 after receipt of the final survey report and the last relevant and essential documents are submitted.
How To Search For Nearest SBI General Insurance Network Hospital For Cashless Health Claims?
Health emergencies can strike our doors without notice and when that happens, a person should be prepared or aware of the nearest hospital(s) to get quality, cashless treatment. This is why SBI General Insurance has designed a simple process to check its network hospitals. Below are the steps for it.
Visit the official website of the company.
On the top of the page, click on 'Claim'.
Scroll down and search 'Hospital Network' from the menu.
You can search by TPA and click on 'Submit' to get the desired result.