Cover Your Health in 5 mins
Compare Premium.
Buy Now.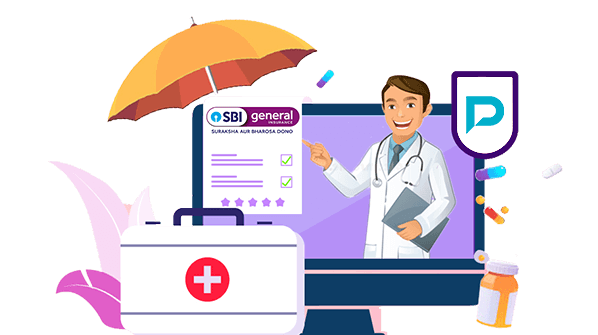 Compare

Individual Health Insurance Plans
SBI Group Health Insurance Plan
Keeping in mind the increasing health costs, SBI General Insurance Company has come up with an SBI Group Health Insurance policy that helps to pay for the medical expenses, thereby ensuring that you can afford the best quality of healthcare for yourself & your family. No pre-policy medical test is required to obtain the policy up to the age of 65 years. This policy also offers cashless treatment in more than 3000 network hospitals spread all over the country. To know more about this policy, have a look at the following mentions.
Age at entry

Minimum – 18 years

Maximum – 65 years

Who is eligible?
People having an account with ABI
Sum insured options

Minimum – Rs. 1 lakh

Maximum – Rs. 5 lakhs

Type of policy
Individual and family floater basis
Types of relationships covered under family floater

Self

Legal spouse

Two dependent and legal children

Policy period
1 year
Top Coverage of SBI Group Health Insurance Plan
The following table gives an idea about this policy. Have a look.
| | |
| --- | --- |
| Pre-hospitalization expenses | 30 days |
| Post-hospitalization expenses | 60 days |
| ICU charges | 2% per day |
| Ambulance charges | 1% of the sum insured up to a maximum of Rs. 1500 |
| Room boarding and nursing charges | 1% per day for non-ICU |
What Are The Key Benefits of SBI Group Health Insurance?
This policy has come up with a sack full of benefits and facilities. The important mentions are as follows.
Medical practitioner and specialist's fee is covered under this policy.
Domiciliary hospitalization is covered, subject to a maximum limit of 20% of the sum insured, or Rs. 20,000, whichever is less.
Coverage is available for selective daycare procedures that require less than 24 hours of hospitalization due to the advancement of medical science.
In case of a claim in non-network hospitals, a co-payment of 10% has to be paid on all eligible admissible claims.
Under this policy, one is eligible to avail of the tax benefits under Section 80D of the Income Tax Act.
General exclusions of SBI Group Health Policy
Before buying an insurance plan, it is very important to know and understand the exclusions of the policy for which it does not offer any coverage to avoid any future problems. So, for your better understanding, here are the general exclusions of the SBI Group Health Policy.
Expenses related to any preliminary diagnosis and evaluation procedure are excluded.
Any self-inflicted injury, suicide, or suicide attempt falls under the category of exclusions.
Diagnosis expenses not related to the current diagnosis and treatment are not covered by the plan.
If you are having bed rest and do not have any medical treatment for the disease, is not covered by the policy.
Any treatment cost related to obesity control will not be compensated by the policy.
Any unrecognized or unauthorized medical procedure is to be excluded and the doctor, surgeon, or medical practitioner has to be licensed and registered.
Coronary heart disease, severe sleep apnoea, and uncontrolled type 2 diabetes are excluded from the policy.
Any treatment or surgery related to gender treatment will not be reimbursed by the company.
Cosmetic surgery and plastic surgery are not covered by the plan.
If you take part in any kind of hazardous activities or adventurous sports like sky diving, para-gliding, scuba diving, etc., and gain injury from that, that is not covered by the plan.
Injury incurred due to the participation in any unlawful act or due to war, war-like situation, riots, public unrest, etc., will not be covered by the policy.
Treatments for the consumption of alcohol, drugs, or any intoxicating substance are excluded.
The costs for dietary supplements and substances that can be purchased without a prescription will not be compensated by the policy.
If you receive treatment for the correction of eyesight due to refractive error less than 7.5 dioptres, it will be under the exclusions.
Gestational Surrogacy and reversal of sterilization are excluded.
What is the Buying Process of SBI Group Health Policy?
One can easily buy this policy by following the below easy steps carefully.
At the top of this page, there will be the 'Products' tab. Navigate it and click on 'Health Insurance'.
There you have to select your gender and put your "pin code" in the section on the right-hand side of the page. Click on the "Continue" option from the menu.
Choose the individual you wish to insure next.
There, you must choose your "deductible amount" enter your age, and click on the continue option. (Select whether you have experienced ailments by selecting yes or no).
After that, click "Get Plan" after that.
Multiple plan options will appear before you. Navigate through the list of plans and find the SBI Group Health Insurance Plan.
Enter the required details.
Check the premium details carefully and if satisfied, pay the premium to buy the plan.
Claim Process of SBI Group Medical Insurance Policy
This policy offers both cashless and reimbursement claims. To avail of the cashless facility, one has to get admitted to a network hospital of the company. for reimbursement claims, one can choose any hospital of his/her choice. The general claim process of this policy has been discussed below.
Intimate the insurer as soon as the incident happens.
The claim team will provide assistance in case of emergency situations.
Submit all the required documents along with the duly filled and signed claim form.
A surveyor may be appointed on behalf of the company to assess and evaluate the claim.
Co-operate with the surveyor. Do not produce any false documents.
The company will assess the claim.
If no discrepancy is found, the claim amount will be settled within the stipulated time.
Frequently Asked Questions
Yes, any SBI account holder having the SBI Group Health Policy can also take the SBI General Retail Health policy and vice versa.
SBI Group Health policy offers you a grace period of 30 days.
The legal dependent children can be included under this policy from age the age of 3 months.