Cover Your Health in 5 mins
Compare Premium.
Buy Now.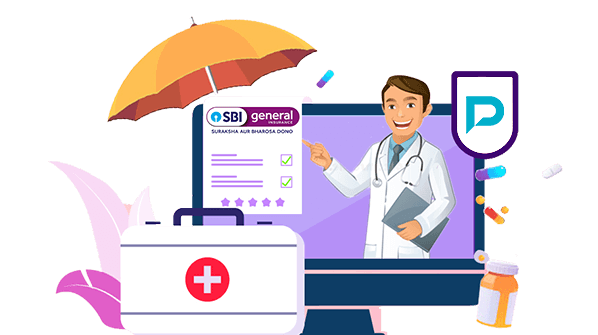 Compare

Individual Health Insurance Plans
Download SBI Health Insurance Policy
The SBI health insurance customer experience is entirely digital. Policyholders can renew their policies, pay their SBI health premiums, and file online health claims on the company's platform. On its website, the insurer also provides the option to download the SBI health insurance policy. The prospectus, proposal form, policy wording, claim form, and policy brochure can all be obtained from there. You may optimize your health insurance benefits and avoid claim denials by verifying these data and taking the appropriate action. Further exploration of the SBI health insurance policy document download is provided in this post.
What Does The SBI health Insurance Policy Document Contain?
Checking the terms and conditions of an SBI medical insurance policy is possible. Additionally, you gain a good understanding of the SBI health insurance premium pricing, covered medical costs, the claim settlement procedure, and other specifics. The insurer has made the SBI health insurance policy download available to everyone as a result.
Here are details that you will find on the policy document of various SBI health insurance plans:
Policy type, number, and term
Policyholder details
Coverage benefits
Coverage exclusions
Sum insured/ coverage amount
Cumulative bonus details
Policy renewal conditions
Terms and conditions of claim settlement
Conditions for policy portability
Grievance redressal procedure
Free-look period
Process of policy cancellation
Grace period
What Is The Process to Download SBI Health Insurance Policy?
It is simple to acquire the SBI Health Insurance Policy online. An online SBI Health Insurance calculator allows you to estimate the cost or determine the monthly payment. A digital copy of the policy is required if it is available online. The steps to quickly get the SBI Health Policy online are as follows:
Step 1: Visit the official website of SBI General Insurance Company.
Step 2: Hover over the "Quick Links" option located in the top right corner. After that, locate "Download Policy" and then click on it.
Step 3: Under the "Download Policy" section, you will find "Health Policy". Click on it. Then, you will need to enter your policy no., and date of birth, and then enter the Captcha code.
Step 4: After that, you will need to click on the "Next" button.
Step 5: You can now download the SBI health insurance policy.
How To Get Your SBI Health Insurance Policy Document Through Offline Mode?
Though the online method is far more convenient and easier, you can still opt for the offline method and get your SBI health insurance policy without any difficulty. All you need to do is simply call their 1800 210 3366 or 1800 210 6366 number to inquire about your health insurance policy document. Alternatively, you can visit their branch.
9th Floor, A & B Wing, Fulcrum Building, Sahar Road, Andheri (East), Mumbai 400099
We are all required to read the tiny language of our insurance policies, but the majority of us rarely do so. To keep track of coverage, premiums, and other features, use the SBI health insurance policy download. The goal is to maximize policy benefits, which may best be accomplished by being aware of and comprehending the information contained in your SBI health insurance policy document.
Frequently Asked Questions
Here is the list of the frequently asked questions related to the SBI Health insurance policy.