Cover Your Health in 5 mins
Compare Premium.
Buy Now.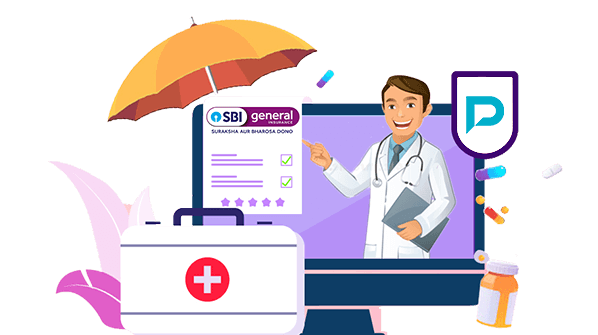 Compare

Individual Health Insurance Plans
SBI Health Insurance Renewal
SBI health insurance plans are known to offer value-added benefits to their customers at the time of health emergencies. To continue receiving its benefits in the long run, it's important to renew the concerned policy on time. If you aren't aware of the renewal process of SBI health insurance, then you have come to the right place. Below, we have carefully explained the details related to the process. Let's check them out.
Renewal Process of SBI Health Insurance
Follow the below easy and simple steps to avail of a smooth renewal process.
On the top of the homepage, there will be the Renew tab. Click on that.
On the landing page, go to the health insurance section and choose the desirable health insurance policy that you want to renew.
Then click on the Arrow icon. You will be directed to a new page.
There, a form will be displayed before you. Fill in the blanks with required details such as your policy type and policy number.
After that, click on the Get Quote option.
The renewal amount will be displayed before you for your chosen policy.
Pay the amount by availing of the convenient payment mode available with the company.
Upon successful payment, you will receive the notification about the same on your registered email ID or/ and mobile number.
Now, your renewal is done. Enjoy the facilities and benefits of your policy.
Consequences of Not Renewing SBI Health Insurance On Time
Renewing your SBI Health Insurance policy regularly is a pivotal part of pertaining to an active plan. If you do not renew it on time, the following things can happen to you.
Loss of an active policy – If you ignore the renewal part of the policy, your policy will expire and an expired policy is of no use no matter what situation arrives.
Loss of benefits – Once your policy is lapsed due to lack of the renewal, you will lose all the benefits and facilities that it has to offer. In that case, having a health insurance policy or not having it, will do not matter anymore.
Having extra expense – If you fail to pay the renewal amount even within the grace period, and later on you wish to revive it again, you have to pay extra charges as a fine. Moreover, this revival totally depends on the terms and conditions and the satisfaction of the insurer.
Falling into a financial burden – If your policy is void, you cannot get any compensation on behalf of the company in case of any medical emergency. In that case, you may fall into a financial burden as you have to pay all the medical expenses out of your own pocket.
Loss of mental harmony – Once you know that you have no active health policy with you, it will create anxiety for obvious reasons as life is full of uncertainties, and physical health is always exposed to different types of health risks.