Cover Your Health in 5 mins
Compare Premium.
Buy Now.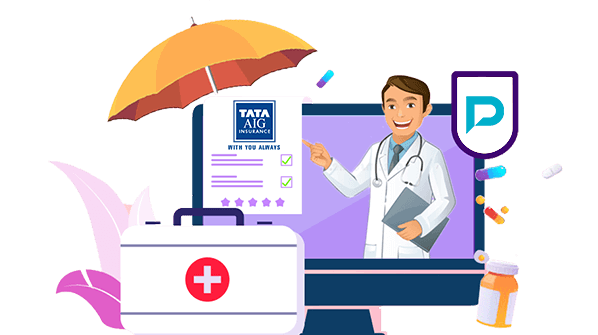 Compare

Individual Health Insurance Plans
TATA Medicare Plus Super Top-up Plan
TATA AIG's Medicare Plus Super Top-Up plan offers complete coverage and compensates the insured if the sum insured is exhausted. This plan is specifically designed as an affordable as well as an economical option, which supplements over and above the basic health insurance policy. The plan aims to provide comprehensive protection for securing the well-being of you as well as your family members.
Minimum Entry Age

Children: 91 Days To 5 Years

Adult: 18 Years

Maximum Entry Age
65 Years
Policy Tenure
1/2/3 Years
Sum Insured
Up To Rs. 1 Crore
Deductible Options
Rs. 2 Lakhs, Rs. 3 Lakhs, Rs. 5 Lakhs, Rs. 10 Lakhs, Rs. 15 Lakhs, & Rs. 20 Lakhs
Key Features Of TATA Medicare Plus Super Top-Up Plan
Let's understand the key features of the TATA Medicare Plus Super Top-Up plan in detail!
Global Cover: The plan provides the policyholder with the option of choosing the global cover. This coverage covers medical expenses associated with daycare hospitalization and in-patient treatment of the insured outside India, provided that the diagnosis is done in India.
Lifelong Renewal: If the policyholder pays a premium without any break, the plan offers a lifelong renewability option. The premium amount will be based on the sum insured, age of the insured person, deductible options, and type of plan. 
Cumulative Bonus: For every claim-free year, the plan offers a 50% increase in cumulative bonus, up to a maximum of 100%. If the policyholder makes claim during the policy years, the cumulative bonus will reduce by 50% in the following year. 
Waiting Period: The policy has a waiting period of 30 days from the date of inception of the policy. In case of any listed illness/treatment, the coverage will be provided after the waiting period of 24 months. Moreover, if there is any pre-existing illness/disease, it will be covered after a waiting period of 36 months.
Free Look Period: The insured individual has a fifteen-day free look time from the date of receipt of the policy document to study the policy's terms and conditions and return it if they are not acceptable.
Consumable Benefits: The plan pays for some consumables that are consumed during hospitalization and are directly related to the insured person's medical or surgical treatment of illness, disease, or damage.
Second Opinion: In case the policyholder is diagnosed with the mentioned illness or disease, the plan provides him/her with the option of a second opinion from a medical practitioner or network provider.
No PPC: If your age is up to 45 years and the sum insured is up to Rs. 50 lakhs, then there is no need for you to undergo any kind of pre-policy check-up.
Tele Medical Examination: If your age is between 45 to 65 years and the sum insured is above Rs. 50 lakhs, you need to undergo a tele medical examination conducted by TATA AIG. 
Tax Benefits: A lot of tax incentives are available when you get the TATA Medicare Plus Super Top-Up plan. You can deduct up to INR 75,000 in health insurance premiums from your tax return under Section 80D of the Income Tax Act of 1961. If you are a senior citizen paying health insurance premiums or a person under 60 years old paying health insurance premiums for a senior citizen, such as one or both of your parents, you can benefit from the higher tax deduction.
TATA Medicare Plus Super Top-Up Plan Details
Category
Status
In-Patient Expenses
Covered
Pre-Hospitalization Expenses
60 Days
Post-Hospitalization Expenses
90 Days
Day-Care Procedures
540+ Covered
Domiciliary Treatment
Covered
In-Patient Dental Treatment
Covered
AYUSH Treatment
Covered
Ambulance Cover
Up To Rs. 3000 Per Hospitalization
Premium Discounts

For Policy Term Of 2 Years: 5%

For Policy Term Of 3 Years: 10%

For 2 Members: 20%

For 3 Members: 28%

More Than 3 Members: 32%
Exclusions Of TATA Medicare Plus Super Top-Up Plan
TATA Medicare Plus Super Top-Up plan excludes the following medical and non-medical expenses:
Congenital external diseases
Investigation and evaluation
Alcoholic pancreatitis
Correction of eyesight owing to the refractive error below 7.5 diopter
Treatment done by a medical practitioner outside his/her discipline
Self-injury or attempted suicide
Committing a breach of law with criminal intent
Premium Calculation Of TATA Medicare Plus Super Top-Up Plan
In order to purchase TATA Medicare Plus Super To-Up plan, you should understand how much premium amount will you pay. We've computed the premium amounts depending on the various sum assured options to make it seamless and simplistic for you.
| | | | | | |
| --- | --- | --- | --- | --- | --- |
| Name | Age (In Years) | Gender | Sum Insured | Deductible | Premium |
| Disha Aggarwal | 29 | Female | Rs. 5 Lakhs | Rs. 2 Lakhs | Rs. 3,821 |
| Amit Rai | 31 | Male | Rs. 10 Lakhs | Rs. 3 Lakhs | Rs. 3,933 |
| Sonakshi Kumari | 33 | Female | Rs. 15 Lakhs | Rs. 5 Lakhs | Rs. 2,983 |
| Brijesh Solanki | 52 | Male | Rs. 20 Lakhs | Rs. 2 Lakhs | Rs. 17,063 |
Frequently Asked Questions