Cover Your Health in 5 mins
Compare Premium.
Buy Now.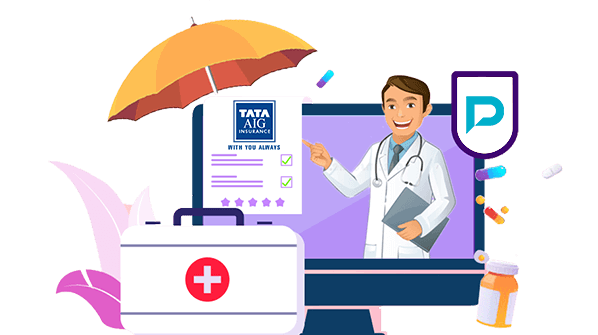 Compare

Individual Health Insurance Plans
Tata AIG Health Insurance Renewal
If you want to renew your Tata AIG Health Insurance policy but can't find a way how to do it online, you do not have to worry anymore. Here, you will get every detail that you need to know about TATA's health insurance renewal process. And luckily, the renewal process of this insurer is pretty simple, quick, and hassle-free, so it won't cost much of your precious time. Its website is designed in a reader-friendly manner and makes it easier for a user to navigate the content.
Step By Step Guide of Tata AIG Health Insurance Renewal
Follow the below steps carefully to avail of a smooth and easy renewal process of your health plan under this company.
Go to the official website of Tata AIG.
On the homepage, there will be the 'Health' tab. Select that.
Multiple options will be displayed before you. Search for the 'Renew' option that is available at the bottom of those options. Click on that.
After that, you need to put the 10-digit policy number in the right place correctly.
Then, the renewal amount will be displayed before you.
Check the details carefully, and pay the amount by choosing your convenient mode of payment, available with the insurer.
Upon successful payment, you will receive a notification about the same in your registered email ID and/or phone number.
Contact Details of Insurer When In Trouble With Tata AIG Health Insurance Renewal
Though you should not be having any problem renewing your health insurance policy if you have followed the above steps correctly. If you still run into problems, you contact the insurer by using any of the following methods.
You can call the insurer using their 24×7 toll-free number, 1800-266-7780, and resolve your renewal-related issue.
You can avail of their WhatsApp facility to contact the company using the number – 9136160375. This number is not for calling.
You can also contact their agents or intermediaries to talk about your renewal issue at 1800-267-7233. This number is also toll free.
Or else, you can directly write to the insurer using their email ID customersupport@tataaig.com stating your problem. In that case, you may need to provide them with the other details, such as the policy number.
Apart from the above-mentioned online processes, you can also visit the nearest official branch of the company. you can locate the nearest branch by using their branch locator facility that is accessible through their official website.