Cover Your Health in 5 mins
Compare Premium.
Buy Now.
* Subject To Underwriting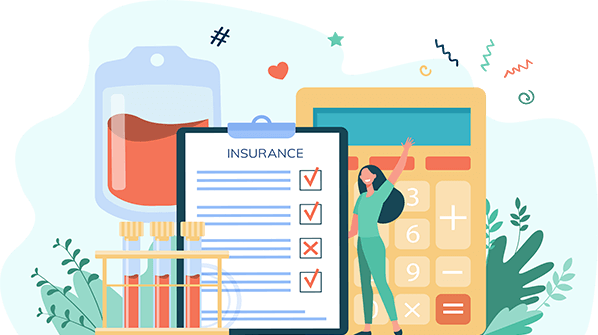 Compare

Individual Health Insurance Plans
It is no secret that a health insurance policy will take care of your demands in case of an emergency. The hospital bills might occasionally cost more than your health insurance would cover, requiring you to pay the difference out of pocket. But, a top-up health insurance plan offers a way to prevent such catastrophes. Your primary health insurance is supplemented with top-up health insurance. These plans give you the security you need if your current health insurance policy's maximum amount of coverage is reached. So, a top-up health plan is a fantastic choice for you if you feel that your current sum insured or coverage quantity is insufficient.
What is Top-Up Health Insurance?
Top-up health insurance policies are supplemental coverages that offer you and your family more security in the event of a medical emergency. These plans come to your aid if your current health insurance is unable to cover the cost of your medical expenses. In other words, they come in handy when your current health plan's fundamental threshold limit is exceeded. Yet they only apply to one hospitalisation.
How Does Top-Up Health Insurance Work?
By using an example, we can understand the working of top-up health insurance.
For instance, Mr Rajat Pandey is a man who works for a multinational corporation in Gurugram, Haryana. He already has a two lakh rupee health insurance policy. He makes an annual premium payment of INR 4,000. Yet he thinks the coverage won't be sufficient. As a result, the premium would be INR 8,000 if he increased the current health insurance policy's coverage from INR 2 lakhs to INR 4 lakhs. But, he decides to go with a top-up health insurance plan instead, which has a premium of INR 1000 for every 1 lakh in top-up. He, therefore, pays INR 2000 more, or INR 8,000 annually, for an additional 2 lakhs of coverage.
Features and Benefits of Top-Up Health Insurance
Some of the common benefits of a top-up health insurance plan are as follows:
Health Coverage for Pre-Existing Conditions: In general, most health insurance policies do not provide coverage for any pre-existing conditions. But, you can add a top-up health insurance plan to your basic insurance plan to cover the same things. This is advantageous if you have a history of certain disorders like diabetes or hypertension in your family.
Coverage Additional to the Basic Insurance Plan: One of the main advantages of a top-up health insurance plan is well known to be this. It helps by giving you a financial safety net if your normal policy's threshold limit is reached, relieving you of the associated financial strain.
Peace of Mind: Even if your current health insurance plan runs out at the time you register for a claim, you won't have to give up your peace of mind because you'll be provided with coverage for the rest of the time.
Comprehensive Coverage at a Reasonable Premium: It is crucial to understand that a top-up plan is extremely reasonably priced. It simply means that you can now benefit from both increased coverage and affordable premiums. Furthermore, those who fall into the senior age category will profit the most from this benefit. Considering that older persons have a higher risk of becoming ill, getting a top-up plan would be a very practical choice.
Helps in Dealing with Increasing Medical Inflation: Investment in a top-up plan will aid in effectively combating this inflation as medical inflation is increasing at a rapid rate in India with each passing day. You can easily transfer the risk to your insurance provider by purchasing this plan, significantly reducing your financial load.
Tax Benefits: You can receive tax advantages with the premium you pay for your top-up plan, just like you can with any health insurance policy. You may lower your tax due up to a maximum of Rs. 25,000 following section 80D of the Income Tax Act. It applies to insurance policies purchased for the self, the spouse, and the children. Also, if you are over 60 years old, you may benefit from a greater deductible limit of up to Rs 50,000. A medical plan provides coverage while lowering a person's tax obligation.
What is Covered under Top-Up Health Insurance?
The scope of coverage differs between insurance companies. But typically, you can profit from the following coverages:
Reimbursement for in-patient hospitalisation costs, such as those for nursing and boarding, room rent, doctors' fees, OT, oxygen costs, prosthetic devices or the insertion of any other equipment during diagnostic tests, surgery, blood, and other comparable costs.
Pre-hospitalization expenditures 60 days before hospitalisation.
Post-hospitalization costs will be paid 90 days following the hospital stay.
Daycare operations that don't take more than a day in the hospital.
Some plans pay for the costs of organ donors.
Up to a certain amount, emergency ambulance expenditures will be paid.
A cumulative bonus may also be offered by some insurers at the time of policy renewal. domiciliary care costs, as recommended by the physician.
What is Not Covered Under Top-Up Health Insurance?
The following are a few conditions that these plans don't cover. The following costs are not covered by top-up health insurance plans:
Treatments needed as a result of adventure sports participation: Top-up health insurance policies do not reimburse the insured for costs associated with medical care required as a result of engaging in adventure sports like mountain climbing, paragliding, etc.
Costs caused by self-harm: You are not reimbursed for costs caused by any self-harm behaviour, including attempting suicide.
Cosmetic surgery: Unless it is required due to an injury or burn, top-up health insurance plans do not reimburse you for cosmetic surgery.
Sexually Transmitted Diseases: These conditions are not covered by top-up health insurance plans.
How To Choose the Best Top-Up Health Insurance Plan?
If you are looking to buy an ideal top-up health plan, here are a few things that you should need to consider beforehand.
Check the premium
One of the most crucial considerations before purchasing a Top up health policy is weighing the cost against the advantages of the supplied coverage. You must compare the premiums of various top-up health insurance policies to make the best decision. It will not only assist you in selecting the most affordable policy, but it will also give you the coverage you require.
Deductibility
Deductible is the portion of medical costs that are covered by the insurance company, leaving the policyholder to pay the balance. Every top-up health insurance plan has a fixed deductible that cannot be adjusted based on future needs. So, it is essential to pick a health insurance plan with a reasonable deductible because you cannot change it later.
Opt for a Single Insurer
It is a good idea to purchase a Top-up policy from the same insurance provider where you already have a basic health insurance policy. As you are already familiar with the terms and circumstances of many operations, this not only helps you build trust with your insurance provider but also simplifies your life. Also, you can be qualified for additional benefits including the removal of an earlier waiting time.
Affordable Option
Top-up plans have the advantage of being less expensive than standard health insurance plans. So, rather than purchasing a brand-new foundation health insurance policy, many consumers prefer to purchase top-up health insurance coverage. However, the deductible is one of the elements that determine a top-up health insurance policy's premium. The premium will be lower the larger the deductible, and vice versa. Decide cautiously which policy fits your budget.
Go through your Base Policy
You must thoroughly review your base insurance before purchasing a Top up policy. Examine the advantages you currently have and decide if you need anything additional. Choose the best plan after assessing the healthcare needs of you and your family.
How To File a Claim for Your Top-Up Health Insurance?
You can submit a claim for your top-up health policy in one of two ways.
Reimbursement Claims – The first thing you must do if you are admitted to the hospital is to contact your insurer as soon as you can. To submit a claim, you do not need to go to an office. You might also just send an email. As all claims are now processed digitally, all you need to do to begin the reimbursement process is to contact your insurance company and submit your medical bills and any other necessary documentation.
Cashless Claims – You must be hospitalised at a network hospital to obtain cashless treatments. By presenting your e-health card to the hospital support desk, you can ask for the cashless request form. If all is in order, your claim will be handled immediately.
Buy Top-Up Health Insurance Policy
If you are looking to buy top-up health Insurance, then you can simply buy it via offline or online mode.
Offline Process:
Please visit the branch near your locality if you'd rather buy the insurance in person. You can get all the information you need about insurance when you visit the branch. However, if the problems persist, you can receive help by contacting the insurance provider.
Online Process:
To acquire top-up health insurance online, all you have to do is go to the website, follow the instructions, fill out the necessary information, and then submit your payment to complete the transaction.
Tip: Finding the ideal top-up health Insurance is something that many independent service providers, like Probus Insurance, can help you with.
Frequently Asked Questions