Cover Your Health in 5 mins
Compare Premium.
Buy Now.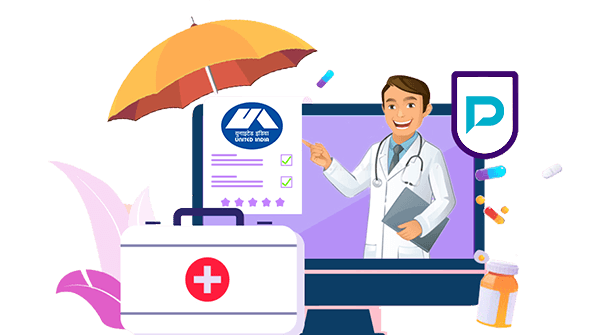 Compare

Individual Health Insurance Plans
United India Super Top-Up Policy
In the event of an illness or accident, United India Insurance's Super Top-Up appears to be a comprehensive health insurance plan that provides coverage above the selected deductible limit in addition to exceptional features. For those who do not want to pay out-of-pocket costs but still require additional benefits and coverage, the United India Health Top-up is the best choice. In addition to the coverage offered by the current health plans, the Super Top-up plan from United India health insurance provides additional benefits like hospitalization and treatment coverage.
Read on to learn more about the United India Super Top-Up Insurance Plan.
Here are the eligibility criteria for the United India Super Top-Up Insurance Plan.
Parameters
Details
Age

Minimum- 18 years

Maximum- 80 Years

Dependent Children: between the ages of 3 months and 18 years shall be covered provided either or both parents are covered concurrently

Sum Insured Options
Up to 15 Rs. Lacs
Policy Period
1 year
Renewability
Annually
Product Type
Individual/Floater
Grace Period
30 days
Here are the coverage details for the United India Super Top-Up Insurance Plan.
Parameters
Details
Hospitalisation Expenses

Expenses of Hospitalisation for a minimum period of 24 consecutive hours only shall be admissible.

The time limit of 24 hours shall not apply when treatment is undergone in a Day Care Centre

Pre-Existing Disease
Only PEDs declared in the Proposal Form and accepted for coverage by the company shall be covered after a waiting period of 4 years.
Balloon Sinuplasty
Up to 10% of Sum Insured subject to a maximum of Rs. 1 Lakh per policy period for claims involving Balloon Sinuplasty
Oral Chemotherapy
Up to 20% of Sum Insured subject to a maximum of Rs. 2 Lakhs per policy period for claims involving Oral Chemotherapy
Intra vitreal Injections
Up to 10% of Sum Insured subject to a maximum of Rs. 1 Lakh per policy period
Stereotactic Radio Surgeries
Up to 50% of Sum Insured subject to a maximum of Rs. 5 Lakhs per policy period for claims involving Stereotactic Radio Surgeries
Key Features and Benefits of Choosing the United India Super Top-Up Insurance Policy
The following are the key features and benefits of the United India Super Top-Up Insurance Plan.
In-Patient Hospitalisation Expenses
Up to the Sum Insured stated in the policy schedule, the policy will reimburse Reasonable and Customary medical expenses incurred for the insured person's hospitalisation during the policy year.
For inpatient care under the Ayurvedic medical system in an AYUSH hospital or daycare facility, the Company shall reimburse Reasonable and customary Medical Expenses.
The Free Look Period will be in effect when the Policy is first issued, not at the time of renewal or when the Policy is ported. Existing Insureds who switch to this policy are also exempt from this condition.
According to IRDAI portability guidelines, the Insured Person will have the option to transfer the policy to other insurers by applying to such insurer to transfer the entire policy, along with all of the family members, if any, at least 45 days before, but not earlier than 60 days from the policy renewal date.
This United India Super-top-up policy covers daycare medical procedures that don't call for a 24-hour hospital stay.
By any applicable laws, the policy also includes coverage for the donor's expenses, excluding the cost of the organ, as necessary during the transplant.
Modern Treatment Methods & Advancement in Technologies
Any costs incurred for the following procedures (where medically indicated) as an in-patient or as part of daycare treatment in a hospital shall be covered if claims are admissible. The use of robotic surgery and modern treatment modalities like stem cell therapy can also be claimed.
Major Exclusions Under the United India Super Top-Up Plan
Here is the list of the things not covered under the United India Super Top-Up Insurance Plan.
Treatment costs for pre-existing conditions (PED) and their direct complications are excluded from coverage until 48 months have passed since the start of the first policy with the company.
If the amount insured is increased, the exclusion will reapply to the extent of the new amount insured.
The waiting period would be shortened to the extent of prior coverage if the insured person had uninterrupted coverage as defined by the portability norms of the then-current IRDAI (Health Insurance) Regulations.
Pre-existing conditions must be disclosed and approved at the time of application for any pre-existing conditions to be covered under the policy after the first 48 months have passed.
All illnesses and costs resulting from exposure to ionizing radiation or contamination by radioactivity from any nuclear fuel (in explosive or dangerous form) or any nuclear waste produced during the burning of nuclear fuel during a nuclear, chemical, or biological attack.
Circumcision, unless required for the treatment of a condition not otherwise excluded by this clause or an accident-related injury.
Expenses for any treatment that hasn't been proven effective, as well as services and supplies used in conjunction with treatments. Unproven treatments are those that do not have a substantial body of medical evidence to support their efficacy.
Expenses associated with any form of treatment, including surgical intervention, to change a person's physical characteristics to those of the other sex.
Any type of surgery or dental work, unless it's an emergency requiring hospitalisation.
Vitamins, minerals, and organic substances are just a few examples of dietary supplements and substances that are available without a prescription unless a doctor has prescribed them as part of a hospitalisation claim or daycare procedure.
Acupressure, acupuncture, magnetic therapy, and other forms of experimental therapy, such as naturopathy, are not based on accepted medical standards in India.
Treatment for, Alcoholism, drug or substance abuse, or any addictive condition and consequences thereof.
All costs associated with or resulting from a foreign invasion, an act of a foreign enemy, hostilities, warlike operations (whether a war is declared or not, or while serving in the armed forces of any nation), civil war, public defence, rebellion, revolution, insurrection, military or usurped power, or any combination of these.
How to Buy the United India Super Top-Up Plan?
It is no secret that buying such a plan may let you reap countless benefits. However, you cannot purchase the plan on the United India insurance website. There is no need to worry, though. Probus Insurance is still where you can make your purchase.
Probus Insurance Broker Private Limited is a specialised insurance broker that operates throughout India and offers a large variety of insurance plans (including life and non-life) to meet the exploding demands of people across the nation.
The steps to take into consideration when buying the United India Super Top-up insurance plan through Probus Insurance are listed below.
The top of this page is where you'll find the "Product" section. Hovering over it will reveal the words "Health Insurance". Simply click it.
The following step entails selecting your gender and entering your "pin code" in the space provided on the right side of the page. From the menu, choose "Continue".
Decide which person you want to insure next. The next step requires you to select your "deductible amount" and enter your age. (Select whether you have experienced ailments by selecting yes or no). After that, click "Get Plan".
As soon as you click on it, a list of plans and the required premium amount will appear. After that, locate your "United India Super Top-up insurance plan" and purchase it right away.
You still have trouble buying something, right? If so, don't worry! To purchase a United India Super Top-up insurance plan right away, just get in touch with a Probus Insurance customer service agent. The details for getting in touch are given below.
| | |
| --- | --- |
| Parameters | Details |
| Call | +91 7304332968 |
| WhatsApp | Say "Hi" to 7304332968 |
| Mail | care@probusinsurance.com |
Claim Process Of United India Super Top-Up Insurance Plan
There are two ways through which you can claim your top-up mediclaim policy
Cashless Claims:
You must be admitted to a network hospital to receive cashless treatments. By presenting your e-health card to the hospital help desk, you can ask for the cashless request form. If all is in order, your claim will be processed immediately.
The insurer, i.e. United India Insurance pays the bill amount incurred directly to the hospital under a cashless mediclaim process. However, for your claim process to go smoothly, you must notify your insurer well in advance and get yourself treated at one of the insurer's network hospitals.
However, a cashless plan does not imply that the policyholder won't have to make any out-of-pocket payments.
The policyholder is responsible for paying any costs that the insurance company does not cover, such as consumables.
If the insured has opted for a cashless hospitalisation plan, they only need to pay a predetermined amount; the insurer will cover the remaining balance.
Reimbursement Claims:
The first thing you must do if you are admitted to the hospital is notify your insurer as soon as you can. To submit a claim, you are not required to go to an office. You could also just send an email. Since all claims are now processed digitally, all you need to do to begin the reimbursement process is to contact your insurance company and submit your medical bills and any other necessary documentation.
Inform United India Insurance, the insurance company, as soon as possible about the claim. You must notify the insurer of any planned treatment or urgent hospitalisation within the specified time frame.
Have the original invoices on hand and pay the medical care costs incurred.
Send the insurance company the original invoices, the insurance claim form, and any other supporting paperwork.
The insurance company must examine the invoices and claim information. The insurer may ask for additional documents if more information is needed.
The claim will either be approved or denied based on the specifics of your insurance policy and the claim.
If your health insurance claim has been approved, you will soon receive a reimbursement for the claimed amount.
Documents Required:
The documents you will need to submit during the claim for the United India Super Top-Up Insurance Plan are given below:
Consultation papers provided by your doctor
Hospital bills including all the receipts stating the payment done by you
FIR or Medico-Legal Certificates if required
Payment receipts and invoices provided by the pharmacy during the purchase of medicines and other items
Summary of the discharge of the patient
Any other documents as asked for by the insurer
Your health insurance policy documents
Renewal Process of the United India Super Top-Up Insurance Plan
When you purchase health insurance and keep the policy active by paying the premiums on time, you will have ongoing coverage. Your plan will expire if you don't renew it promptly. Then, if you choose to purchase a health insurance policy again, you might be required to pay higher premiums or even be denied coverage entirely due to your age or health. Additionally, the premiums you pay are deductible from your taxes by Section 80D of the Income Tax Act of 1961. You must always renew your policy on time if you want to guarantee that you receive these tax benefits!
Listed below are the steps to renew your United India Super Top-Up Insurance Plan in just 2 minutes.
Visit the United India Insurance Company's official website.
Then click "Know More" next to health insurance in the products section of the blue banner.
You must then click Go after selecting the United India Super Top-up insurance plan from the "I am Looking for" section.
The "Renew" option is then located in the yellow button on the left side. Just click it.
A new page will open when you click it, requiring you to enter your policy number and a captcha code. After entering all the necessary information, choose "Proceed" from the menu.
Complete the renewal process by entering it. The details of the policy will then appear on your screen.
The insurance renewal premium must then be paid. At that point, you can use a credit or debit card to renew your insurance.
Your registered phone number and email address will receive a text message with information about your insurance shortly after you make the payment.
Frequently Asked Questions
In this Super Top-up policy, migration is possible. However, by IRDAI regulations, one must inform the business at least 30 days before the renewal date.
For all claim documents, the claim period is 15 days. This covers post-hospitalization expenses up to 60 days after discharge from the hospital, as well as reimbursement for hospitalisation costs.
The answer is yes, but only if done at least 45 days before the renewal period and no earlier than 60 days before the renewal period.