Cover Your Health in 5 mins
Compare Premium.
Buy Now.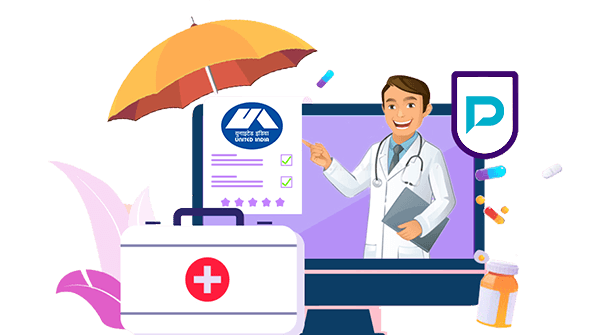 Compare

Individual Health Insurance Plans
Download Universal Sompo Health Insurance Policy
Customers of Universal Sompo General Insurance Co. Ltd. can download all the required policy documents from a very user-friendly digital platform. Documents describing the coverage, rewards, premium payments, free-look period, and other terms and conditions of the Universal Sompo health insurance policy are available online. If the applicant needs any information about the policy, they can consult the policy paper.
You should download the details of your health insurance policy, including the benefits you can get from it and the procedures for filing claims. Make sure to download and safely store the policy paperwork after you have purchased it so you may refer to them in the future for renewal and claims.
What Does The Universal Sompo Health Insurance policy document contain?
Customers can access the Universal Sompo Health Insurance policy download feature by purchasing health insurance. These policy documents, which include all the pertinent data regarding the health policy, are crucial for future reference. Along with other policy paperwork, the Universal Sompo Health Insurance premium receipt download is essential. The list given below contains all the information that is provided in the policy documents:
Name of the person insured in the policy
Contact and other relevant details
Every minute detail of the policy plan
Conditions for cumulative bonus
Grievance redressal mechanism
Other Terms and conditions of the policy
How To Download Universal Sompo Health Insurance Policy Online Using Policy Number?
For your Universal Sompo health insurance policy download, follow the steps given below:
First, visit the official website of Universal Sompo car insurance.
Then, you will find a login section in the top right corner. Simply log in to the customer portal using your details.
Find and click on a tab titled 'policy details.
Next, click on a tab titled 'new policy.'
Enter your policy number in the required field and click on 'search.'
The screen would now display your policy details and other information.
Download the policy document in PDF format.
What is the Offline Method to Obtain Your Universal Sompo Health Insurance Policy Document?
Even if the online method is far more simple and more straightforward, you can still use the offline way and easily obtain your Universal Sompo health insurance coverage. Calling their 1800-22-4030 / 1800-200-4030 number is all you need to do to get information on your health insurance policy document. You could also go to their branch.
MIDC Central Road, Andheri (East), Mumbai-400093, Maharashtra
The user-friendly digital portal of Universal Sompo Health Insurance makes it simple for policyholders to access and download their insurance documentation. By following the straightforward steps outlined above, you can receive a digital copy of your policy documents immediately. It's a smart idea to maintain track of your login details and to securely store a copy of the policy document for potential usage in the future. You may rest assured that you are covered and always protected by making sure these things are done.
Frequently Asked Questions
There are three plan lengths offered by Universal Sompo Health Insurance: one year, two years, and three years. You are free to select whichever suits you best.
Yes, you can use a credit or debit card to pay for your premium online.
Yes, the customer service representatives for Universal Sompo health insurance are available around-the-clock at the toll-free lines listed on the organization's website.