Cover Your Health in 5 mins
Compare Premium.
Buy Now.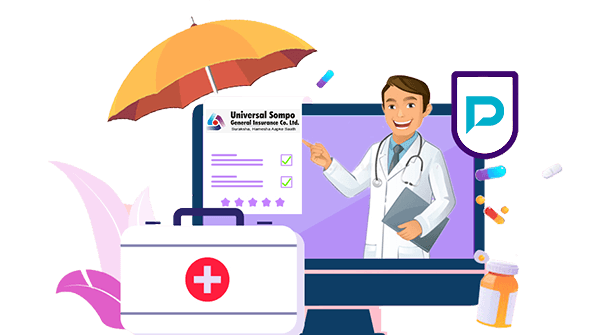 Compare

Individual Health Insurance Plans
Universal Sompo Health Insurance Renewal
Though health insurance is designed to look after your health, forgetting to renew it on time can counter its significance in general. You will have to let go of multiple benefits when you do not renew your health insurance plan on time. Also, the insurer considers you uninsured, and you won't get any coverage if you get hospitalized during this period. It is, therefore, necessary that you get your health insurance policy renewed well within the stipulated time. Also, choosing a health insurance company like Universal Sompo can cut down on your hassle by offering a seamless and swift policy renewal facility. Want to know more? Let's dive deeper!
How To Renew Your Universal Sompo Health Insurance Plan?
Universal Sompo understands that modern life can be quite hectic. And hence, this insurance company has come up with an easy, 2-steps policy renewal feature. If you have a Universal Sompo health insurance plan, follow the below-given points to renew your policy:
Visit the official website of Universal Sompo Insurance company.
At the top, you will see multiple tabs. Choose the one that says "Renewal."
This will redirect you to a new page. As you scroll down you will see the option of "Renew now."
Another page will open up where you need to fill out your policy number and date of birth.
Then click on "Continue" and make the payment online using your debit or credit card.
What Benefits Can You Enjoy After Universal Sompo Health Insurance Renewal?
If you are still wondering about the benefits of timely renewal of Universal Sompo Health Insurance plan, then check this out!
Financial Protection
Renewal of Universal Sompo health insurance plan entitles the insured person to enjoy coverage such room rent, surgery, medical consultations, investigations, ICU expenses and so on. Either they will reimburse the expenses or offer you a cashless treatment based on your health policy. So, during those unforeseen events, you can stay financially sane and secure and continue enjoying premium health care facilities and treatment.
Seamless Medical Experience
Renewal of health insurance policy ensures that you stay insured. Your policy will not lapse and you will continue enjoying all the coverages and benefits as mentioned in your policy papers. 
Ensured Life Safety
When you get your health insurance plan renewed on time, you can rest assured about the protection that Universal Sompo offers to its policyholders. Even in case of severe, life-threatening health conditions or accidental injuries, Universal Sompo will keep you protected all through by offering suitable coverage as per your health insurance plan.