Cover Your Health in 5 mins
Compare Premium.
Buy Now.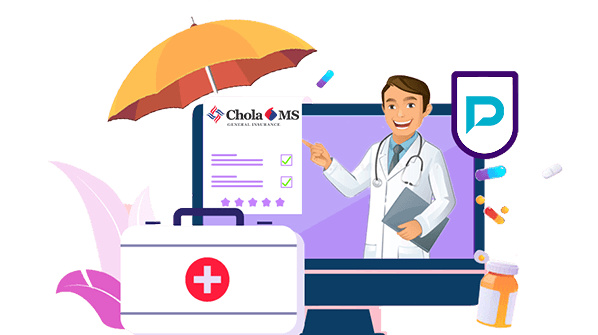 Compare

Individual Health Insurance Plans
Cholamandalam Health Insurance Renewal
If you have already bought health insurance from Chola MS General Insurance company, then here's something you should definitely know. Apart from paying premiums, one factor that you should never take lightly is health insurance renewal. Your health insurance policy stays valid for a year. After that, you will have to renew it within the stipulated time. The inability to renew your health insurance policy on time can result in severe consequences. It is, therefore, advisable that you get your Cholamandalam health insurance policy renewed on time.
What Will Happen in Case You Fail To Renew Cholamandalam Health Insurance on Time?
When you fail to renew your health insurance plan within the given time, here's what you should do:
Lapsed Policy: When you forget to renew your health insurance policy within the given deadline, your policy gets lapsed immediately. All the premiums that you have paid to date go in vain. You are then required to buy a new policy altogether. This will again feel heavy on your budget. Also, buying a new policy will be quite cumbersome. 
Enhanced waiting period: Generally, insurance companies enforce waiting-period against specific health conditions (maternity benefits, pre-existing disease etc.) In case the policy gets lapsed, you will have to buy a new policy and serve waiting-period again.
Medical check-ups: While buying a health insurance policy, you may have to undertake certain medical tests. If you do not renew your policy on time, you will have to buy a new health insurance plan and go through the medical tests once again. 
No coverage: The moment your policy lapses, you run out of all coverage. This means that if you need medical attention in the upcoming days, there will be no coverage. And you will have to pay for all the expenses from your own pocket.
Loss of no claim bonus: No claim bonus is something that you get rewarded with when you do not raise a claim in an entire year. Over time, it accumulates and passes on to the next year when you renew the policy on time. However, when your policy is not renewed on time, you lose your NCB.
How To Renew Your Cholamandalam Health Insurance Policy?
Through Website:

In case you want an easier and hassle-free option, simply do it the virtual way. Follow the below-given steps to renew your health insurance online:
Visit the official website of Chola MS General insurance company.
Then choose the option that says "Renew Chola MS Policy." You can see it in bright blue colour on the top of the website.
Next, you will be redirected to a new page where you will have to select the "Health" option.
After that, you will enter your policy number and state of birth.
Once you have entered all the necessary details, you can simply click on the "Proceed" button.
You will be asked to pay the required amount for renewal through UPI or the online banking system.
After the payment is made, you will receive a confirmation mail on your registered email ID.
Through Branch:

If you are unwilling to take the online path, you can try the offline route. For this, you will have to visit your nearest Cholamandalam MS General Insurance company branch. Then reach out to the help desk and request them to help you renew your health insurance plan. After you make the payment, they will renew your policy and hand you a receipt of the same. You will also get a soft copy of the insurance papers in your registered email ID.