Renew in just 5 mins.
No Inspection.
No Paper Work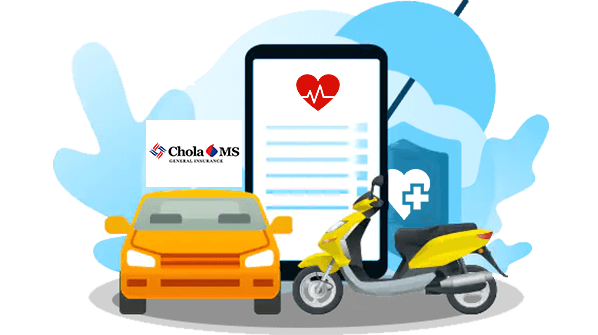 Compare

Car Insurance Plans
Cholamandalam General Insurance
Cholamandalam General Insurance Company Limited, or Chola MS, is an Indian general insurance company that was founded as a joint venture between the Murugappa Group, an Indian conglomerate, and Mitsui Sumitomo Insurance Group, a Japanese insurance company. The company's motto is 'T3,' which signifies trust, transparency, and technology are three vital factors for the company. For individuals and corporations, the Cholamandalam General Insurance Company has a diverse insurance product and service portfolio that includes motor insurance,
health insurance
, travel insurance, and home insurance.
Premium Underwritten
Rs. 4398.49 Crores (2019-20)
Equity Share Capital
298.81 (As Of March 31, 2020)
Incurred Claim Ratio
74.99 (2019-20)
Solvency Ratio
1.58 (March 2020)
Number Of Policies Sold
124,236 (2019-20)
Cashless Hospitals
9500+
Cashless Garages
8500+
Claims Settled
2.5 Lakhs +
Awards & Recognitions

Golden Peacock Award – Risk Management
The Economic Times Best Brands 2020
Best CSR Practice
Dream Companies To Work For In Private Insurance Sector
Pride Of Tamil Nadu Award For BFSI (Banking, Financial Services, & Insurance) Sector.
Types Of Insurance Plans Offered By Chola MS General Insurance
Purchasing insurance is crucial because it ensures that you are financially secure in the event of a life crisis. Cholamandalam General Insurance Company offers the following general insurance plans to its customers:
1. Cholamandalam Motor Insurance Plans
MS Cholamandalam General Insurance provides motor insurance to cover damages to third parties caused by an accident involving the policyholder's vehicle, as well as damages or losses to the policyholder's own vehicle caused by an accident, theft, natural catastrophe, or man-made disaster. The company offers the following types of motor insurance plans:
MS Cholamandalam General Insurance Company ensures that your car is safe and secure against any unforeseen occurrence and that your expenses are fully paid in the aftermath. As a result, the insurance company offers two types of car insurance policies: third-party car insurance and comprehensive car insurance. Zero depreciation, hydrostatic, consumables, key replacement, personal possessions, and roadside assistance are just a few of the add-on insurance offered by Cholamandalam MS to strengthen your car insurance cover.
Two-Wheeler Insurance Plan
Cholamandalam provides two major types of two-wheeler insurance: Comprehensive Insurance Cover and Third-Party Insurance Cover. The plan provides protection of legal interests, personal accidental cover, accidental damage cover, deliberate man-made damage cover, theft or loss cover, fire damage cover, cover for damage caused by natural calamities, and the cover for damage during transit. Moreover, if you wish to strengthen your two-wheeler insurance cover, you can choose add-on covers including zero depreciation cover, return to invoice cover, road assistance cover, and consumables cover.
Commercial Vehicle Insurance Plan
The Commercial Vehicle Policy from Cholamandalam provides complete coverage for damage or loss to your vehicle, as well as third-party liability. The plan provides protection against accidents, natural calamities, fire, theft, terrorist activity, and so on. The plan also allows the policyholder to strengthen their commercial vehicle insurance by choosing from a wide range of add-on covers, such as roadside assistance cover, zero depreciation cover, consumables coverage, and RVB (Reinstatement Value Basis) cover. The types of vehicles covered under the plan are passenger-carrying vehicles, goods-carrying vehicles, tractors, special, and miscellaneous vehicles.
Comprehensive Car Insurance Plan
Cholamandalam's Comprehensive Car Insurance Policy covers a wide variety of expenses that may arise as a result of an accident or other disaster involving your vehicle. The plan provides coverage to the damages to both parties that are involved in an accident. This is a comprehensive policy that covers vehicle damage, theft, legal liability to third parties, and personal accident coverage. Add-ons like as Monthly Instalment Cover, Roadside Assistance in Case of Breakdowns, Waiver of Depreciation, Personal Belongings (inside the car), and others can be added to the policy.
Own Damage Car Insurance Plan
Cholamandalam's Own-Damage Car Insurance Policy adds another layer of security to the insured car and policyholders against road hazards. The plan is not required to be kept, but it is advantageous because it covers a wide range of circumstances such as theft, fire, explosion, burglary, man-made disasters such as riots, vandalism, and so on, as well as natural disasters such as earthquakes, floods, and landslides.
Comprehensive Two-Wheeler Insurance Plan
The Cholamandalam Comprehensive Two-Wheeler Insurance Policy helps with third-party financial obligations as well as personal harm to the insured's bike. Accidents, theft, natural disasters, and man-made disasters are among the contingencies and unanticipated occurrences covered by the plan. The insurance also includes a no-claim bonus, which gives the insured a discount on their renewal payment if the preceding policy year was free of claims.
Own Damage Two-Wheeler Insurance Plan
The Own-Damage Two-Wheeler Insurance Cover from Cholamandalam will protect you in a variety of situations, including theft, total loss, fires, explosions, and natural or man-made disasters. It will provide you with comprehensive coverage and peace of mind if you purchase it in addition to your mandatory third-party insurance. There are a variety of add-on covers available with the policy. Every claim-free year earns the insurance company a reward, known as the no-claim bonus.
MS Cholamandalam General Insurance offers a variety of health insurance plans that are designed to cover medical expenses through cashless treatment or reimbursement. Let's take a look at them:
Flexi Health Plan
Cholamandalam Flexi Health Insurance Policy provides a financial safety net for the insured in the event of a medical emergency. The plan is tailored to the policyholder's personal needs, with variable sum insured options and several simple premium payment alternatives. Accident-related injuries, investigations, pre-existing conditions, and common surgeries are covered under the plan. The plan also offers some additional benefits, such as compassionate visits, tax benefits, renewal benefits, and medical second opinion.
Arogya Sanjeevani Policy
The Arogya Sanjeevani Policy of Cholamandalam gives financial assistance in the event of a medical emergency. It covers the costs of basic hospitalization for you and your family in the event of sickness, illness, disease, or an accident. If you are between the ages of 18 and 65, you can propose this policy and add other family members such as your lawfully wedded spouse, dependent children aged 3 months to 25 years, parents, and parents-in-law. The policy offers a variety of sum insured options ranging from Rs. 1 lakh to Rs. 10 lakhs, which policyholders can select based on their needs.
Chola Healthline Plan
Chola Healthline is a plan that takes a holistic approach to provide medical care for individual and family hospitalization expenses. This policy covers the policyholder as well as his or her spouse and dependent children. Policyholders can include their parents, in-laws, siblings, and other family members when choosing a plan on an individual basis. This plan is available to people between the ages of 18 and 65. Under several names, the health insurance policy is available with sum insured options ranging from Rs. 1 lakh to Rs. 25 lakhs. Value Healthline, Freedom Healthline, Enrich Healthline, and Privilege Healthline are the four different plans available under the coverage.
Critical Healthline Plan
Chola MS Critical Healthline is an insurance designed to pay policyholders a lump sum amount that is fixed and equivalent to the sum insured if they are diagnosed with a critical illness. Chola MS Standard Critical Healthline and Chola MS Advanced Critical Healthline are the two plans available. The number of illnesses covered by the two health insurance policies is the most significant variation between them. Both plans have an amount insured ranging from Rs. 3 lakhs to Rs. 10 lakhs and a 90-day waiting period from the start of the plan. This plan is available to those aged 5 to 65, with no medical screening required until they reach the age of 55.
Super Top-Up Plan
Chola Super Top-Up Insurance Policy is a comprehensive top-up plan that provides coverage to cover escalating medical costs. This plan has two variants: Premier Plan and Supreme Plan, both of which have a wide range of sum insured and deductible options to suit and meet the insurer's needs. The plan covers persons from the age of 3 months to 70 years old without requiring a medical exam up to the age of 55, and it has a permanent renewal option.
Chola Hospital Cash Healthline Plan
If the insured member is hospitalized for more than 24 hours, the Chola Hospital Cash Healthline Policy provides a fixed daily cash benefit to cover various expenses. If you are admitted to the intensive care unit, your monetary benefit is quadrupled for the duration of your stay. A convalescence benefit is awarded if the duration is longer than 20 days. The plan comes in 6 variants: Plan A, Plan B, Plan C, Plan D, Plan E, and Plan F. People between the ages of 18 and 65 are eligible for the Chola Hospital Cash Healthline Policy, which includes self, spouse, siblings, children, parents, and parents-in-law. The plan can be purchased for one, two, or three years. People over the age of 55, however, must undergo a medical examination in order to purchase this plan.
Accident Protection Plan
Chola Accident Protection is a plan that can reimburse your medical expenses and compensate you if you are disabled or die as a result of an accident. The plan covers accidental death, permanent disability, temporary disability, education grant, hospitalization charges, and transportation of mortal remains. The insured must be at least 18 years old and not more than 69 years old to be eligible for the Chola Accident Protection Insurance. Unlike most health insurance policies, the Chola MS Accident Protection policy does not require you to undergo any kind of medical test.
Corona Rakshak Policy
Cholamandalam General Insurance's Corona Rakshak Health Insurance Plan is designed to meet the health insurance needs of persons who are undergoing COVID-19 treatment. If an insured person tests positive for COVID-19 and requires hospitalization, this policy guarantees to pay a lump sum payout. The entry age for the plan is from 18 to 65 years. This plan's coverage will only be available on an individual basis, with amount insured options of Rs. 50,000, Rs. 1 lakh, Rs. 1.5 lakhs, Rs. 2 lakhs, and Rs. 2.5 lakhs. People can buy this health insurance policy for 3.5 months, 6.5 months, or 9.5 months without having to go through a pre-policy medical examination.
Corona Kavach Policy
The Cholamandalam Corona Kavach Policy is intended to meet the health insurance needs for the treatment of coronavirus infection. This low-cost health insurance plan covers your medical bills if you are admitted to the hospital for Covid-19 treatment. This policy would provide indemnity coverage with sum insured options ranging from Rs. 50,000 to Rs. 5 lakhs. This health insurance plan has three policy terms: 3.5 months, 6.5 months, and 9.5 months. Individuals between the ages of 18 and 65 can purchase this coverage on an individual or floater basis, and it can be used by the self, spouse, children, parents, and parents-in-law.
Cholamandalam Travel Insurance Plans
The company's travel insurance policies are designed to protect you from unforeseen incidents throughout any type of travel experience, whether it's for work or leisure. The plans cover a wide range of situations, including aircraft delays, passport loss, trip cancellation, baggage loss, medical problems, and so on. Let's check them out:
Comprehensive Travel Insurance Plan
Chola Comprehensive Travel Insurance Policy is an out-of-country travel insurance policy designed to cover a traveler's exposure to numerous risks while traveling outside of India. This comprehensive travel insurance package provides you with a broad range of insurance coverage at a low rate. The plan allows you to choose from varied optional covers, namely Travel Plus, Travel Pleasure, and Travel Delight. The plan also offers a wide range of sum insured options from Rs. 50,000 to Rs. 5 lakhs.
Student Travel Insurance Plan
Chola MS Student Travel Insurance is a coverage that protects students from unforeseen circumstances that could disrupt their studies. This policy is far less expensive than the cost of insurance in another country, reducing your outflow of valuable foreign currency. The plan comes in three variants: Silver, Gold, and Platinum, with medical benefits ranging from 50,000 to 2,50,000 rupees. The plan provides standard coverage in accordance with foreign university requirements, and it covers health-related emergencies as well as travel-related problems that may arise while traveling abroad.
Leisure Travel Insurance Plan
Chola MS Leisure Travel Insurance is meant to cover medical emergencies and travel-related problems that may arise while traveling abroad. The plan comes in a variety of options, namely Silver Cover, Gold Cover, and Senior Citizen Plan, with medical benefits ranging from Rs. 50,000 to Rs. 2,50,000. The policy covers the majority of emergencies that may arise while traveling overseas.
Chola MS Home Insurance Plans
The Cholamandalam Home Insurance Policies covers not only the structure of your home, but also the contents of your home against risks such as theft, burglary, man-made/natural calamities, etc., which can result in the loss or damage of valuables such as furniture, electronics, fixtures, jewelry, and so on. Cholamandalam offers two types of home insurance policies as follows:
Home Package – Griha Raksha Policy
The Home Package Policy from Chola MS protects your belongings from burglary, fire, appliance breakdowns, terrorism, earthquakes, floods, storms, and cyclones. With the Chola MS Home Package Policy, you can protect not only your home but also all of your assets and your family. In this manner, you receive not one, not two, but three layers of security. The plan provides coverage to burglary and housebreaking, personal baggage, home utility appliances, home appliances, plate glass, jewelry and other precious items, garden, pet animal, personal accident, costs of hospitalization, public liability, tenant liability, education benefit, cost of conducting death ceremonies, and accident and related risks.
Chola MS Bharat Griha Raksha Policy
The Chola MS Bharat Griharaksha Policy covers your building structure and/or contents for any sum covered against loss, damage, or destruction caused by 14 insured events stated in the policy. The policy covers the building as well as any additional constructions such as a garage, compound walls, or a verandah. The policy period ranges from 1 year to 10 years and additional benefit of valuable content and PA cover is provided under the plan.
Why Should You Choose Insurance Plans From Cholamandalam?
Cholamandalam MS Insurance Company has unique services and features that provide clients with the best possible experience when utilizing its insurance programs. Here are some important aspects of the company that makes its policyholders even more benefitted from its plans:
Strong Network Of Garages & Hospitals
In the event of an emergency, the company's policyholders can simply locate a garage to get their vehicle fixed or a hospital with a cashless facility to receive treatment during a medical emergency. The company has a network of over 8500 garages and 9500 hospitals to enable easy access.
Customer Service Is Available 24/7
Chola MS General Insurance consumers can contact the company's customer service team at any time because it is available 24 hours a day, seven days a week. Customers can contact the company's customer service representatives by calling toll-free numbers 1800-208-5544 and 1800-208-9100, or by sending an email to customercare@ cholams.murugappa.com.
Renewal Process Is Quick and Easy
The company makes it simple for policyholders to renew their policies. Customers can renew their policies by entering their policy numbers on the Chola MS General Insurance Company's website. The renewal procedure is completed once you've made the necessary changes and paid for the plan.
The ICR or Incurred Claim Ratio is the ratio of an insurer's total value of claims resolved to the total value of premiums collected in a particular period. Any policyholder who has an incurred claims ratio of less than 50% is losing money.
When we talk about Cholamandalam General Insurance, the company has an excellent Incurred Claim Ratio of 74.99, which itself indicates the profit of the company.
A solvency ratio is a tool for determining a company's capacity to satisfy its financial obligations. Every insurer must maintain a health solvency ratio of 1.5, according to the IRDAI.
While talking about Tata AIG, the company maintains healthy insurance of 1.58, which fulfills the criteria of IRDAI.
Difference Between Third-Party And Comprehensive Car Insurance
Cholamandalam provides a simple claim initiation process and accompanies consumers through the entire process until the final disbursement of the claim money, ensuring a hassle-free experience. Let's take a look at the claim process for each of Cholamandalam's general insurance plans!
1. Motor Insurance Claim Process
The policyholder can file a claim against their Cholamandalam's motor insurance through two methods: cashless claim and reimbursement claim.
Cashless Claim: Notify Cholamandalam of the accident/mishap right away. You can contact the insurance company by dialing 1800-208-5544. Cholamandalam will send a surveyor to assess the degree of the vehicle's damage. Request that the insurer arranges for the towing of the damaged vehicle. After all formalities and documentation are completed, your automobile will be fixed at the workshop, and the insurance will pay the total repair cost directly to the garage. Pay the mandatory deductible amount to the insurer, as well as the optional deductible amount (if chosen), and drive your vehicle home!
Reimbursement Claim: Inform Cholamandalam of the accident/theft/mishap affecting the insured car by calling 1800-208-5544. Inquire with the call center representative about starting the claim. The firm will arrange for a surveyor to inspect the extent of the insured vehicle's damage. After the inspection, take your vehicle to the local garage. You can either arrange for a towing service yourself or submit a request to your insurer. Repair your car at a nearby garage or workshop. Before driving your vehicle home, make sure you gather all of the original bills from the garage. To begin a reimbursement of the claim amount, submit the original repair bills along with the relevant papers to Cholamandalam. Cholamandalam will then reimburse you the claim amount after deducting the appropriate deductibles once all processes have been completed.
2. Health Insurance Claim Process
There are two methods for filing a claim against Cholamandalam Health Insurance policies: cashless method and reimbursement method.
Cashless Method: Look for a network hospital that is close to your location and has the best available facilities. Visit the hospital with your health card and show it to the appropriate official. Cholamandalam MS or the TPA will receive a claim request from the hospital. Following that, your application will be properly reviewed, and a decision on approval or denial will be made. Cholamandalam MS will settle the bills directly with the network hospital if the claim request is authorized. If a claim request is denied, the insured person can seek treatment at a network hospital by paying for it out of pocket and then submitting a reimbursement claim later.
Reimbursement Method: Notify the insurance of the hospitalization as soon as possible, along with the policy certificate number. Choose a medical procedure, get it done, and pay the price. At the time of discharge from the hospital, gather all original bills and documentation. Fill out the claim form completely and have it signed by the authorities. After that, send it to the insurer together with all of the original paperwork. The health insurance plan's terms and conditions will determine whether approval or refusal is granted.
3. Travel Insurance Claim Process
The first step is to contact Cholamandalam General Insurance and let them know you want to file a claim. The customer service agent will then direct you to get a copy of the form. Fill out the form and attach the relevant documents, which include a copy of your travel insurance policy, proof of identity and address, and a statement explaining why you're filing the claim. Cholamandalam will now assess your travel insurance claim. Once your claim has been confirmed, the company will release the claim amount to you. You may receive cashless care at a network hospital in the event of a medical emergency, and the company's offshore claims manager will deal directly with the hospital to settle the claim.
4. Home Insurance Claim Process
Cholamandalam's Home Insurance claim process is relatively straightforward. Notify the firm within 15 days of the accident. If you have been the victim of theft or burglary, contact the police and register an FIR or written complaint. Complete the homeowner's insurance claim form and include any supporting documentation. Following that, a surveyor will be sent to the affected residence to determine the extent of the damage. The surveyor's report will be delivered to the company. Cholamandalam General Insurance will then authorize the claim based on the provided documents and surveyor reports. The claim amount will then be paid to the policyholder.
Frequently Asked Questions