Cover Your Health in 5 mins
Compare Premium.
Buy Now.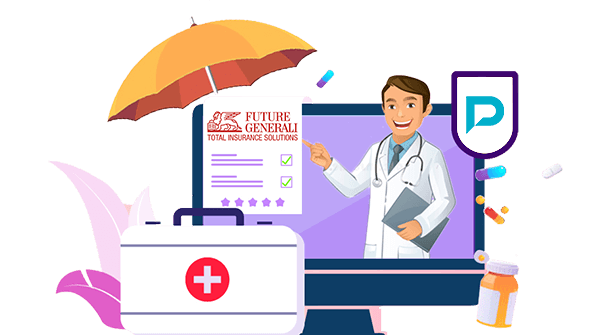 Compare

Individual Health Insurance Plans
Future Generali Health Insurance Claim
Choosing the best health insurance policy for yourself and your loved ones can be quite overwhelming, given that there are so many insurance companies claiming to be the best. While purchasing a health insurance plan, one needs to be careful of certain factors, such as claim settlement ratio, time taken for claim approval, a network of cashless hospitals, customer support system and so on. 
One insurance company that stands tall in its claim is Future Generali. This insurance company is renowned for its swift claim settlement procedure as well as high claim settlement ratio (90.04% in the year 2020-21). From claim registration to claim settlement, our aims at walking you through all the intricacies of the Future Generali Health Insurance claim process. Let's jump into the details.
Future Generali Health Insurance Claim Process
For filing a claim with Future Generali, you get two options – cashless claims and reimbursement claims. Let us understand the nuances of these terms one by one.
A cashless claim implies the process of claim settlement in which the insurer will offer financial coverage for all the medical and hospitalisation expenses of the patient (as per the health insurance plan).
Future Generali health insurance offers a swift and convenient 4-steps cashless claim filing process:
You can check the official website of Future Generali and go to the health insurance section. From there, simply scroll down and you will get to see the "hospital locator." Use this to find a cashless hospital nearest to your location. Then visit the insurance desk of this hospital and let them know about the hospitalisation. You will have to carry your health card along.
The hospital will then run a verification process to crosscheck your identity. Further, it will share a completely filled pre-authorisation form with Future Generali.
The patient can then seek admission and treatment in the hospital without paying a single penny.
After the patient gets discharged, the cashless hospital will forward the discharge papers, medical invoices and other documents to Future Generali. Soon the insurance company will settle the claimed amount with the hospital directly.
Reimbursement Claim Process
In the case of reimbursement claim, the policyholder initially needs to pay for hospitalisation and medical expenses on his own. Later on, he can produce the bills and medical details to the insurance company and get the amount reimbursed.
Follow the below-mentioned steps to file a reimbursement claim with Future Generali:
Collect and keep the documents secure: Once the patient is discharged from the hospital, you need to collect all the bills, diagnosis reports, prescriptions, discharge papers etc.
Do not forget to download and fill out the Future Generali claim form.
Now that you have all the documents and the claim form ready, submit them to your nearest Future Generali health insurance branch.
If the papers match the terms and conditions mentioned in the policy papers, your claim will be approved and soon Future Generali will reimburse the amount.
Is There a Time Limit To Notify Health Claims With Future Generali? 
If the patient is going for planned hospitalisation, you are required to inform Future Generali at least 48 hours prior to seeking admission. If it is the case of emergency hospitalisation, then you are required to get in touch with the Future Generali within 48 hours of hospitalisation or before the patient gets discharged (whichever is earlier).
How To Track Future Generali Health Claims With Ease?
Want to track the status of your health insurance claim with Future Generali? Here's how to do it!
You need to open the home page of Future Generali insurance.
Then click upon the "health" section.
Scroll down further and you will reach a point where you can see three sub-sections – "Report a claim", "Claim process" and "Claim Tracker." Click on the third option.
A new page will open up on your screen. Enter details like your phone number and soon you will get the required details.
Where Do You Need To Submit Documents For Future Generali Health Claim?
For submission of documents, you can approach the nearest Future Generali branch office. You can also send the documents to the below-given address:
Claims Department
Future Generali Health (FGH)
Future Generali India Insurance Co. Ltd.
Office No. 3, 3rd Floor, "A" Building, G – O – Square
57. No. 249 & 250, Aundh Hinjewadi Link Road, Wakad, Pune – 411 057.
Toll-Free Number: 1800 103 8889
Toll-Free Fax: 1800 103 9998
Email: fgh@futuregenerali.in