Renew in just 5 mins.
No Inspection.
No Paper Work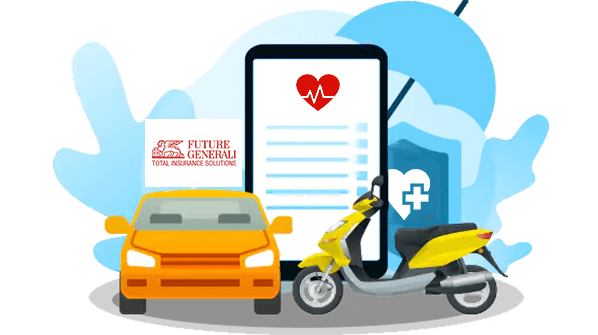 Compare

Car Insurance Plans
Future Generali General Insurance Company
Founded in 2007, Future Generali India Insurance (FGII) Company Limited is one of the biggest insurance companies in India after the amalgamation between Future Group and Assicurazioni Generali. Future Group is an Indian corporation with a strong presence in the retail and fashion sectors. With 121 locations, the company has established itself as a consumer favorite when it comes to providing relevant and accessible insurance products.
FGII company offers a comprehensive range of insurance policies that perfectly cater to the mushrooming needs of customers and businesses of all sizes. The policies include Motor Insurance, Health Insurance, Travel Insurance, Personal Accident & Home Insurance, and more. Marine, Commercial, Engineering, etc. are also part of the company's insurance offerings.
Here are the key highlights of the Future Generali General insurance plan;
Incurred Claim Ratio
59.66 (2019-20)
Premium Underwritten
Rs. 3,417.49 Crores (2019-20)
Solvency Ratio
1.51 (March- 20)
Registered and Corporate Address
Future Generali India Insurance Co Ltd., Unit 801 and 802, 8th floor, Tower C, Embassy 247 Park, L.B.S. Marg, Vikhroli (W), Mumbai – 400 083.
Awards

Recognized as 'The Economic Times Best Brand 2020' based on multiple parameters such as innovation, uniqueness, engagement & trustworthiness.

Won the Gold Award for 'Innovation in Surpassing Customer's Expectations' in the health insurance sector

Contact No.

Email Id: fgcare@futuregenerali.in

WhatsApp No: Say Hi to +91.7678006000

Call: 1800 220 233 / 1860 500 3333
Timings: (7am to 10pm)
Types of Insurance Plans Offered by Future Generali Company
Here's the list of the insurance plans offered by the company as per your needs. Let's check them out in detail!
The following are the types of health insurance plans offered by Future Generali-
Comprehensive Insurance Plan
If you are looking to get comprehensive health coverage for yourself and your family, choose this comprehensive insurance Policy! It not only covers all of your medical costs, including COVID-19, but it also provides discounts, cashless claims, tax advantages, and co-payment choices.
Health Super Saver Plan
Future Generali's Health Super Saver insurance is yet another health insurance plan that includes inpatient, day-care, pre and post-hospitalization, emergency ambulance, and maternity coverage.
Hospital Cash Policy
Hospital Cash Insurance from Future Generali is a foolproof approach to get cash benefits without emptying your savings. Food, transport, x-ray fees, and the cost of medical accessories are all covered as well.
Future Advantage Top Up Plan
Unlike regular health insurance, it is essentially a deductible health insurance plan that provides more protection at a low rate. The policy is available for terms ranging from one to three years and can be purchased as an individual or family floater for a low premium.
Personal Accident Insurance Plan
Personal accident insurance provides cash protection while you recover your health and return to work. You can use it to ensure your family's financial security even if you are not present.
Mosquito/Dengue Insurance Policy
Future Generali's Future Vector plan covers seven vector-borne diseases, Dengue, Zika virus, Malaria, Kala-azar, Chikungunya, Japanese Encephalitis and Lymphatic Filariasis. With it, you can ease the stress of your medical bills.
Future Health Suraksha Plan
Future Generali's Future Health Suraksha is a cost-effective plan that provides comprehensive coverage for you and your family. It's a great option for a single person and their family, including their spouse and up to three dependent children.
Top-Up Policy
The health insurance top-up from Future Generali allows you to extend your coverage to cover medical expenses, allowing you to choose the finest treatment rather than settling for the best. The coverage is provided for both individuals and families.
Senior Citizen Insurance Plan
It is a particular policy tailored to cover your parents' medical expenses. The plan will cover any significant financial needs associated with ageing-related health conditions.
Critical Illness/ Future Criticare Plan
A critical illness insurance policy is a customized plan designed to safeguard you when you don't have enough money to cover your expenses. Cancer, liver failure, kidney failure, coma, major organ transplant, and other disorders are among those covered.
Surakshit Loan Bima
Surakshit Loan Bima is a complete protection plan that is specifically designed to shield you and your family from the stress of loan repayment in the event of unforeseen circumstances.
Affordable Plan/ Future Aarogya Bima
From hospitalization to medical tests, pre-hospitalization to post-hospitalization, this affordable health insurance protects your complete family financially.
Aarogya Sanjeevani Policy
The Aarogya Sanjeevani Policy is a basic, common, and economical health insurance plan that covers medical expenses for illnesses and injuries that necessitate in-patient hospitalization.
Saral Suraksha Bima
The Saral Suraksha Bima policy provides full coverage against accidental death or disability. Optional covers are available to expand coverage or simply increase the sum insured amount at policy renewal.
2. Future Generali Motor Insurance Plans
Here are the different types of motor insurance policies offered by Future Generali-
The car insurance plan includes third-party car insurance as well as comprehensive car insurance coverage to protect you from financial liability incurred by a third party as a result of their death, physical injury, or property damage.
Bike Insurance
The Future Secure Two-Wheeler Policy insurance from Future Generali protects both your bike and you from financial losses. It covers things like bike damage, personal injury, third-party responsibility, key theft or loss, tire damage, engine protection, and accessory loss, among other things.
3. Future Generali Travel Insurance Plans
If you are looking for the best travel insurance plans, simply take a look at the following offered by Future Generali-
Schengen Travel
When you travel across Europe on a Schengen Visa, the Future Easy Travel Schengen Plan protects you. It protects you against any unforeseen mishaps that may occur while you are enjoying the spectacular scenery of Europe.
Worldwide Travel
This Worldwide Travel Plan protects you from any unforeseen charges, whether it's lost luggage, a lost passport, medical expenses, or a sudden emergency.
Student Travel
The Future Student Suraksha Plan covers any unforeseen costs that arise during your study abroad program. This two-year package covers everything from medical fees to lost passports.
Overseas Travel
When you go abroad, the Future Generali General Insurance protects you from accidents and emergencies. So, whether it's a sickness, misplaced belongings, or any other occurrence that could cause you to be stressed while on vacation, the policy has you covered!
Domestic Travel
This Domestic Travel Insurance Product covers any unforeseen events that may occur during your journey, such as flight delays, baggage loss, or ticket loss, among other things. Daily commuters, business people on business travels, and those going on vacations within India are all covered by the policy.
Don't you want to protect your most valuable asset? If this is the case, simply choose Future Generali's home insurance to be financially covered against unforeseen events like fire, theft, natural disasters, and so on. It protects everything from the latest electronics to your expensive bags, stunning furnishings, and even your valuables.
5. Future Generali Lifestyle Insurance Plans
Future Generali offers lifestyle insurance plans that perfectly cater to your needs and budget. Let's discuss them in detail!
Golfers Insurance
Future Generali guarantees that you and your valuables will be safe from harm. This Golfer's Insurance covers you against risks such as thefts, equipment damage, personal accidents, public and third-party responsibility, and more while on the golf course.
Art Insurance
This insurance plan covers the most valuable assets that include drawings, paintings, sculptures, or printmaking, ensuring your precious art is protected. The policy works against accidents, fire, natural calamities, accidental drops, stains, scratches, impacts, and more.
Wedding Insurance
This Vivah Suraksha policy assures that the most unforgettable day of your life goes off without a hitch. The plan even covers any cancellation costs (unforeseen illness, inclement weather, etc.), accidents, and the loss of items at your wedding.
Cyber Insurance
The Personal Cyber Risk Policy from Future Generali protects you against a variety of online threats, including malware, phishing, cyberbullying, and data theft. This policy provides coverage for a period of up to one year.
Dog Health Insurance
Future Generali's dog insurance provides comprehensive coverage and programs to protect against unforeseen pet care costs. Death and Funeral Coverage, Pre-hospitalization and Post-hospitalization Expenses, Terminal Illness Coverage, and other benefits are included in the insurance.
6. Future Generali Property Insurance Plans
The following are the property insurance plans offered by Future Generali General company-
Standard Fire & Special Perils Policy
This plan ensures that such unforeseen events do not have a negative influence on your company's health. Industries, plant and machinery, fixtures and fittings, factories, offices, houses, and other similar properties and assets are all covered by our coverage.
Business Interruption Insurance
Future Generali's Business Interruption Insurance protects you and your company against losses and damages. The policy also pays for ongoing running costs, such as power, even if your business is shuttered.
Industrial All Risk Insurance
This insurance plan may provide financial protection against damage to your equipment or company interruptions. It covers "Material Damage" and "Business Interruption" caused by fire and lightning, natural disasters such as strikes, malicious damage, floods, tank overflowing, storms, landslides, riots, mechanical malfunction, and implosions/explosions, as well as malicious damage.
Burglary Insurance
Burglary insurance can help you safeguard your property against the potential losses that an unplanned burglary can bring, whether you run an independent business or an office space. Shops and other business properties are covered under the insurance policy.
Shopkeepers Package Insurance
The insurance plan protects not only your belongings, but also you and your employees in the event of a major financial loss, such as Equipment Damage, Personal Accident, Employee Compensation, Employee Infidelity, and so on.
Office Package Insurance
With Business Suraksha for Office offered by Future Generali, you will not only protect your office but your employees, too. This office package insurance protects against equipment damage, financial loss, employee infidelity, physical injury, and more.
Educational Institution Package Insurance
Future Generali's "Business Suraksha for Educational Institution" is an extensive package of insurance designed exclusively for educational institutions such as schools, colleges, and universities. It protects the building and its contents from loss or damage caused by sudden, unexpected events or accidents, as well as provides coverage for employee personal accidents, liability insurance, and a variety of other coverages.
7. Future Generali Marine Insurance Plans
Here are the types of marine insurance plans offered by the company. Let's take a look at each of them-
Normal Cargo
Future Generali offers comprehensive cargo insurance solutions that safeguard cargo owners against cargo loss and/or damage during international and domestic transits. From the time cargo leaves the point of origin until it reaches its final destination, the worldwide maritime cargo insurance policy protects against loss.
Project Cargo
Whether it's accidents or natural disasters, Project Cargo insurance protects you financially and ensures that your cargo arrives at its destination safely.
Incoterms
Incoterms are a set of International Commercial Terms published by the International Chamber of Commerce. They are not a contract of insurance. Future Generali India Insurance Company assists you in constructing a marine insurance policy based on incoterms and provides full loss protection.
8. Future Generali Engineering Insurance Plans
If you are looking to secure your equipment and project against unforeseen accidents, choose nothing but engineering insurance. Let's take a look at the engineering plans offered by the company;
Erection All Risks Insurance
When you assemble or erect machinery, plants, and other structures in your factory, this insurance policy covers them. The plan includes all types of factories, including thermal power plants, oil refineries, and other manufacturing facilities.
Contractors All Risks Insurance
The Contractors All Risk Insurance, designed exclusively for civil contractors, aims to cover civil engineering projects (offices, hospitals, etc.) from accidental damages and protects your construction project from dangers and hazards.
Contractors Plant & Machinery Insurance
Contractors Plant and Machinery Insurance policy protect your most valuable assets from harm. All transportable plant and machinery (owned or leased) utilized on-site for construction work is covered by the policy.
Electronic Equipment Insurance
This is a policy that protects your most valuable electronic devices, such as laptops, workstations, and servers, as well as data media, for loss and damage. Under this regulation, both hardware and software are covered.
Machinery Breakdown Insurance
This policy insures your machinery against any damage or physical loss. The plan is ideal for covering the cost of damaged part repairs or replacement. In addition, you will be fully protected against the failure of any commission-based equipment.
9. Future Generali Group Health Products
Group Health insurance take care of your employees in every way possible, from financial difficulties and illnesses to accidents and loan loads. Let's have a look at the various options.
Sukshma Hospi-Cash group (File and Use)
The Sukshma Hospicash policy from Future Generali gives you a daily cash allowance by covering your whole policy, including medical expenditures. The policy provides daily hospitalization coverage, ICU perks, and financial protection.
Group Health Insurance (Revised) (Use and File)
This group health insurance may provide coverage for your employees in the event of an unforeseen sickness. It covers domiciliary hospitalization, pre-and post-hospitalization costs, and inpatient costs, intending to increase employee productivity and retention.
Group Personal Accident (Revised) (Use and File)
Whether it's disability or death, the policy protects your employees from a variety of risks, including accidental death, permanent complete/partial disability, temporary total disablement, and a variety of other benefits.
Janata Personal Accident – Group (Use and File)
This insurance plan provides complete protection against accidents such as Loss of two limbs and one eye, loss of one eye or limb, Loss of one limb and two eyes, Death or disability due to accident, etc.
Group Loan Bima (Use and File)
The Group Loan Bima is a group insurance product that is perfect for families or businesses that want to financially protect their employees. The plan also includes coverage for up to 18 severe illnesses, ensuring your financial security.
Future Vector Care – Group (Use and File)
The policy would cover all medical expenses related to vector-borne diseases like dengue fever, malaria, and lymphatic filariasis. The plan will pay for all medical expenses in full.
Alpa Bima-Group (Use and File)
Alpa Bima is a group insurance program that offers a lump-sum payout if you are involved in an accident or suffer a critical illness during the policy period. You will receive a daily cash allowance during your stay if you choose this policy.
Shubh Yatra- Group (Use and File)
The Shubh Yatra insurance covers everything, including daily commutes, business journeys, and vacation bucket lists. It includes Daily Commuters, Vacations, and Business Plans, allowing you to select the best option for your travel needs.
Future Health Protect – Group (Use and File)
The Future Health Protect Policy covers up to 20 serious illnesses (depending on the plan you select), as well as incapacity or death as a result of an accident. The product will be available on a per-Sum-Insured basis.
Future Advantage Top-Up-Group (Use and File)
This plan provides full coverage and additional protection at a cheap premium rate without jeopardizing the health of your employees. Pre-hospitalization and post-hospitalization expenses will also be covered under your coverage.
Future Poorna Suraksha – Group (Use and File)
The policy provides you with long-term protection against many of life's most serious risks, such as illnesses and accidents. Personal accident, critical sickness (up to 20), and hospital cash benefits are all covered under this plan.
10. Future Generali Liability Insurance Plans
Here are the types of liability insurance plans that are offered by Future Generali-
Public Liability Insurance
The insurance policy covers both non-industrial and industrial businesses. against such legal and financial liabilities. The plan also includes coverage for bodily injury, property loss or damage, and accidental death.
Product Liability Insurance
Whether it's bodily or property damage, Future Generali's Product Liability Insurance not only covers claims, but also the legal fees associated with defending against them. The policy also includes low-cost premiums that won't put a strain on your budget.
Errors & Omissions
The policy provides comprehensive coverage for your company, including claims and compensation, as well as legal expenses. Typographical errors, a failed plumbing repair, flood damage to the business, and more are all covered under the plan.
Commercial General Liability Insurance
Commercial General Liability Insurance protects you financially by providing legal protection against a variety of dangers. It covers legal fees incurred in defending allegations, as well as any awards made to claimants, as well as expenditures incurred as a result of the actions of any subcontractor, specialist consultant, or other person acting on your behalf.
Employees Compensation Insurance
This insurance policy provides financial protection for your employees and their families in the event of mishaps or accidents. Medical expenses, work-related expenses, disability, and accidental death are all covered under the plan.
11. Future Generali Miscellaneous Insurance Plans
Future events insurance can protect you both medically and financially, from music concerts and weddings to religious meetings and award presentations. Event cancellation, human injury, public liability, cash in safe and transportation, and equipment damage are all covered by the policy.
PMFBY
Launched in 2016, the "Pradhan Mantri Fasal Bima Yojana," intends to compensate farmers for crop output losses as determined by local government officials through crop cutting experiments.
Sukshma Hospi-cash
For each day you spend in the hospital, the Sukshma Hospicash Policy provides you with a daily stipend. This daily allowance can be used to cover any additional expenses not covered by your insurance. ICU benefits and daily hospitalization are included in the policy's extensive coverage.
Cattle & Livestock Insurance
You can now safeguard your treasured cattle and livestock from unexpected mishaps with Future Generali's Cattle and Livestock Insurance. The insurance plans cover animals such as Milch cows, Stud bulls, Milch buffaloes, Bullocks, Calves, Sheep, Heifers, and Goats.
Sampoorna Suraksha
Future Generali's Sampoorna Suraksha is an agriculture insurance plan intended specifically for farmers in rural areas. The insurance plan is meant to help your farms thrive, from quick claims to wide coverage.
Pradhan Mantri Suraksha Bima Yojna
The Pradhan Mantri Suraksha Bima Yojana provides a one-year insurance policy against accidental disability or death. For a little annual fee of Rs. 12, you can renew it every year. The Pradhan Mantri Suraksha Bima protects against death and the loss of body parts that cannot be replaced.
Why Consider Future Generali For General Insurance Plans?
Here are the reasons to choose your insurance policy from Future Generali General Insurance-
1. Insurance Products of Various Types
Customers can choose from a variety of insurance products, including auto insurance, health insurance, travel insurance, house insurance, lifestyle insurance, commercial insurance, social or rural insurance, and so on. When it comes to its offers, the company strives to provide an amazing blend of accessible price ranges and innovative products and services to its clients.
2. Simple Claim Procedure
Future Generali has a quick and easy claim process that allows policyholders to submit a claim request by simply filling out an online form that includes insured and claim information. Other options for submitting a claim request include phoning 1800 220 233 or 1860 500 3333. You can also contact the firm for assistance with the claim procedure by sending an email to fgcare@futuregenerali.in.
Policyholders can contact their nearest Future Generali branch with any claims-related questions.
3. A Customer-First Approach
Future Generali's in-house service staff is dedicated to resolving issues in the shortest time feasible. To provide consumers with better insurance solutions, the organization frequently offers value-added features. Also, the cashless hospital and garage network has been built to provide the greatest services to policyholders.
4. Outstanding Claim Performance
In India, the firm has sold 3.2 million insurance and settles at least 2,60,000 claims per year. Future Generali has over 3,000 active corporate clients for whom it provides the finest possible service through its network of over 20,000 agents around the country. It has over 121 sites in India, allowing it to provide insurance solutions to anybody, wherever.
5. Company's Strong Foundation
Future Generali is a joint venture between India's largest retailer, Future Group, and Generali Group, one of the world's largest insurers. With such a robust basis, the firm is capable of providing you with any form of insurance solution.
How To File a Claim for Future Generali General Insurance?
Irrespective of the plan you're looking to purchase from the Future Generali General, the claim process for each is different. Let's take a look at them one by one:
1. Health Insurance Claim Process
(For Cashless)
Simple procedures to assist you in filing a cashless insurance claim.
Step 1: Go to the nearest FG Network Hospital's insurance desk and provide your health card for Cashless Treatment.
Step 2: The Network Hospital will confirm your identity and send Future Generali a properly completed pre-authorization form.
Step 3: You are accepted without having to pay a deposit and are treated without having to pay any money.
Step 4: After you've been discharged, the hospital will send your claim documentation to FG, and the hospital will settle the permitted amount directly with you.
For Reimbursement Process
Step 1: Pay all hospital bills and collect all original documentation of treatment and expenses incurred after discharge.
Step 2: Fill out the FG health claim form and attach it to your claim.
Step 3: Take your original paperwork to a Future Generali location near you.
Step 4: The corporation will settle the claim following the terms and conditions of the policy.
2. Motor Insurance Claim Process
(For Cashless)
Looking to claim your motor insurance? if so, you can choose from either of the two options:
For the cashless claim process, you need to follow the below-mentioned steps;
Step 1: Contact the company by phone at 1800 220 233 or visit the website.
Step 2: The car will be inspected by a surveyor.
Step 3: Provide the surveyor with the needed paperwork.
Step 4: The amount of the approved claim will be notified to the workshop.
Step 5: Payment will be paid directly to the FG workshop at a time that is convenient for you.
For Reimbursement Process
Step 1: Send an email or call 1800 220 233.
Step 2: The car will be inspected by a surveyor.
Step 3: Give the surveyor the documentation he or she has requested.
Step 4: Pay directly to the workshop and submit bills to the surveyor / FG Branch together with the payment receipt.
Step 5: FG pays the insured within 7 working days of receiving the final documentation.
Document Checklist
Own Damage Claim
Copy of the Certificate of Insurance cum Policy Schedule
Claim form
Copy of RC book
Copy of Driving License
Estimate
Final repair invoice and receipt / Satisfaction voucher for cashless payment
Theft Claims
Original Policy
Claim form
Original Registration certificate
FIR
Original set of keys
Original Sales invoice & Tax receipt
Intimation to RTO (to inform RTO that the car is stolen and not to transfer)
Transfer papers
Indemnity Bond
Subrogation letter
Third-Party Claims
Claim form duly filled and signed
Copy of the Certificate of Insurance cum Policy Schedule
FIR / Police Panchnama
Court Notice / Summons
Copy of Driving License of the driver at the relevant time of the accident (with original for verification)
Copy of Registration Certificate and other vehicular documents (with originals for verification)
3. Travel Insurance Claim Process
If you are looking to claim your travel insurance claim, you can choose either of the two ways-
For Cashless Process
Step 1: Approach a medical service provider abroad and present your FG Travel Insurance Policy to receive cashless treatment in the event of a medical emergency or hospitalization.
Step 2: Notify "Europ Assistance" of the claim.
Step 3: Europ Assistance notifies the provider of the guarantee letter (As per policy coverage).
Step 4: Europ Assistance settles bills with providers directly.
Reimbursement Claim Process
Step 1: Make a different claim Trip Cancellation, Baggage Delay, Baggage Loss, etc.
Step 2: Notify "Europ Assistance" of your claim.
Step 3: When you are in India, submit the needed paperwork to Europ Assistance.
Step 4: Europ Assistance verifies the claim as per the policy's terms and conditions.
Step 5: Europ Assistance pays the insurance company.
4. Personal Accident Insurance Claim
Steps to assist you to file a claim under your insurance coverage in a simple manner
Step 1: Contact the company online or by phone at 1800 220 233.
Step 2: Complete the Death/PTD/PPD/TTD claim checklist and submit the relevant claim documents.
Step 3: Make a Scrutiny Request (As per policy coverage).
Step 4: FGH sends an NEFT payment to the insured.
5. Other Insurance Policies Claim Process
Theft
Step 1: Contact the company online or by phone at 1800 220 233.
Step 2: Make contact with the local police department.
Step 3: The FG will appoint a surveyor to conduct an inspection/investigation.
Step 4: Submit the appropriate documentation.
Step 5: Within 15 days of submitting the final paperwork, settle the allowed sum.
Marine
Step 1: Make an appointment online or phone 1800 220 233.
Step 2: Insist on an open delivery if you noticed the damage in the packaging.
Step 3: Determine whether the BL/LR/MTD/AWB are qualified.
Step 4: Complete and submit all relevant documentation.
Step 5: After submitting the final documentation, the approved sum is settled within 15 days.
Engineering
Step 1: Contact the company online or by phone at 1800 220 233.
Step 2: A surveyor will be dispatched by FG for inspection and investigation.
Step 3: Submit the proper documentation.
Step 4: Within 15 days of submitting final documents, the respective allowed will be cleared without any delay.
Fire
Step 1: Contact the company online or by phone at 1800 220 233.
Step 2: Call the fire department or the police, and secure your property.
Step 3: For the inspection/investigation, FG will send a surveyor.
Step 4: Submit the appropriate documentation.
Step 5: After 15 days of submitting the necessary paperwork, clear the authorized payment.
Frequently Asked Questions