Cover Your Health in 5 mins
Compare Premium.
Buy Now.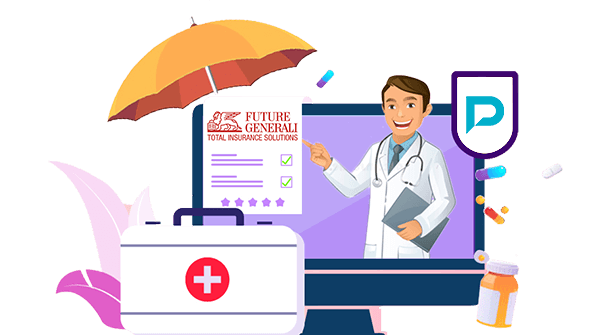 Compare

Individual Health Insurance Plans
Future Generali Health Insurance Renewal
The importance of renewing your health insurance policy cannot be overstated. If you don't renew your coverage before the deadline, you risk losing your benefits. When coverage expires, the only alternative left to an individual is to purchase a new health insurance policy. So, if your Future Generali Health Insurance policy renewal date is coming, go ahead and renew it so that you can continue to benefit from your coverage.
One of the major highlights of Future Generali is that the health policy renewal process is quick & simple and can be renewed in as little as a few minutes.
How to Renew Your Future Generali Health Insurance Policy?
The online renewal process at Future Generali General Insurance can be completed by following these simple steps:
Visit the official website of Future Generali General Insurance Co. Ltd.
After that, you will need to click on the "Login Button" in the top right corner. You will get a list of options.
After that, you will need to enter your mobile number and enter the "OTP" that's just been sent to the number. Click on "Login"
Note: (If you have health insurance provided by the employer, simply enter your "Username" and "Password" and click "Continue").
Select the name of your policy and complete the premium payment to renew your policy.
Then download your Premium payment receipt for your reference.
Benefits of Renewing Your Future Generali Health Insurance
The following are the potential benefits of renewing the Future Generali health insurance policy.
Uninterrupted healthcare coverage: A health insurance policy is required in the event of a medical emergency. You must renew your Future Generali health insurance plan on time if you want your health insurance to support you during this trying time. Following the renewal of your policy, you will be eligible for all of the benefits listed in the policy's terms and conditions.
Tax benefits under section 80D of the Income Tax Act, 1961: As a policyholder, you are eligible for tax benefits under Section 80D of the Income Tax Act of 1961 when you acquire a Future Generali health insurance plan. However, you will only be eligible for this benefit if you renew your Future Generali health insurance policy before the expiration date.
Add or Remove Any Member: One of the most appealing benefits of the Future Generali health insurance plan is that you can add or remove members from your plan at any moment throughout the renewal period.
Increase Sum Insured: The best protection against medical inflation is a health insurance policy. If the coverage level of your policy isn't enough for you, you can increase the sum insured amount while renewing your Future Generali health insurance policy.
Truncated waiting period: The waiting period will be reduced once you renew your coverage. After the waiting time has passed, you are free to use all of the advantages of your Future Generali health insurance plan.
Frequently Asked Questions
No, your premium amount will be the same. But if you want to enhance your comprehensive coverage by adding any optional covers or want to change your sum insured, then your premium will change.
The requirement of medical check-ups before buying the plan would depend on the age and sum insured of the policyholder.
By taking your policy documents to the local branch office, you can easily cancel your policy. It is critical that you complete and submits any surrender forms that have been legally signed. The refund premium will be deposited in 3-5 business days after the process is completed.