Cover Your Health in 5 mins
Compare Premium.
Buy Now.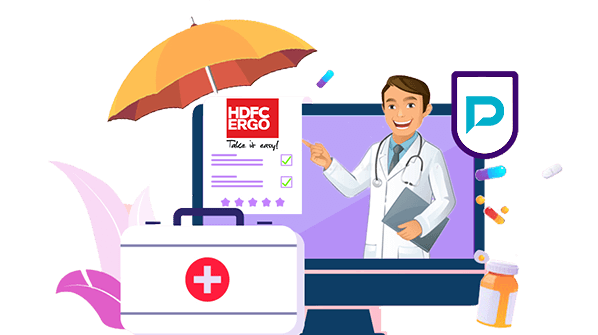 Compare

Individual Health Insurance Plans
HDFC ERGO Optima Secure Plan
HDFC ERGO has recently launched My: Optima Secure Plan, a magnificent health insurance policy that offers 4X coverage at no additional cost. This plan can be opted as an individual plan and also as a family floater policy that provides its customers multiple benefits and lucrative discounts. This plan has come up with a wide range of sum insured options to suit every person. This is an incredible customer-friendly, flexible health plan that only offers a sack full of benefits but also different profit benefits to save more and secure more.
Parameters
Details
Minimum entry age
Dependent child: 91 days
Maximum entry age

Dependent child: 25 years

Adults: 65 years

Policy tenure
1 year, 2 years, and 3 years
Policy options

Individual – A maximum of 6 adults and a maximum of 6 children are allowed to be included in a single policy with a separate sum insured.

Family floater – A maximum of 4 adults and a maximum of 6 children are allowed to be included in a single policy under the same sum insured.

Sum insured options
Rs. 5 lakhs, Rs. 10 lakhs, Rs. 10 lakhs, Rs. 15 lakhs, Rs. 20 lakhs, Rs. 25 lakhs, Rs. 25 lakhs, Rs. 50 lakhs, Rs. 1 crore, and Rs. 2 crores.
Cashless hospitalization
Available
Renewal
Lifelong renewal
Tax exemption benefit
Available, under Section 80D of the Income Tax Act of India
Waiting period

Initial – 30 days

Specific illnesses and surgical procedures – 24 months

Pre-existing diseases – 36 months
Key Details of HDFC ERGO Optima Secure Plan
This plan is a wonderful health policy presented by HDFC ERGO General Insurance that can offer you almost all possible benefits and facilities to secure you and your family financially in the case of any medical emergency. The key details of the policy are mentioned in the following table.
Parameters
Key Highlights
Room rent

Sum insured less than Rs. 50 lakhs: Up to single AC private room

Sum insured Rs. 50 lakhs and above: All room types are covered

Hospitalization expenses, AYUSH treatment, home health care, organ donor expenses, pre, and post-hospitalization expenses
Up to sum insured
Covid-19 cover
Available
Pre-hospitalization costs
Up to 60 days
Post-hospitalization costs
Up to 180 days
Secure benefit
100% of the base sum insured
Protect benefit
Up to sum insured
Plus benefit
Irrespective of claim status, on first renewal the base cover is increased by 50% after 1 year and 100% after 2 years
Restore benefit
Up to 100% of the base sum insured for any illness for any insured person
Emergency road ambulance cover
Up to sum insured
Emergency air ambulance cover
Up to Rs. 5 lakhs
Preventive health check-up
Yes, after the completion of every policy year, irrespective of your claim status
Daily cash for choosing shared accommodation
Rs. 800 per day subject to a maximum of Rs. 4800
E-Opinion for critical illnesses
Once per insured person for 51 defined major critical illnesses
Add-on covers

My: Health Critical Illness
My: Health Hospital Cash Benefit

Discounts

50% discount – You can avail of a flat 50% discount on your base premium if you pay Rs. 1 lakh before making a claim in a policy year.
40% discount – If you pay Rs. 50000 in advance before making a claim.
25% discount – Under the same situation, if you want to avail of this discount, you need to pay Rs. 25000 in advance.
Online discount – If you purchase the policy online, you can enjoy a flat 5% discount on the base sum insured.
Family discount – You can get a 10% discount if 2 or more members are covered under a single policy on an individual sum insured basis.
Long term discount – You can enjoy a discount of 7.5% and 10% if your policy tenure is 2 years and 3 years, respectively.
Loyalty discount – If you have an active retail insurance policy with a premium above Rs. 2000 under HDFC ERGO, you are entitled to receive a discount of 2.5% on the base premium value.
General Exclusions of HDFC ERGO Optima Secure Plan
To understand a plan thoroughly and to avoid future complexities, it is very important to know the exclusions of an insurance policy. So, for your better understanding, here are the general exclusions of the HDFC ERGO Optima Secure Plan.
Investigation and evaluation purposes are excluded from the policy coverage.
Any treatments or healthcare procedures related to obesity control are not covered.
If you undergo any cosmetic surgery or plastic surgery, the expenses of that are not paid by the policy.
If the insured person takes part in any kind of hazardous activity or adventurous sports that falls under the category of exclusions.
Participation in any kind of illegal activity or unauthorized cats is not covered.
If you need any medical treatments due to the consumption of alcohol, unauthorized drugs, or any intoxicating substances, the costs incurred are not covered.
The policy does not compensate for any unproven treatments or unrecognized medical procedures.
Maternity care and newborn child care expenses are not covered by the plan.
The company does not take any responsibility for the treatments related to fertility and sterility.
Premium Calculation of HDFC ERGO Optima Secure Plan
When you want to buy an insurance plan, it is very important to find out the premium amount that you need to pay for the chosen policy so that you can plan your finances according to that. Hereby, for your clear understanding of the HDFC ERGO Optima Secure Plan, here is an example of premium calculation.
Suppose, Mr. Ray has bought a 36-years-old businessman has bought HDFC ERGO Optima Secure Plan for himself, his wife, and their daughter. Let us find out how much premium amount he has to pay for given details for choosing the different sum insured options.
Age of the insured person
Age of his wife
Age of their daughter
Sum insured
Policy tenure
Premium amount including GST
36 years
34 years
4 years
Rs. 20 lakhs
2 years
Rs. 56,503
Rs. 25 lakhs
Rs. 58,867
Rs. 50 lakhs
Rs. 70,294
Frequently Asked Questions