Cover Your Health in 5 mins
Compare Premium.
Buy Now.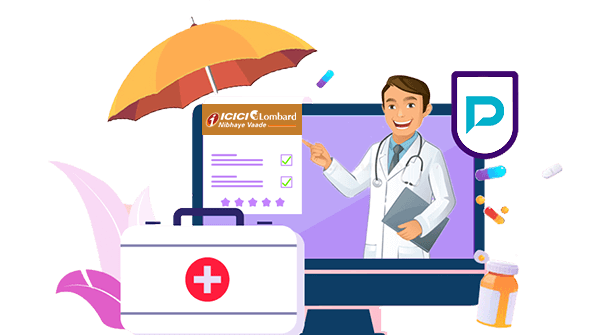 Compare

Individual Health Insurance Plans
ICICI Lombard Health Booster Policy
ICICI Lombard has come up with an amazing top-up health insurance plan, ICICI Health Booster Policy, that acts as a cushion to your existing health insurance plan. Suppose, you have exhausted the limits of your existing health plan, and you still need more coverage, this booster plan will help you get the extra coverage so that you do not have to worry about the excess expenses. It also helps you to get the required medical treatments without worrying about the financial costs.
Parameters
Details
Minimum entry age

Adults – 18 years

Dependent children – More than 3 months old for a family floater policy

More than 6 years old for an individual policy.

Who can buy
Self, spouse, dependent children, and dependent parents
Relationship covered for a floater policy
Spouse, dependent children, brother, sister, dependent parent, grandparents, grandchildren, mother-in-law, father-in-law, son-in-law, daughter-in-law, dependent brother-in-law, and dependent sister-in-law.
Pre-policy medical check up
Not required up to the age of 45 years for an individual policy
Network healthcare centers
65,00+
Cashless treatment
Available
Sum insured options
Rs. 5 lakhs to Rs. 50 lakhs
Deductible options
Rs. 3 lakhs, Rs. 4 lakhs, and Rs. 5 lakhs
Renewal
Lifetime
Coverage Details of ICICI Health Booster Policy
This booster policy would be the right top-up plan for your health insurance plan if you look into the coverages that it is offering. To get the details, have a look at the following table.
Coverage
Details
Day care treatment
150 day care procedures covered
In-patient treatment, AYUSH treatment,
Covered
Donor expenses and domiciliary hospitalization
Up to sum insured
Pre-hospitalization expenses
Up to 60 days
Post-hospitalization expenses
Up to 90 days
Emergency road ambulance cover
Up to 1% of your sum insured, maximum up to Rs. 5,000 per event.
Waiting period for pre-existing diseases
2 years
Floater benefit
Can be added up to 2 adults and 3 children in a single policy.
Tax exemption benefit
Available on the premium amount as per Section 80D of Income Tax Act, 1961
Reset benefit
For plan deductible of Rs. 3 lakhs and above – Up to 100% of the sum insured. This benefit can be availed of only once in a policy year.
Wellness services and programmes
Available. It offers the opportunity to earn reward points and redeem them for OPD expenses.
Add-on covers
Hospital daily cash
If you are hospitalized for 3 consecutive days or more, this plan offers you a fixed allowance of Rs. 1,000 or Rs. 3,000 (as per plan opted) every day, which is subject to a maximum of 30 consecutive days per policy year
Convalescence benefit
In case you are hospitalized for 10 consecutive days or more, the company will pay a fixed benefit amount that is payable only once during each policy year.
Personal accident cover
For accidental death or permanent total disablement, you or your nominee will get a fixed benefit amount, subject to a maximum of 2 adults.
Temporary Total Disablement (TTD) Rehabilitation Cover
This fixed benefit amount will be paid out weekly, for up to a maximum of 10 weeks.
Repatriation of remains
Covered
Critical illness cover
This benefit is applicable only once and subject to a maximum of 2 adults. Waiting period – 90 days
Key Benefits of ICICI Lombard Health Booster Policy
Apart from the aforementioned covers, this top-up policy has many other benefits and facilities to offer maximum protection to its customers. Here are a few mentions.
One can avail of 10 % and 12.5 discounts if he/she opts for 2 years and 3 years policy, respectively.
The company guarantees to respond to the cashless claims within 4 hours and for reimbursement claims, it promises to respond within 14 days from the date of the receipt of the last documentation or information.
The plan offers you to file your claim quickly using their IL Take Care App.
The customer support is extensive and very much reliable. You can contact the insurer at any time according to your convenience to resolve your query.
The policy is very flexible and affordable. You can customize the policy as per your needs.
Exclusions Under ICICI Lombard Health Booster Policy
To understand a policy well, you need to go through its exclusions too for which the policy does not provide any compensation. For ICICI Health Booster Policy the exclusions are as follows.
This plan is limited only to India. So, if you receive any medical treatments outside India, the policy will not compensate for that.
If any injury or health hazard occurs due to the consumption of drugs, alcohol, or any other unauthorized intoxicating substance, the company will not take any responsibility for that.
Self-inflicted injuries, suicide, or suicide attempts fall under the category of exclusions.
If you receive any kind of dental treatment unless it has occurred due to an accident, you will not receive any compensation for that.
If you take part in any hazardous activities or adventurous sports such as rock climbing, mountaineering, or para-gliding, the company will not be responsible for any health injuries.
Any injury that occurred due to civil war, war-like situation, public unrest, etc. will fall under the category of exclusions as well.
Refractive error correction and hearing impairment correction are covered by the policy.
If you receive treatments in health hydros, nature cure clinics, spas, or similar establishments, you are not eligible to avail of the benefits of the policy.
If you receive any treatment under a non-registered and non-licensed medical practitioner, the company is not liable to reimburse the expenses.
Expenses related to sterility and infertility will not be compensated by the policy.
Frequently Asked Questions