Cover Your Health in 5 mins
Compare Premium.
Buy Now.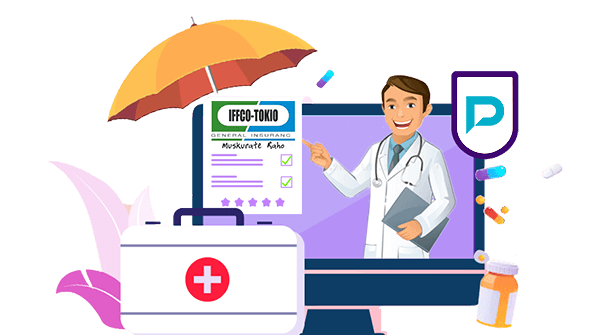 Compare

Individual Health Insurance Plans
IFFCO Tokio Individual Medishield Policy
In the face of uncertainties in life, health insurance policies play a pivotal role as it protects you and your family financially in case of a medical emergency and keeps you healthy as well. IIFCO Tokio General Insurance Company is renowned for its medical insurance policies. The company has recently come up with another gem, Individual Medishield Insurance Policy, that offers a protection cover for you and your family for any injury or disease-related contingencies such as hospitalization, medical expenses, surgical expenses, organ transplantation, etc. This also allows you to avail of the protection against today's sky-rocketing medical expenses while at the same time ensuring that in case of any unfortunate incident, you and your family can get hassle-free medical care. To know more about this policy, have a look at the following mentions.
Parameters
Descriptions
Minimum entry age

Adult – 18 years

Dependent child – 3 months and above

Maximum entry age
Adult – 65 years
Policy term
1 year
Sum insured
Rs 50,000 to Rs. 5 lakhs
Policy type
Individual policy
Renewal
Lifelong renewability
Maximum members to be covered
5
Who can be covered
Self, spouse, dependent children up to 23 years, and dependent parents
Waiting period

Initial – 30 days, not applicable for accidental injuries.

Pre-existing diseases – 3 years

For specified ailments – 1 year
IFFCO Tokio Individual Medishield Insurance Plan Covers
This plan has come up with a bunch of benefits and facilities that offer you and your family overall protection. The following table sums up the coverage of the policy. Have a look.
Parameters
Details
Room charges

Sum Insured of Rs. 3 Lakhs and above: Covered up to actuals (depending on plan variant)

Sum Insured below Rs. 3 Lakhs: Up to 1% of Sum Insured

ICU charges

Sum Insured of Rs. 3 Lakhs and above: Covered up to actuals (depending on plan variant) Sum Insured below Rs. 3 Lakhs: Up to 2.5% of Sum Insured

Ambulance charges
1% of Sum Insured or up to Rs. 1,500 per hospitalization, whichever is less
Daily allowance cover
This can go up to a maximum of Rs. 250 per day for the duration an insured is hospitalized.
Co-payment
NIL
Nursing expenses
Nursing expenses, including those incurred during the pre-and post-hospitalization of the insured, within the limits of the sum insured specified in the policy.
Tax exemption benefit
Available under Section 80D of the Income Tax Act.
Covid-19 cover
Available
Pre and post-hospitalization expenses
Covered for 60 days, respectively
Cumulative bonus

The Basic Sum Insured under the policy will be increased by 5% of the Basic Sum Insured at each renewal in respect of each claim free year of insurance, subject to a maximum of 50% of the Insured Person's Basic Sum Insured of the expiring Policy. The Optional Extension (Critical Illness) Sum Insured is not eligible for any Cumulative Bonus.

AYUSH treatment expenses
Covered up to 10% of the sum insured
IFFCO Tokio Individual Medishield Policy Features & Benefits
Apart from the above benefits, this policy has come up with a bunch of special advantages that have made the policy unique and popular among consumers. The mentions are as follows.
Critical illness cover:
This is an optional cover. If the Insured Person is diagnosed during the Period of Insurance as suffering from a Critical Illness as defined under the Policy, the company will reimburse Medically Necessary and Reasonable and Customary Charges incurred on expenses up to an additional Sum Insured limit stipulated for the Insured Person in the Policy Schedule (equal to his/her Basic Cover Sum Insured).
Emergency Assistance Services:
This Policy provides You, at no additional cost, a host of value-added Emergency Medical Assistance and Emergency Personal Services as followings:
Medical consultation, evaluation, and referral – You have access to an Operations Center with multilingual medical staff on duty 24 hours a day, 365 days a year.
Emergency Medical Evacuation: If You have a medical emergency and an adequate medical facility is not available, Emergency Assistance Service Provider will arrange an emergency evacuation, with medical supervision, by an appropriate means to the nearest medical facility capable of providing the required care.
Medical repatriation – If you are medically cleared for travel via commercial carrier, provided the repatriation can be accomplished without compromising Your medical condition.
Transportation to join the patient – Emergency Assistance Service Provider will also provide assistance with arrangements for the family member or the friend's transportation and accommodation.
Care and/or Transportation of Minor Children – When your minor child(ren) is left unattended as a result of Your medical situation, the policy will provide the child with transportation to home. If appropriate, an attendant will escort the child.
Emergency Message Transmission – Emergency Assistance Service Provider will receive and transmit emergency messages to/from home.
Return of Mortal Remains – In the event of the death of an Insured Person, it will arrange and pay for the return of mortal remains.
Emergency Cash Coordination – Emergency Assistance Service Provider will assist in coordinating the transfer of emergency cash. The Source of funds is solely Your responsibility.
Modern Treatment Methods and Advancements in Technologies:
The pre-specified procedures will be covered either as an inpatient or as part of Domiciliary Hospitalization or as part of day care treatment in a hospital up to 50% of the Sum Insured during the policy period:
Reinstatement Benefit:
If the Insured person gets hospitalized and the claim is payable, the sum insured gets reduced by the payable amount. In that case, if the insured wants to reinstate the sum insured, he may opt for the same at the time of claim. The basic sum insured under the policy will be reinstated.
Pre-policy medical check-up:
No need for a medical check-up to the age of 60 years.
Various Discounts:
This policy offers various discounts to provide you with affordability. The followings are the mentions.
Family discount – For 2 family members, a 5% discount on the total premium (Main cover plus higher sum insured for critical illness) is provided. For 3 or more family members, a 10% discount on the total premium is available.
Existing customers – A 10% discount in policy premiums for all customers having any other insurance policy from the same company is provided.
Group Mediclaim Discount – 10% discount for employees covered under any Group Mediclaim policy issued by IFFCO Tokio for a sum insured Rs. 4 lakhs and above is available.
Remember, all the above discounts are on a cumulative basis and cannot exceed a total of 25%.
General Exclusions of IFFCO Tokio Individual Medishield Policy
Understanding a policy is not completed if you do not go through its exclusions of it thoroughly. Therefore, to give you a comprehensive idea of the policy, and to avoid future complications, here are the exclusions of the IFFCO Tokio Individual Medishield Insurance Plan.
Any expenses incurred on spectacles, contact lenses, or hearing aids will be excluded from the policy.
Any Dental treatment, unless it requires hospitalization, will not be covered.
General debility, congenital diseases/defects, and sterility will fall under the category of exclusions.
All claims that arise from or are related to pregnancy will be declined.
Any outpatient or domiciliary treatment.
If any expenses occur on external medical equipment, the company will not be liable to reimburse the amount.
If any claim arises due to participation in dangerous activities, or adventurous sports like paragliding scuba diving, or mountaineering, the company will not compensate for that.
Any claim that arises or is related to HIV/AIDS will be declined
Injuries related to war, terrorism, and nuclear risks will not be covered by the policy.
All non-medical expenses incurred, including those for personal comfort and convenience will not be compensated.
Claims for expenses on treatment of obesity, hormone replacement therapy, or sex-change procedure will not be approved.
Expenses incurred due to naturopathy, experimental or alternative medicines, acupressure, acupuncture, magnetic and similar therapies will not be covered by the policy.
Know Premium Calculation of IFFCO Tokio Individual Medishield Insurance
Once you get to know about the inclusions and exclusions of the policy, the next important thing is to know how much premium amount you need to pay to purchase this policy. So, for your better understanding, here is an example.
Suppose, Mr. Sharma, a 36-year-old businessman, bought IIFCO Tokio Individual Medishield Insurance Policy for himself. Let us find out how much premium amount he has to pay to avail of the benefits of the policy for the given credentials.
| | |
| --- | --- |
| Parameters | Details |
| Age | 36 years |
| Sum insured | Rs. 3 lakhs |
| Coverage for | Self |
| Optional cover | Auto Reinstatement of Sum Insured |
| Policy duration | 1 year |
| Premium amount excluding taxes | Rs. 5893 |
Now, the same Mr. Sharma wants to include this spouse under the policy. Therefore, the following table details the new premium amount that he needs to pay for the given data.
| | |
| --- | --- |
| Parameters | Credentials |
| Age | Self – 36 years, Spouse – 34 years |
| Sum insured | Self – Rs. 5 lakhs, Spouse – Rs. 5 lakhs |
| Optional cover | Auto Reinstatement of Sum Insured and Critical Illness Cover |
| Policy duration | 1 year |
| Cover for | Self and spouse |
| Premium amount excluding taxes | Rs. 18819 |
Frequently Asked Questions