Cover Your Health in 5 mins
Compare Premium.
Buy Now.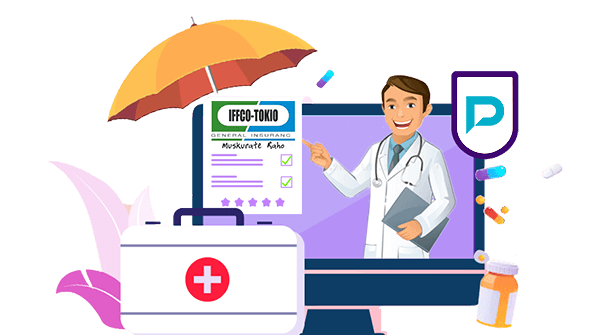 Compare

Individual Health Insurance Plans
Download IFFCO Tokio Health Insurance Policy
Iffco Tokio General Insurance Company's health insurance customers can enjoy a fully digital experience. Its website enables insured members to submit medical insurance claims, pay insurance premiums online, and even download the Iffco Tokio policy.
To review the policy's terms and conditions as well as other features, including coverage, perks, premium payment, and the free-look period, policyholders must download the relevant paperwork. It will also aid in your understanding of the law.
Additionally, you can get the prospectus, insurance brochures, proposal forms, and claim intimation forms online. If you have an Iffco Tokio health insurance policy, continue reading to learn more about how to download a copy of your policy.
How To Download IFFCO Tokio Health Insurance Policy Online?
A health insurance policy paper is crucial since it facilitates the claim procedure and serves as proof that you have paid monthly for your coverage. When you need to file a claim with your health insurance, the document is helpful. You can also use it to keep track of your expenses financially. Additionally, by filing the policy document, you can also receive tax advantages.
Go to the Website: Visit the official website of IFFCO Tokio General Insurance Company or download the mobile application
Enter Credentials: Locate the "Support" Tab on the top. Click on it and you will find "Policy Copy". Click on it. Now, enter your registered email ID and Iffco Tokio health policy number. New users will have to sign up by entering their names, contact details, and policy details. Now click on the "Submit" button.
Check Details: Check all the details and policy names carefully. Now click on the download button.
Download the Documents: Your materials are currently being downloaded. Print a copy of the document. Policyholders have the option to continue with softcopy if it suits them better. The policy paper will be emailed to the registered email address in electronic form.
The health policy download procedure is rather simple to follow. One can complete the Iffco Tokio Health Policy download in a matter of minutes by carrying out the aforementioned stages.
What Does IFFCO Tokio Health Insurance Policy Document Contain?
When purchasing health insurance online and downloading a copy of the Iffco Tokio Health Policy online. The following details can be found in the IFFCO Tokio Health Insurance documents:
Personal details like name, age, and contact details of policyholders
Information about the free-look period
Grievance redressal process
Terms and conditions for plan cancellation
Details for porting of policy from one insurer to another
Do I Need a Hard Copy of the IFFCO Tokio Health Insurance Policy Document?
The IFFCO Tokio Health insurance policy form can now be readily filled out online in a paperless manner, thus getting a hard copy or printout is no longer required. For any claims or settlements, you may use a soft copy to submit any questions or concerns.
Frequently Asked Questions
You can contact them by phone or by sending a question to their official email address. The official helpline for IFFCO Tokio can be reached at 1800-103-5499. When you call the toll-free number, a customer service representative will help you obtain a duplicate copy of the health insurance policy document.
Try to keep a digital copy of your insurance policy in your DigiLocker account if you don't have a physical copy with you.
There aren't any restrictions. You have unlimited downloads.