Cover Your Health in 5 mins
Compare Premium.
Buy Now.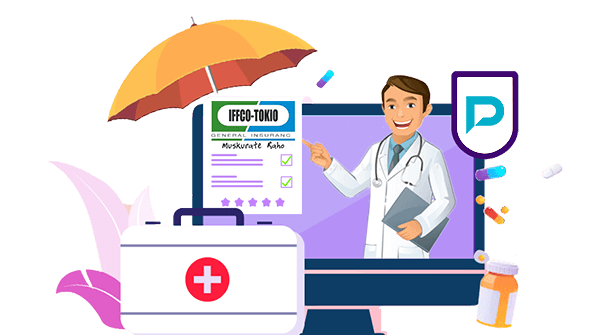 Compare

Individual Health Insurance Plans
IFFCO Tokio Health Insurance Renewal
Once you buy a health insurance plan, you are secured and protected from different types of health hazards, but your responsibility does not end there. Rather, it starts from here as you need to maintain your policy. Many customers prefer IFFCO Tokio General Insurance Company for buying their health insurance plans as it has come up with a sack full of different types of health products with various variants to cater to the varied needs of the individuals. But after the purchase, you also need to renew the policy on time, otherwise, you may need to face many complexities. So, for your better understanding, here, all the details related to IFFCO Tokio Health Insurance policy renewal have been discussed below.
Important To Renew IFFCO Tokio Health Policy On Time
Before jumping into the renewal process, it is important to understand the importance of renewing your IFFCO Tokio Health Policy on time. Here are the mentions.
Coverage without a break – If you want your IFFCO Tokio health policy to provide you continuous coverage without any break, you need to renew the policy on time. Otherwise, if it has lapsed, you cannot avail of any of the benefits or facilities of the policy.
Chance to get your cumulative bonus – If you do not file any claim during the entire policy year, you can enjoy the benefit of a cumulative bonus upon the renewal of the IFFCO Tokio health policy.
Be ready for the emergency situation – As life is unpredictable, so, when you will face a medical emergency situation, you do not know. For that, you always need to be prepared with your IFFCO Tokio health insurance plan, so that you can lead a life worry-free.
To ease financial burden – If you have an active health policy, your medical bills will be compensated by your insurer and the expenses will not feel heavy on your pocket. That is a relief in the face of sky-rocketing medical expenses.
Mental relief – When you know that you have IFFCO Tokio health policy with you, you avail of the necessary medical treatments without any mental and financial pressure, and for that keeping your policy active by paying the renewals on time is very important.
To avoid additional financial expenses – Once your policy has lapsed, the renewal of that policy is a very complex process, and you also have to pay the fine amount for that. If IFFCO Tokio is not pleased, your policy can be canceled permanently and you might need to buy a new policy. In that case, you will lose all the benefits of the policy. To avoid this type of circumstance, you should renew your policy regularly.
To avail of the tax benefits – If you renew your IFFCO Tokio health plan on time regularly, you will be eligible to avail of the tax exemption benefit as per the prevailing Income Tax Laws of India.
Online Renewal Process of IFFCO Tokio Health Insurance Policy
IFFCO Tokio General Insurance Company has built its website in such a customer-friendly manner that you can easily renew your health insurance plan online, and this is the most convenient one as you do not have to stand in a long queue and you can easily renew your health plan at any time, any place of your convenience. Here is the step-by-step process of how you can renew your IFFCO Tokio health insurance policy online.
Go to the official website of IFFCO Tokio General Insurance Company.
In the middle of the homepage, you will get the 'Renew Policy' tab. Click on that.
Then select the 'Health' option.
There you need to put the necessary information such as the policy number and the name of the insured person and click on the 'Proceed' option.
The amount for renewal of the policy will be shown before you for your chosen policy.
Pay the amount by using the convenient method of payment.
Upon the successful payment, you will receive the updated policy document and the notification about the same in your registered mobile number or/and email ID.
Your job is done. The coverage of your IFFCO Tokio health insurance policy will be renewed within a few minutes.