Cover Your Health in 5 mins
Compare Premium.
Buy Now.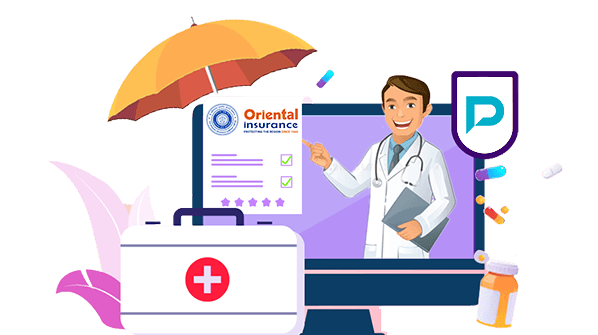 Compare

Individual Health Insurance Plans
Download Oriental Health Insurance Customer Policy
The download method for the Oriental Health Policy is quite easy and simple. All policyholders can instantly read the policy terms and conditions online by downloading the policy through their portal. Also available for download by policyholders are comprehensive insurance policies, premium receipts, etc.
Policyholders can better understand the full terms and conditions that apply at the time of purchase, renewal, and claims by downloading the Oriental health insurance policy. Through the insurer's official website, you may quickly get the Oriental Health Insurance Policy paperwork online.
You can review information on coverage, benefits, the free-look period, premium payments, and several other features in the document.
Oriental Health Insurance Policy Document Download Process
Customers will need a registered email address and the health insurance policy number in order to download the health insurance policy. The processes to download the documentation for the Oriental health insurance coverage are as follows:
To download the health insurance policy, you need to visit the official website.
After that, you will need to find "Customer Services", hover over it and then find "Download Policy", and click on it.
Then, you will be directed to a new page where you must enter "User ID" and "Password". Then type in the characters in the box. Then, click on sign in.
Note: Check the details carefully after entering them to avoid errors. Then click on the Download button.
Policyholders can download the policy and take a printout. One can opt for a softcopy, and they can get it on their email ID registered with the insurer.
How To Get Policy Documents Online?

A copy of the policy document can be requested by visiting the closest Oriental Health Insurance branch, which the policyholder can locate online. To file your service request, you may also call the business at 1800118485/011-33208485
Headquarters Address: The Oriental Insurance Company Ltd. "Oriental House", A-25/27 Asaf Ali Road, New Delhi-110002
What does the Oriental Health Insurance Policy Document Contain?
Policyholders can obtain their Oriental health policy online and print it off for future use. Check out the information below to learn what's in your policy document:
Policyholder's Name, age, and contact details
Policy Details
Policy Type
Policy Number
Sum Insured
Premium Illustrations and bonus details, if any
Free-look period details
Complete the terms and conditions of the policy
Complaints and grievance process
Terms and conditions of port from one insurer to another
Frequently Asked Questions
Listed below are the frequently asked questions related to Oriental Health Insurance customer care: