Cover Your Health in 5 mins
Compare Premium.
Buy Now.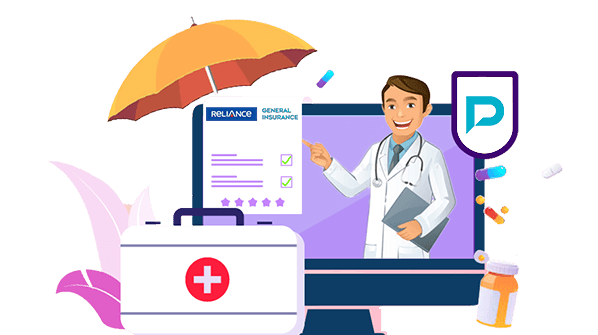 Compare

Individual Health Insurance Plans
Reliance Health Insurance Customer Care
In India, Reliance General Insurance is one of the top general insurance companies that can easily be accessed online and through telephoning services and have 100+ branches around India. They have a large customer base since they offer a variety of insurance products, including house, auto, and health insurance.
The customer service department of the Reliance General Insurance Company assists in addressing the customers' questions and doubts. The team helps the consumer understand the terms of the policy, file a claim, find network hospitals, resolve complaints, and follow the claim status. Customers of Reliance Health Insurance can contact the company's customer service department by phone, email, or by going to the insurance provider's nearest branch.
You can contact the insurer by phone or email. Customers who need assistance can also write to the insurer.
How To Contact Reliance Health Insurance Customer Care?
Take a look at the details of the Reliance Health Insurance customer care:
Parameters
Details
Call

Paid Number: +91 22 48903009​

Sr. Citizen ​helpline number: +91 22 33834185​

WhatsApp
WhatsApp Number:7400422200​
Email
rgicl.services@relianceada.com
Address
Reliance General Insurance, Correspondence Unit, 2nd & 3rd Floor, Winway Building, 11/12, Block No-4, Old No-67, South Tukoganj, Near Madhumilan Square, Indore, Madhya Pradesh, India – 452001​
Voice Bot
https://voicebot.brobotinsurance.com/?channel=website
Website
https://www.reliancegeneral.co.in/Insurance/Home.aspx
Reliance Health Insurance Branches & Its Locations
The top cities where Reliance General Insurance Company has branches are listed in the table below. If you want to know more about its branches, simply visit Reliance General Contact Page today!
Branch Location
Branch Address
Agartala
SHRIRAM BUILDING, Holding No. 602J & 602N, Kerchoumuhani, T.G.Road , Ramnagar, AGARTALA – 799002,AGARTALA,TRIPURA
Ahmednagar

Ram Kisan Building, 1st Floor, Opp Zopadi canteen, Near Manmad Highway, AHMEDNAGAR – 414003, AHMEDNAGAR, MAHARASHTRA

0241-7045837694

Airoli
Reliable Plaza, Unit No 301 – A, Plot No K 10, Kalwa Industrial Area, AIROLI – 400708, THANE, MAHARASHTRA
New Delhi
C-1, 3rd Floor, New Krishna Park, Adjustant to Janakpuri Metro Station West, NEW DELHI – 110018, NEW DELHI, DELHI
Ajmer
4th Floor, Miraj Mall, No 10 & 11, Opp.Bajrang Garh, AJMER – 305001, AJMER, RAJASTHAN
Alwar
Old TV Tower, 1st floor, Jain Eye Care, Basant Vihar Scheme No.3, ALWAR – 301001, ALWAR, RAJASTHAN
Amritsar
SCO:21, 3rd Floor, B Block, Distt Shopping Complex, Ranjit Avenue, Amritsar- 143001, AMRITSAR – 143001, AMRITSAR, PUNJAB
ANANTAPUR
13-2-275, Sri Sai Jewels, 2nd Floor, Rf Road, ANANTAPUR – 515001, ANANTAPUR, ANDHRA PRADESH
Asansol
3rd Floor, P. C. Chatterjee Market, A – Block, Rambandhu Tala, G. T. Road, Asansol- 713303., ASANSOL – 713303, BARDDHAMAN, WEST BENGAL
Assam
5th Floor, Prag Plaza, 100 G. S Road, Bhangagarh, ASSAM – 781005, GUWAHATI, ASSAM
Bangalore
UNNATI ARCADE, 5/111 & 6/112, 1st Floor, 1st Block, Dr.Rajkumar Road, (1st main road), Rajajinagar, BANGALORE – 560010, BANGALORE, KARNATAKA
Odisha
2nd Floor, 5 Janpath Unit –III Kharvelnagar, BHUBANESHWAR – 751001, BHUBANESHWAR, ODISHA
Chandigarh
SCO 57-58-59, 04th Floor Sector 17A Chandigarh – 160017, CHANDIGARH – 160017, CHANDIGARH, CHANDIGARH U.T.
Dehradun
2nd floor, Above KFC, 65 Rajpur Road, Dehradun, Uttarakhand-248001, DEHRADUN – 248001, DEHRADUN, UTTARAKHAND
Faridabad
2nd Floor, N HUT 131 NIT 5, Faridabad -121001, FARIDABAD – 121001, FARIDABAD, HARYANA
Gurgaon
Global Business Park Building, 8th Floor, Unit No 804 & 805 Tower, M G Road, Sector 26, Gurgaon, GURGAON – 122002, GURGAON, HARYANA
Hyderabad
3rd Floor, Kyass Towers, Dr. Ambedkar Road, Court Chowrasta Karimnagar, HYDERABAD – 505001, HYDERABAD, TELANGANA
Jammu
1st floor, Geeteshwar Tower, Transport Nagar, Narwal, Jammu- 180006, JAMMU – 180006, JAMMU, JAMMU AND KASHMIR
Kanpur
SAI SQUARE, 4TH FLOOR, 45 BHARGAVA ESTATE CIVIL LINE, KANPUR – 208001, KANPUR URBAN, UTTAR PRADESH
Punjab
7th Floor, Surya Tower, 108 The Mall, LUDHIANA – 141001, LUDHIANA, PUNJAB
VIJAYAWADA
Surya Towers, 40-1-21/8, 3rd Floor, MG Road, Labbipet, ,VIJAYAWADA – 520010,KRISHNA,ANDHRA PRADESH
WARANGAL
15-1-237, 7&8, 2nd Floor, City Centre Warangal Mulugu Road, WARANGAL – 506002,WARANGAL,TELANGANA
Reliance Health Insurance Customer Care Services
The following are some things that a customer of Reliance Health Insurance can get assistance with:
Claim intimation
Understanding the policy coverage
Answering the queries of the customer
Enquiring about the claim status
Locating the nearest network hospital
Solving the grievances of the customer
Updating the policy details
Frequently Asked Questions: