Cover Your Health in 5 mins
Compare Premium.
Buy Now.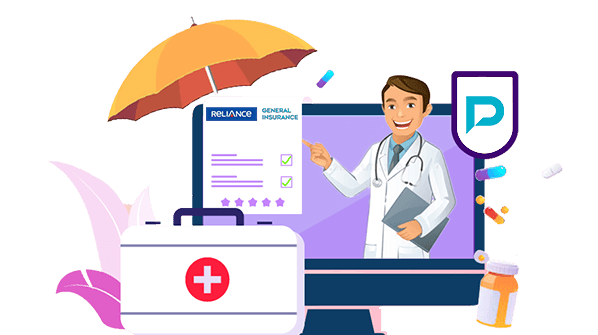 Compare

Individual Health Insurance Plans
Reliance Health Wise Policy
Due to our fast and hazardous lifestyle, we often suffer from different diseases and ailments, and the skyrocketing expenses of medical necessities have really put a heavy financial burden on your shoulder. But, still, after that, we cannot overlook the importance of medication, hospitalization, and healthcare facilities. Therefore, to give us some relief, health insurance policies are made, and when it comes to medical plans, no one can ignore Reliance General Insurance Company because of its wide range of health products and customer-friendly nature.
Among all its health insurance policies, Reliance Health Wise Insurance Plan is worth mentioning as it brings to you pennywise insurance protection that offers you the convenience of technology for faster assistance during medical emergencies, along with a whole lot of heart that knows the care your health needs without shaking your savings. To know more about this policy, have a look at the following mentions.
Parameters
Description
Minimum entry age
Dependent child – 91 days, Adult – 18 years
Maximum entry age
Dependent child – 25 years, Adult – 65 years
Policy variants
Standard Plan, Silver Plan, Gold Plan
Who can be covered for

The policy can be availed for self and the following family members

Legally wedded spouse
Dependent Children (i.e., natural, or legally adopted) between the age of 91 days to 25 years.

Renewal
Lifelong renewability
Policy type
Individual policy and Family Floater policy
Exit age
No exit age
Family combination

Individual Policy: A maximum of 4 members can be covered in a single individual policy on an individual sum insured basis.
Floater Policy: In the case of Family Floater, one family will share a single sum Insured as opted. A maximum of 4 members can be covered in a single-family floater policy i.e., an Insured person, legally wedded spouse, and two dependent children up to the age of 25 years.

Sum insured options
Rs. 1 lakh, Rs. 2 lakhs, Rs. 3 lakhs, Rs. 4 lakhs, and Rs. 5 lakhs.
Grace period
30 days
Cashless facility
Available, more than 7300 network hospitals are there spread all over the country.
What Will You Get With Reliance Health Wise Insurance Policy?
This policy has come up with a sack full of benefits and facilities that promise to keep you and your family protected and secure. The following table showcases the details of such benefits. Have a look.
Benefits
Standard plan
Silver plan
Gold plan
Hospitalization expenses
The plan covers hospitalization expenses for a period of more than 24 hours
Domiciliary hospitalization
Covers, and it is limited to 10% of the sum insured for medical expenses incurred for availing of the medical treatment at home which would have otherwise required hospitalization
Pre-hospitalization medical expenses
30 days
60 days
60 days
Post-hospitalization medical expenses
60 days
90 days
90 days
Cost of health check-up
Reimbursement of the cost of the medical check-up is provided up to 1% of the average sum insured for individual policies and up to 1.25% for floater covers, once at the end of a block of four consecutive years, provided there are no claims reported under the policies by any member, during the block.
Critical illness cover
No
No
Yes
Organ donor expenses cover
No
Yes
Yes
Modern treatments and procedures
Covered up to 50% of the sum insured
Pre-policy medical check-up
If you have healthy habits and you do not have any pre-existing disease then you do not need to undergo a pre-policy medical test below the age of 45 years for getting this policy
Tax exemption benefit
This policy also gives you a tax exemption benefit. The premium is eligible for deduction under Section 80D of the Income Tax Act, 1961.
Key Highlights of Reliance Health Wise policy
Apart from the above standard and basic benefits and facilities, this plan has come up with a bunch of special advantages that have made the plan unique and popular among consumers. To know more about these advantages, have a look at the following mentions.
Daily Hospitalization Allowance:
This optional benefit is only available for the Gold Plan variant of the policy, where you will be given Rs. 250 daily hospitalization allowance up to a maximum limit of 7 days. In case of a listed critical illness, the amount will remain the same, but the maximum limit will be up to 14 days.
Nursing Allowance:
For the Silver plan, per day nursing allowance will be Rs. 250 for a maximum period of 5 days. And, for the Gold Plan, the allowance will be Rs. 300 for up to 5 days. In case of a listed critical illness, the daily limit will be extended up to 10 days.
Local Road Ambulance Service:
For the Standard Plan, Rs. 500 per hospitalization is provided for the transportation of the patient from one place to a nearby hospital in case of a medical emergency. For the Silver Plan and Gold Plan, the amount is up to Rs. 750 and Rs. 1000, respectively.
Recovery Benefit:
This facility is available for the Silver and Gold Plan. If in case an insured person is hospitalized for more than 10 days, a lump sum of Rs. 10,000 will be paid on behalf of the company.
Expenses of an accompanying person:
In case of a compassionate visit to the insured person, the company will provide Rs. 200 per day for a maximum period of 5 days under the Standard Plan. in the case of the Silver and Gold Plan, the amount will be Rs. 250 and Rs. 300, respectively, whereas the day-limit will be the same.
Policy cancellation other than free look period:
The Policyholder may cancel this policy by giving 15 days' written notice and in such an event, the Company will refund the premium for the unexpired policy period on a short period basis as detailed below Period on risk % of Premium Refunded:
| | |
| --- | --- |
| Period of risk | Percentage of premium refunded |
| Up to 1 month | 75% |
| Up to 3 months | 50% |
| Up to 6 months | 25% |
| Exceeding 6 months | NIL |
What are the general exclusions of Reliance Health Wise Insurance Policy?
Understanding a policy is not completed if you do not go through its exclusions of it thoroughly. Therefore, to offer you a clear and comprehensive picture of the policy, and to avoid future complications, here are the general exclusions of this policy.
In case of any kind of breach of law with criminal intent, the policy will not offer any compensation.
Self-inflicted injury, suicide, or suicide attempt is permanently excluded from the policy.
If you raise any claim against such an illness or ailment that is still within its waiting period, the company will not approve your claim.
The expenses related to the investigation, evaluation, wellness, and rejuvenation will not be compensated by the policy.
Any kind of dietary supplement that can be purchased easily without any prescription will not be covered by the policy.
If you take part in any hazardous activities, or adventurous sports such as ballooning, paragliding, or scuba diving, and get an injury from there, then the company will not pay for your medical expenses.
Expenses related to any kind of plastic surgery, or cosmetic surgery will be excluded from the policy.
If you receive any injury incurred due to the consumption of alcohol, drug, or any other intoxicating substances, the company will not take any liability for that.
Maternity expenses and costs of dental treatment are not provided by the policy.
If any expenses arise due to war, war-like situations, public unrest, radioactivity, nuclear war, etc. the company will not take any responsibility for that.
External congenial anomaly also falls under the category of exclusions.
If you receive any treatment which is non-allopathy, unrecognized, or outside the discipline, the company will certainly compensate for those treatments.
Premium calculation of Reliance Health Wise Policy
Once you get to know the inclusions and exclusions of the policy, the next important thing to know is the premium value that you need to pay for this purchasing this policy. To provide you with a clearer picture of it, here is an example.
Suppose, Mr. Mishra, a 36-year-old businessman, bought Reliance Health Wise Insurance Policy for himself. Let us find out, how much premium amount he has to pay for availing of the benefits of the policy for the given credentials.
| | |
| --- | --- |
| Parameters | Details |
| Age | 36 years |
| Policy for | Self |
| Policy type | Individual policy |
| Sum insured | Rs. 3 lakhs |
| Policy variant | Gold Plan |
| Premium amount including GST | Rs. 6553 |
Now, the same Mr. Mishra wants to cover his wife under the same policy. Certainly, the data will change according to that. Now, we will find out how much premium amount he needs to pay for the given credentials.
| | |
| --- | --- |
| Parameters | Details |
| Age | Self – 36 years, Spouse – 34 years |
| Policy for | Self and spouse. |
| Policy type | Family floater policy |
| Policy variant | Gold Plan |
| Sum insured | Rs. 5 lakhs |
| Premium amount including GST | Rs. 12697 |
Frequently Asked Questions