Cover Your Health in 5 mins
Compare Premium.
Buy Now.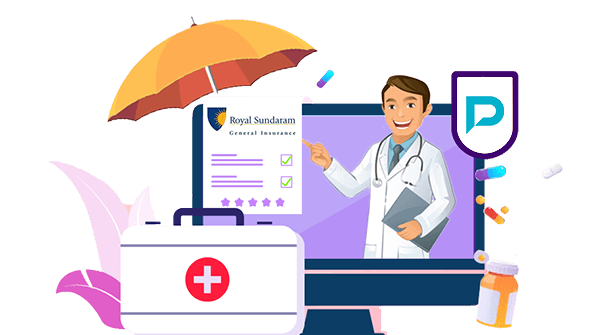 Compare

Individual Health Insurance Plans
Royal Sundaram Health Insurance Claim
In today's fast-paced environment, the cost of medical expenses is significantly mushrooming and there's no one to blame. Though we all have been watching TV ads and listening to promotional campaigns on buying health insurance, we are still least interested in making a buying decision. But it's the time now to make the purchase and secure our loved ones.
With the market flooded with numerous options in abundance, choosing the health insurance plan from Royal Sundaram will reap you countless benefits. But if you think buying only a health plan will serve the purpose, then you are probably mistaken. What if you accidentally need to admit to the hospital due to some severe health issue? What if you have no idea about how to claim your insurance? How would you claim that huge amount?
When you've understood the importance of the health claim process, let's understand the claim process of Royal Sundaram.
Ways of Applying Royal Sundaram Health Insurance Claim
Procedure to avail Pre-Authorization for Cashless facility (for domestic claims);
Please notify TPA of any scheduled hospitalisation and request cashless authorisation at least 72 hours before the commencement of the hospitalisation.
Any emergency hospitalisation should be reported to TPA within 24 hours.
TPA will verify your coverage and issue a cashless authorization letter to the hospital within 3 hours of receiving the necessary documentation. If there is a discrepancy in the documents supplied, the hospital will be notified within 4 hours of receiving the documents.
Before discharge, please pay any non-medical charges or expenses that are not covered by the hospital.
If the illness or treatment is not covered by the policy, the hospital will get a denial notice within two hours.
Tips to Remember:
You are only eligible for a cashless service in Network Hospitals.
Rejecting a cashless facility does not mean the claim is rejected.
Process For Reimbursement Claims
Within 30 days of discharge, please provide Royal Sundaram with the duly completed and signed claim form, as well as all information/documents referenced therein. Complete paperwork can be found on the claim form.
If you submit any documents or information that are incorrect, Royal Sundaram will give you a deficiency letter within 7 days of receiving your claim paperwork.
Within 30 days of receiving the complete set of claim documents, Royal Sundaram will pay the admissible amount (as per Policy Terms & Conditions) and provide a settlement letter.
The payment will be made in the proposer's name.
You Can Send Your Claim Documents on
Health Claims Department
Royal Sundaram General Insurance Co Ltd
Vishranthi Melaram Towers,
No.2/319, Rajiv Gandhi Salai (OMR)
Karapakkam, Chennai – 600097
Documents Required To File Royal Sundaram Health Insurance Claim
To be reimbursed for hospital charges, the following documents must be sent together.
Treatment and investigation bills.
Advance and final receipts
Diagnostic Test Reports, X-Ray, Scan and ECG and other investigation reports.
How To Check Network Hospitals of Royal Sundaram?
The network hospitals linked with Royal Sundaram health insurance give the best treatment to its members for any ailment or disease, as well as proper care for pre-treatment and post-treatment conditions, using state-of-the-art equipment and well-trained doctors and physicians.
Simply go to the official website of Royal Sundaram.
Click on the 'Insurance' on the status bar. Find the 'Health Insurance' option and click on it.
Scroll down until you find a section, named 'Cashless Hospitals'. Just below that, you will see a table wherein you will find the total network hospital list.
Click on each TPA name to find the complete list of network hospitals covered.