Renew in just 5 mins.
No Inspection.
No Paper Work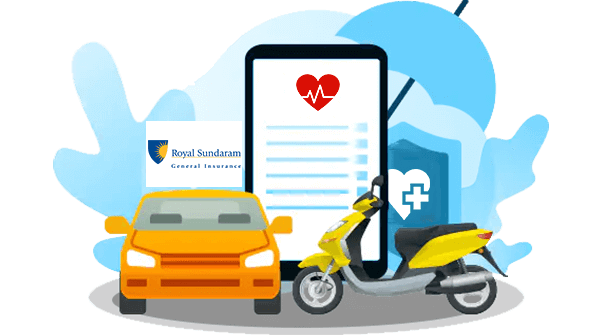 Compare

Car Insurance Plans
Royal Sundaram General Insurance Company
Formerly known as Royal Sundaram Alliance Insurance Company Limited, Royal Sundaram General Insurance Co. Limited is the first private sector general insurance company in India incorporated by the Insurance Regulatory and Development Authority of India. Initially, the company was promoted as a joint venture by Sundaram Finance, one of India's most prestigious non-banking financial institutions (NBFCs).
Individuals, families, and organizations have benefited from Royal Sundaram's innovative general insurance products, which are available directly as well as through intermediaries and affinity partners. Individual consumers can purchase Motor, Health, Personal Accident, Home, and Travel Insurance, while commercial customers can purchase specialist insurance products for fire, marine, engineering, liability, and business interruption risks. Small and medium businesses, as well as rural customers, can benefit from Royal Sundaram's carefully created goods. In India, the organization is a pioneer in bancassurance, with long-standing relationships with reputable banks and NBFCs.
Here are the key highlights of Royal Sundaram General Insurance Plans;
Incurred Claim Ratio
85.03% (As per IRDAI Report)
Premium Underwritten
3,666.96 (2019-20) (As per IRDAI Report)
Solvency Ratio
1.69 (As per IRDAI Report)
Corporate Address

Royal Sundaram General Insurance Co. Limited

Vishranthi Melaram Towers

No.2/319 , Rajiv Gandhi Salai (OMR)

Karapakkam , Chennai – 600097

Awards

Royal Sundaram – The best BFSI brands 2021

Royal Sundaram won the ET award for Prompt GI Compact Category in the Health Segment
Types of Royal Sundaram General Insurance Plans
Here are the top Royal Sundaram general insurance plans that you choose from. Let's discuss them in detail!
1. Royal Sundaram Motor Insurance Plans
Royal Sundaram Motor Insurance knows the importance of your vehicle and provides auto insurance coverage to safeguard it in the case of a disaster. You can choose from many different end-to-end motor insurance policies, including the following:
An automobile is the pride and delight of every owner. The car insurance policy by Royal Sundaram policy will cover your vehicle against theft, accidents, and natural catastrophes such as fire, earthquakes, and floods, among other things. The policy protects your financial liability for damage to a third party's property if you are involved in an accident with them. As a Royal Sundaram Car Shield customer, you will receive cashless repairs and priority service from the company's trusted garage network across India. Claim settlements are completed in ten working days.
Royal Sundaram Two-wheeler Insurance
Two-wheeler insurance, often known as bike insurance, protects you financially against any damages or losses caused by accidents, theft, or even natural catastrophes. Two-wheeler insurance also shields the covered vehicle and its owner from third-party liabilities if it is involved in an accident that injures someone or damages another vehicle or someone else's property. Royal Sundaram provides comprehensive online bike insurance coverage that is designed to keep your bike safe and stress-free! You will be covered with Personal Accident Coverage of at least Rs.15 lakh.
Royal Sundaram Commercial Vehicle Insurance
Goods Carrying Vehicles, Passenger Carrying Vehicles, Trade Road Risk Policy, Taxis, Miscellaneous Class of Vehicles such as Tractors, Cranes, and Trailers, Trade Road Transit Policy, and Trade Internal Risk Policy are all covered by commercial vehicle insurance. An indemnity for third-party property damage is available up to a maximum of Rs. 7.5 lakhs. There is an integrated Personal accident policy for the paid driver and cleaner of the car in the event of an individual and optional personal accident.
Royal Sundaram provides affordable health plans with a variety of perks to help you and your family stay well. Their health insurance policies are adaptable and reasonable, with a variety of Sum Insured options to meet your specific requirements. Choose from basic health insurance to specialized medical insurance plans with maternity coverage.
Lifeline Health Insurance Plan
Lifeline is a Royal Sundaram comprehensive indemnity plan that covers your and your family's health insurance needs. For you, your spouse, and your children, this insurance plan is available as an individual and family floater plan. It includes a 100 percent reload of the money assured, AYUSH therapy, no room rent limitation, and a doubling of the sum assured after five claim-free years. This plan offers amount assured options of Rs. 2 lakhs, Rs. 3 lakhs, Rs. 4 lakhs, and Rs. 1.5 crores.
Family Insurance
Family Insurance is a one-of-a-kind health insurance plan designed for a young couple who are preparing to start a family. This plan is tailored to the needs of large families. It covers 19 various types of relationships. Maternity benefit, reload benefit, no claim bonus, individual + family sum assured, and no entry age restriction are all included. Individual health plans provide sum assured options of Rs. 2lacs, 3lacs, 5lacs, 10lacs, and 15lacs, while family floater policies have sum assured options of Rs. 3lacs, 4lacs, 5lacs, 15lacs, 20lacs, and 25lacs.
3. Royal Sundaram Travel Insurance Plans
While travelling overseas, the Travel insurance policies protect you from unforeseen occurrences such as medical and non-medical emergencies.
Leisure Trip Travel Insurance Plan
A leisure trip insurance plan gives you comprehensive coverage while planning your vacation abroad, so you don't have to worry about unanticipated situations. Medical Expenses (including Medical Evacuation), Sickness Dental Relief, Daily Cash Allowance, and Accidental Death & Dismemberment are all included in the leisure travel package (24 hours) Death and dismemberment as a result of an accident, Repatriation of Mortal Remains, Checked-in Baggage Loss, Personal Liability, Checked-in Baggage Delay, Automatic Extension, Passport Loss, Emergency Cash Advance, Trip Delay, Hijacking Benefit, to name a few.
Multi-Trip Travel Insurance Plan
This type of travel insurance policy is a tailored annual plan created primarily for regular business travelers who take many travels throughout the year. This plan is created specifically for regular travelers who travel overseas many times a year. A single trip's duration might be categorized as 30, 45, 60, or 90 days. This plan can be purchased as an annual multi-trip policy that covers a maximum of 180 days of travel during the year.
Student Travel Insurance Plan
A very convenient annual travel insurance package for those students who are studying abroad for a period of one to seven years. This plan is tailored to students who are pursuing higher education in another country. This policy relieves students of any concerns about unforeseen obstacles that may arise while travelling abroad to pursue their aspirations. The insured person must be at least 40 years old.
Asia Travel Insurance Plan
It is a cost-effective travel insurance plan designed specifically for Asian travel that provides comprehensive coverage to those travelling to any Asian country from India. Keep in mind that Asia excludes Japan and Korea. The proposer must be at least 18 years old, and the insured person must be at least 70 years old.
Senior Citizen
A travel insurance package designed specifically for members over the age of 71. This plan provides an appealing set of coverage for older citizens travelling abroad, allowing them to rest comfortably that they will be protected in the event of an emergency. The proposer must be at least 18 years old, while the insured person's maximum age is not limited to any specific number.
4. Royal Sundaram Home Insurance Plans
Home insurance from Royal Sundaram is a comprehensive set of insurance benefits designed to protect your home's structure and contents.
Home Building Insurance
Home Building Insurance protects your residential property from unforeseen costs caused by natural and man-made disasters. You can buy this cover for your house, flat, apartment, duplex apartment, bungalow, or any other type of dwelling. The fixtures and fittings are included. Garages, domestic outhouses for residences, compound walls, fences, gates, retaining walls and internal roadways, parking space, and water tanks for residences are all included.
Home Contents Insurance
Home Contents Insurance provides peace of mind by compensating for the loss or breaking of your personal belongings. This insurance covers general contents like furniture and fittings, television sets, telephones, electronic devices, antennas, water storage equipment, air conditioners, kitchen equipment, and other domestic things that are common in any home. You can pay an extra premium to insure precious contents such as paintings, jewels, silverware, curios, works of art, antiques, valuable carpets, and artworks.
Homebuilding and contents Insurance
Home Building and Contents Insurance provides comprehensive coverage for your residential home against natural and man-made disasters, as well as compensation for the loss or breakage of your personal belongings. Earthquake, volcanic eruption, or storm, Cyclone, Tempest, Typhoon, Hurricane, Tornado, Tsunami, Flood, and Inundation are all covered by the policy. Subsidence of the soil on which Your House is built, Forest Fire, Bushfire, Jungle Fire, Rockslide Landslide, and any type of impact damage, i.e., damage caused by the impact of, or collision with, any external physical item (e.g., vehicle, falling trees, aircraft, wall etc.)
5. Royal Sundaram Business Insurance Plans
The business insurance policy covers a wide range of business insurance solutions, such as marine insurance, office insurance, engineering insurance, industrial insurance, and insurance for educational institutions, all of which are designed to protect your company from loss due to theft, fire, or any other unexpected unforeseen accidental damage.
Employee Solutions
Employee Insurance Solutions such as Group Health Insurance, Group Accident Insurance, and Workmen's Compensation are included in the business insurance policy. All of these insurance options are designed to provide health coverage to your employees and protect them from the risk of unexpected accidents.
Rural/Social Insurance
This rural/social insurance policy offers insurance options for people who live in rural or low-income areas. The strategy proposes measures tailored to the rural class, intending to safeguard their health and livelihood. It is further separated into two sections, namely the rural and social sectors.
Farmers, small-scale industries, village industries, small traders, and rural businesses can all benefit from the rural sector's solutions.
Women in SHGs have access to special services provided by the social sector. These products are meant to provide cheap health insurance to women and their families.
6. Royal Sundaram Personal Accident Insurance
Personal Accident Insurance is a policy that protects you financially in the event of an accident that causes you to become disabled or die. If such an incident occurs, the exact sum covered is paid in full to the policyholder based on the advantages specified above. Accidental death, permanent entire disablement, permanent partial disablement, temporary total disablement, accident hospitalization, and so on are all covered by the policy. Every year you go without filing a claim, your coverage grows by 5%, up to a maximum of 50%.
Why Consider Royal Sundaram General Insurance?
Here's the list of reasons to choose plans from Royal Sundaram General Insurance;
1. Out-of-the-Box Approach
The general insurance firm provides consumers with many creative ways to make the insurance procedure go more smoothly. M-Chatra App was launched by Royal Sundaram to help policyholders organize and carry out all of their insurance-related operations in a simple, quick, and efficient manner. Customers can use this app to examine policy information, submit a service request, submit an intimate claim request, locate branches, garages, and hospitals, and get real-time renewal and claim progress, among other things.
2. Product Line Customized
Car insurance, two-wheeler insurance, health insurance, travel insurance, house insurance, business insurance, personal accident insurance, crop insurance, and commercial vehicle insurance are all available under Royal Sundaram General Insurance. With such a diverse choice of insurance products, the organization serves as a one-stop-shop for all insurance needs.
3. Instant Renewal
If you are looking for policy renewal, Royal Sundaram makes it simple for policyholders to renew their insurance plans online in just three simple steps. The first step is to enter your existing insurance's policy number and expiration date. Following that, policyholders must review the policy information and premium amount offered to make changes to the plan and make payments online.
4. Hassle-free Claim Process
The claim process at Royal Sundaram general insurance company is designed to make filing a claim request simple and convenient for everyone, as well as to ensure that the claim settlement process is quick and fair. The organization provides the highest quality service for insurance coverage to make the claim process as efficient as possible. TPAs handle requests faster than ever before, surveyors conduct short inspections, and so on throughout the company's claim procedure.
5. Seamless Customer Service
Royal Sundaram is committed to delivering excellent service to policyholders and promptly addressing any issues that may arise. The company's support staff is committed to completing assignments on time and is always willing to go above and beyond to assist customers. You can call the customer care team at 91-44-7117 7117 or write to us at customer.services@ royalsundaram.in or can also connect with us at the live chat facility.
How To File a Claim for Royal Sundaram General Insurance?
No matter what plan you are looking to buy from the Royal Sundaram General insurance plan, the claim process for each is different. Let's take a look at them one by one:
1. Motor (Cashless & Reimbursement)
When it comes down to the claim process of a motor insurance plan, you can choose either of the two forms.
Cashless Claim Process: Once you've informed the company about the claim and provided them with the details of your policy as well as the events that led to the loss or damage, they'll help you find a suitable workshop to repair your vehicle as soon as possible and to the highest quality standards, so you can get back on the road. All you need to do is fill out and sign a claim form. If the vehicle in question is a company vehicle, a company seal and signature from an authorized signatory are necessary. Also, self-attested photocopies of the vehicle's registration certificate and the driver's license at the time of the accident. An FIR must be filed at the police station if the accident results in death, injury, or property damage to third parties.
Reimbursement Claim Process: The original invoice will be requested for reimbursement claims. In this situation, you will be responsible for paying for the car repair out of pocket, after which the company will repay you the amount based on the original invoices, after deducting any deductible.
2. Health (Cashless & Reimbursement) Claim Process
If you are looking to claim your health insurance, you can choose either of the two ways.
Cashless Claim Process: In the case of scheduled hospitalization, you should notify Royal Sundaram at least 48 hours ahead of time, and in the case of emergency hospitalization, you should notify Royal Sundaram within 24 hours. Please notify TPA of any scheduled hospitalization and request cashless authorization at least 72 hours before the commencement of the hospitalization. TPA must be notified of any emergency hospitalization within 24 hours of the admission. TPA will verify your coverage and issue a cashless authorization letter to the hospital within three hours of receiving all of your papers. If there is a discrepancy in the documents supplied, the hospital will be notified within 4 hours of receiving the documents.
The list of the document include the Final hospital discharge summary, Pharmacy bills along with the prescription Original bills, Original hospital bills, Canceled cheque or NEFT details for payment, Treating doctor's report, and original consultation notes, FIR or post-mortem report if happened, Nature of operation performed and surgeon's bill and receipt, Test reports along with attending doctor's or surgeon's report, etc. Before discharge, please pay all non-covered non-medical expenses and levies to the hospital. The hospital will receive a denial notification within two hours if the disease or treatment is not covered by the policy.
Cashless Facility (Worldwide Emergency Hospitalization): You must notify the Service Provider within 24 hours after being admitted to the hospital. Their Service Provider will evaluate the request and the Insured Person's eligibility under the Policy and will contact them if more information or details are needed. They will instantly notify the hospital whether the pre-authorization request was approved or denied. If the pre-authorization request is approved, the Service Provider will pay the claim with the hospital right away. The Insured Person is responsible for any expenditures or expenses incurred by or on behalf of the Insured Person that exceeds the Service Provider's pre-authorized limits.
Reimbursement Claim Process: Please send Royal Sundaram the fully completed and signed claim form, as well as all information/documents, within 30 days after release. If there is a discrepancy in the papers/information you gave, Royal Sundaram will send a deficiency letter within 7 days of receiving your claim documents. Within 30 days of obtaining the whole set of claim documents, Royal Sundaram will make payment for the admissible amount (as per Policy Terms & Conditions) along with a settlement letter.
3. Travel Insurance Claim Process
If you are looking to claim your travel insurance, you can choose either of the two ways.
For Cashless Claims: In the event of emergency hospitalization, the insured person must notify the Service Provider within one day of being admitted to the hospital, but in any case, before being discharged. If the above-mentioned deadlines are not met, the company is not obligated to provide a cashless facility.
Reimbursement Claim: All claims will be reimbursed in Indian Rupees at the exchange rate in effect on the date the amount is billed. If, on the other hand, it can be demonstrated that the necessary foreign currency to pay the bill was obtained at a less favorable rate, the appropriate exchange rate will be used. Within 30 days after receiving the last relevant document, all acceptable claims under this policy must be submitted for settlement. Where a settlement offer has been made and accepted by the insured person, nominee, or legal heir, the company must pay the offered claim amount within 7 days of such acceptance, failing which the company will be liable to pay interest at 2% above the bank rate in effect at the beginning of the financial year in which the claim is reviewed. At the time of claim settlement, the Company may require the Proposer's KYC documentation following current AML requirements.
4. Other (Home, Personal Accident Insurance, and Business Insurance)
If an incident occurs that may give rise to a claim under this policy, you must notify the company immediately by phone or email at customer.services@ royalsundaram .in, or by providing written notice, and you must provide detailed particulars of the amount of the loss or damage, as well as such explanation and evidence to substantiate the claim as the Company may reasonably require, within 14 days.
You must also produce, procure, and give to the company all further particulars, plans, specification books, vouchers, invoices, duplicates or copies thereof, documents, proofs, and information relating to the claim, the origin and cause of the loss, and the circumstances under which the loss or damage occurred at all times at your own expense. Any matter relating to the Company's liability or the amount of the company's liability that may be reasonably requested by or on behalf of the company, as well as a declaration on oath or in another legal form of the claim's truth and any items related thereto. Please make sure that the documents are in English or that you can give an English translation of them. The company may provide a Service Provider to check the papers, if necessary, to speed up the claim procedure.
Frequently Asked Questions