Cover Your Health in 5 mins
Compare Premium.
Buy Now.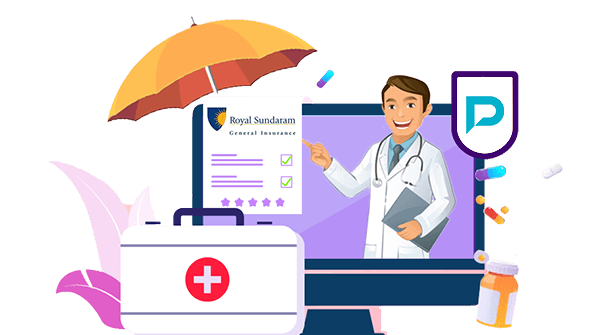 Compare

Individual Health Insurance Plans
Royal Sundaram Health Insurance Customer Care
Royal Sundaram General Insurance Co. Limited is a general insurance firm and a subsidiary of Sundaram Finance. They provide cutting-edge plans for all age groups of people, families, and businesses. Additionally, they offer coverage for a variety of client needs, including two-wheeler insurance, auto insurance, vacation insurance, health insurance, etc. Over 125 cities in India account for a sizable portion of their client base. They were the first private insurance company to partner with banks to provide retail products, the first to launch a cashless payment method, and they were the first to introduce products like Hospital Cash in the health insurance industry.
The Royal Sundaram Health Insurance customer service team comprises competent customer service representatives who help the insurance company's current and potential clients. Customers can get assistance from them by asking questions, submitting claims, finding a network hospital, and settling any complaints, among other things. The customer service department of Royal Sundaram General Insurance Company can be reached by calling or emailing the company's nearest branch.
Different Ways To Contact the Customer Care Department of Royal Sundaram Health Insurance
Check out the details of the Royal Sundaram Health Insurance customer care team below:
Parameters
Details
Call
Call at 1860 425 0000
Email
customer.services@royalsundaram.in
Address

Registered Office Address

Royal Sundaram General Insurance Co. Limited
No.21 , Patullos Road ,
Chennai – 600 002

Corporate Office Address

Royal Sundaram General Insurance Co. Limited
Vishranthi Melaram Towers
No.2/319, Rajiv Gandhi Salai (OMR)
Karapakkam , Chennai – 600097

Social Media Handles

Facebook:

https://www.facebook.com/RoyalSundaram

Twitter:

https://twitter.com/royalsundaram

LinkedIn:

https://www.linkedin.com/company/royal-sundaram-alliance-insurance-company-limited

Website

https://www.royalsundaram.in/
Major Royal Sundaram Health Insurance Branch Locations & Addresses
The top cities where Royal Sundaram Health Insurance Company has branches are listed in the table below. If you want to know more about its branches, visit https://www.royalsundaram.in/contact-us today!
Branch Location
Branch Address
Andhra Pradesh

#8/1023, Adjacent to Sri Durga Automotives

Almaspet, Kadapa, Andhra Pradesh – 516001

Chandigarh

SCO 82, I & II Floor

Sector 40-C, Chandigarh, Chandigarh – UT – 160040

Goa

5th floor 505, Gera Imperium II,

Kukatpally , Goa, Goa – UT – 403001

Gujarat

C/o. Sundaram Finance Ltd, Shop Nos 230-232, Second Floor,

7/1 Lord Sinha Road,, Bharuch, Gujarat – 392002

Mandi

Gularia Market, 1st Floor, Village and PO Gutkar, Teh- Sadar

Mandi- Himachal Pradesh-175021, Mandi, Himachal Pradesh – 175021

Jharkhand

2A, 2nd floor, H.NO 6, SB Shop area

Diagonal Rd, Bistupur, Jamshedpur, Jharkhand – 831001

Karnataka

Door No. 1-S-15-1011/5,

3rd Floor, Aura The Place, Chilimbi, Mangalore, Karnataka – 575006

Kerala

Door No. 11, A, 25.4th Floor, Payyil Kohinoor Arcade,

Waghavadi Road, Kottayam, Kerala – 686028

Madhya Pradesh

Apartment no. 506, 506A & 505-B, 5th Floor,

Industry House, 15, Old Palasia AB Road, Indore-452001, Indore, Madhya Pradesh – 452001

Maharashtra

Manik Plot No.7 & 8, Second Floor, Tatya Tope Nagar,

Almaspet, Nagpur, Maharashtra – 440010

Orissa

Esplanade Mall,

Room No – 538 & 539, 5th Floor, Khorda, Bhubaneswar, Orissa – 751010

Puducherry

No:7, Second Floor, 100 feet road, (Near Indira Gandhi Statue),

Birhata, Burdwan, Pudhuchery, Puducherry – UT – 605005

Punjab

TF 6-7, 3rd Floor

Kunal Tower, The Mall Road, Ludhiana, Punjab – 141001

Rajasthan

1st Floor, Gang Tower

11 Upper Chopasni Road, Near Arora Motor, Jodhpur, Rajasthan – 342001

Tamil Nadu

No.320, Muthu Plaza, 2nd Floor,

Old No.140 & New No.137, DB Road, RS Puram, Tirupur, Tamil Nadu – 641602

Hyderabad

No: 16-11-762/1-15, Rinda Plaza, Moosarambagh

Sri Ganpati Square, Hyderabad, Telangana – 500036

Uttar Pradesh

Unit No.417, P – 3 Krishna Apra

Sector – 18, Noida, Uttar Pradesh – 201301

Uttarakhand

Second Floor, Block-C, Municipal no.15,

(New Road (New no.62(53) Amrit Kaur Road), Dehradun, Uttarakhand – 248001
How Can Customer Care Help Royal Sundaram Health Insurance Existing Policyholders?
The Royal Sundaram General Insurance Company's customer service representatives can assist a client with the following:
Getting a health insurance quote
Answering all the queries
Filing a health insurance claim
Renewing a health insurance policy
Locating the nearest network hospital
Checking the claim status