Cover Your Health in 5 mins
Compare Premium.
Buy Now.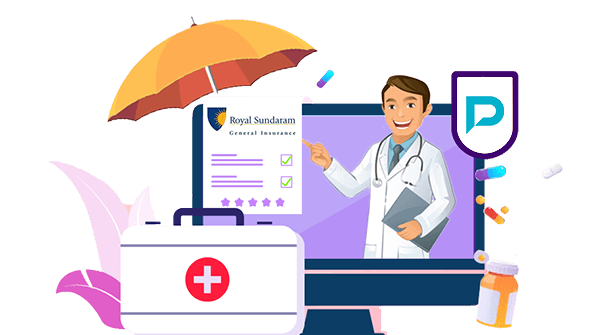 Compare

Individual Health Insurance Plans
Download Royal Sundaram Health Insurance Policy
The Royal Sundaram General Insurance Company is committed to giving its clients exceptional service and ensuring that all of their issues are resolved to the best of their abilities. The business takes great pride in providing excellent customer service, striving to provide amazing value, and consistently considering client feedback. Downloading health insurance policy document is a very easy and hassle-free process. To stay informed of the terms and conditions, sum insured, and insurance validity, consult the policy document.
The Royal Sundaram health insurance document can be downloaded and used to review the benefits, grace period, exclusions, inclusions, free-look period, and other terms and conditions of the policy. Therefore, whenever you buy a document online for future reference, especially while settling a claim, you must always make sure to download a copy of the document.
Process To Download Royal Sundaram Health Insurance Policy?
Follow the steps given below to download the Royal Sundaram health insurance policy:
Step 1: Go to Royal Sundaram's official website and select 'customer service request' from the drop-down menu.
Step 2: Scroll down the page and click on the option that says "register your request online."
Step 3: Go to the request tab, select the request type, and click on "Request Policy Copy". On the right-hand side, you will need to enter details like your name, phone number, policy no., and your email. Then, enter "Text Verification".
Step 4: After that, click on the "Submit" button.
How To Get Policy Document Offline:
A copy of the policy document can be requested by visiting the closest Royal Sundaram branch, which the policyholder can locate online. To file your service request, you may also call the business at 1860 258 0000, 1860 425 0000 or email customer.services@royalsundaram.in
Registered Address: Royal Sundaram General Insurance Co. Limited, No.21, Patullos Road, Chennai – 600 002
What Does The Royal Sundaram Health Insurance Policy Document Contain?
One receives many documents along with any coverage they acquire. The policy paper typically includes the following details:
Policy number
Type of policy
Personal details of policyholder such as name and age
Details about the purchased health plan
Sum Insured, premiums, and deductibles
Inclusions and exclusions
Cumulative bonus terms
Free-look period
Modification and portability
Contact details of provider for grievance redressal
Other terms and conditions
Frequently Asked Questions
You can check the electronic version of the policy paperwork for the policy number of your Royal Sundaram health insurance policy or ask the insurance provider to provide it to you. As the number is listed on the insurance receipt, you can then download the Royal Sundaram Health Insurance receipt.
You must take corrective action if there is anything you want to modify regarding your Royal Sundaram Health Insurance policy document. You can call the customer service representatives at Insurer for more information about this. You can also write to them and send a letter.