Cover Your Health in 5 mins
Compare Premium.
Buy Now.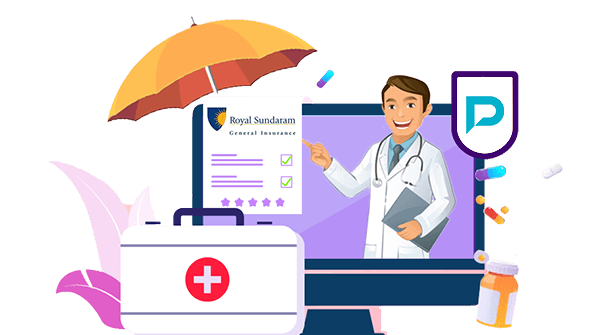 Compare

Individual Health Insurance Plans
Royal Sundaram Health Insurance Renewal
Buying a health insurance plan is not a cakewalk. There are several factors that you will need to keep in mind before finalising a specific health insurance company. Once you make up your mind regarding the insurer, the next step involves choosing a suitable plan. While all these may sound simple and easy, there are multiple things that you need to consider before buying a health insurance policy for yourself and your loved ones. 
One factor that often goes unnoticed is health insurance plan renewal. The majority of the insurance companies still adhere to age-old renewal procedures, thereby making it difficult and strenuous for the policyholders. However, there are health insurance companies like Royal Sundaram which offer swift and seamless insurance renewal facilities. Over the years, Royal Sundaram has evolved and embraced advanced technology. And therefore, it has become one of the most popular health insurance policies among the policyholders.
How to renew your Royal Sundaram health insurance policy?
Royal Sundaram has two convenient policy renewal features which you must be aware of:
Cheque Payment:
You can mail the cheque to the mailing address of Royal Sundaram. Just fill out the renewal amount in the cheque and mail it directly.
Here's the address-
C/0 Customer Services
Royal Sundaram General Insurance Co. Limited
Vishranthi Melaram Towers
No.2/319, Rajiv Gandhi Salai
Karapakkam, Chennai- 600097
Online Insta Renewal:
For all those tech-savvy policyholders, Royal Sundaram has come up with the Insta Renew facility. You can easily renew your health insurance plan online using this feature.
To renew your health insurance plan online, you can follow the below-given simple steps:
First of all, visit the official website of Royal Sundaram Insurance company.
Next, select the "Health" category.
On the top, you will see the tab "Insta Renew." Click on it and a new page will pop up on your screen.
Fill out necessary details like mobile number or registration number and generate the OTP to proceed further.
Note: If you are still confused and need some extra guidance regarding the same, you can grab your phone and use the SMS service for further assistance.
SMS MRENEW <> to 567675
What Happens in Case You Fail To Renew Health Insurance On Time?
Policyholders need to be extra careful when it comes to policy renewal. Have you ever thought that why it is significant to get your health insurance plan renewed? Basically, renewal is necessary so that the policyholder continues to enjoy all the benefits and coverages of the insurance plan. But if you fail to renew the insurance policy somehow, benefits like NCB accumulation, and waiting period for pre-existing diseases will get compromised. Once the date of renewal gets lapsed, you will become uninsured again. Thus, one needs to always be mindful of the health insurance policy renewal date.
How To Keep a Tab On Your Policy Renewal Date?
When you pay the premium for your health insurance plan, you tend to receive a hard copy of the policy papers at your registered address. Besides, the insurer will mail you a soft copy of the same. So, you can have a look at the policy papers. They mention the policy renewal date clearly in the papers. Also, the insurance company keeps sending reminders- text messages and emails to your registered phone number and email ID.