Cover Your Health in 5 mins
Compare Premium.
Buy Now.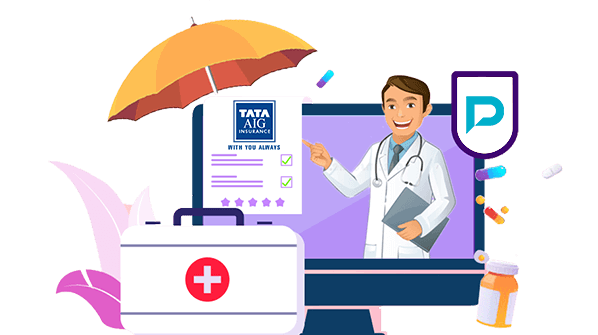 Compare

Individual Health Insurance Plans
Download Tata AIG Health Insurance Policy
A health insurance policy agreement is a contract between the insured and the insurance provider. The TATA AIG General Insurance Company website allows you to download the paperwork for any of your Tata AIG health insurance plans. The process of downloading a TATA AIG health insurance policy is much more straightforward.
The insurance document includes all relevant information regarding the premium, insured sum, inclusions, exclusions, inclusions, and claim procedures. Online features include Tata AIG health premium payment online and a Tata AIG health insurance calculator in addition to downloads.
What Does The Tata AIG Health Insurance Policy Document Contain?
For any Tata AIG health insurance download to be successful, certain details are needed. This post included a few of them below.
Policyholder name, age, contact, and other personal details
Health plan details as required
Following a successful download of a Tata AIG health insurance policy, the following details can be seen in the documents:
Sum insured and premium details
Information related to Deductibles
Inclusions and exclusions
Cumulative bonus terms and conditions
Free-look and grace periods
Any amendment or portability terms and conditions
Provider terms and conditions
Any other terms and conditions
Tata AIG Health Insurance Policy Document Download Process
Here is the list of the steps to follow to download your Tata AIG Health insurance policy.
Step 1: Go to the Tata AIG General Insurance Company's official website and go to the customer portal.
Step 2: Locate the "Self-Service" portal that is located in the top right corner. Click on it.
Step 3: After that, you will need to click on "Download Policy". Then, you will need to enter your registered phone number, then click on "Confirm".
Step 4: Tata AIG health insurance document will be emailed to you on your registered email-id. Take a printout and keep the documents safe for future reference.
What is the Offline Method to Obtain Your TATA AIG Health Insurance Policy Document?
You can still choose the offline way and easily obtain your TATA AIG health insurance policy even if the online option is much more practical and simple. All you need to do is simply call their 1800 267 7233 number to inquire about your health insurance policy document. Alternatively, you can visit their branch.
Peninsula Business Park, Tower A, 15th Floor, G.K.Marg, Lower Parel, Mumbai – 400 013, Maharashtra, India.
How to Get a Hard Copy of Tata AIG Health Insurance Policy?
Your Tata AIG health insurance policy can be downloaded quickly and easily online. Additionally, getting a hard copy is crucial. All you have to do is take a printout of the policy document that was downloaded and sent to your email address by following the directions above. To prevent any problem in the future, it is advised to have a printed copy of your Tata AIG health insurance policy.
Frequently Asked Questions
Yes, you can enquire about changing your policy paperwork at the TATA AIG Insurance brand office that is most convenient for you.
No matter what kind of TATA AIG health insurance policy you have, you can download the policy document of different policies, namely
Tata AIG MediCare
Family Health Insurance
Critical Illness Insurance
Corporate Health Insurance
Arogya Sanjeevani
MediCare Plus (Super Top Up)
Corona Kavach
You can redownload your policy document from your email ID if you misplace it. You can request the hard copy once again by following the steps outlined above.