Renew in just 5 mins.
No Inspection.
No Paper Work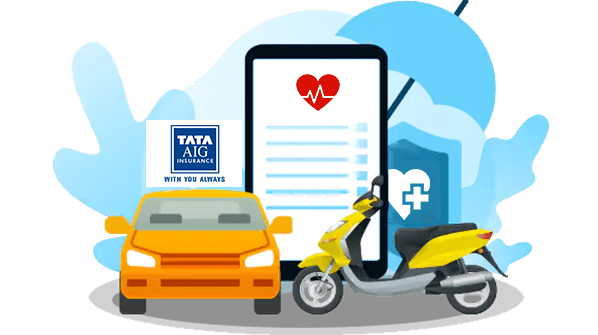 Compare

Car Insurance Plans
Tata AIG General Insurance
TATA AIG General Insurance Company Limited (AIG) has been formed with the partnership between the TATA Group and the American International Group. TATA AIG General Insurance, which first opened its doors on January 22, 2001, has been in the insurance business for nearly two decades. Over the years, the organization has become a household name for insurance needs due to its vast product line and outstanding services.
TATA AIG General Insurance offers a variety of insurance policies for individuals, families, women, and senior citizens, as well as plans for specific diseases and critical illnesses. To ensure a quick, efficient, and hassle-free claim settlement procedure for its consumers, the insurer maintains tie-ups with 7200+ network hospitals and 7500+ network garages.
| | |
| --- | --- |
| Equity Share Capital | 994.46 (As Of March 31, 2020) |
| Incurred Claim Ratio | 77.44 (2019-20) |
| Solvency Ratio | 1.84 (March 2020) |
| Number Of Policies Sold | 168,794 (2019-20) |
| Registered Office | Peninsula Business Park, Tower A, 15th Floor, G.K. Marg, Lower Parel, Mumbai – 400 013, Maharashtra, India |
| Vision Of The Company | "To be the leader in the general insurance industry by 2025, by caring for our customers and offering them innovative risk solutions." |
| Mission Of The Company | "Create better tomorrows for our customers by delivering innovative risk solutions and providing peace of mind." |
| Workforce | 6000+ Employees |
| Number Of Licensed Agents | 40000 |
| Number Of Licensed Brokers | 437 |
What Are The Types Of Insurance Provided By Tata AIG General Insurance?
Unexpected disasters, such as injury, illness, or permanent disability, or even death, can put you and your family through a great deal of emotional and financial strain. Purchasing insurance is critical because it ensures that you are financially secure in the event of a life crisis, which is why insurance is such a vital aspect of financial planning.
Tata AIG General Insurance Company Limited provides a range of insurance plans. They are as follows:
TATA AIG General Insurance offers a variety of health insurance policies for individuals, families, women, and older citizens, as well as plans for specific diseases and critical illnesses. To provide a quick, efficient, and hassle-free claim settlement procedure for its consumers, the insurer maintains tie-ups with more than 7200 hospitals in its network of cashless hospitals. Let's take a look at the types of health insurance plans offered by the company:
1. MediCare
TATA AIG Medicare is a comprehensive and easy-to-understand health insurance plan that comes in three variants: Tata AIG Medicare, Tata AIG Medicare Premier, and Tata AIG Medicare Protect. In addition to in-patient, pre and post-hospitalization expenses incurred in India, the plan also covers medical expenses incurred by the covered person for inpatient and daycare hospitalization outside India, provided that the diagnosis was made in India. The plan also includes vaccination coverage and compassionate travel coverage for up to Rs. 20,000 in expenditures.
2. Wellsurance Executive Policy
TATA AIG's Wellsurance Executive Policy is a health insurance plan that is a perfect amalgamation of critical illness coverage and hospitalization coverage. As a result, if the insured suffers from a designated critical illness or needs major or minor surgery, the plan pays a lump sum payment. The plan comes in three variants of Classic, Supreme, and Elite. In order to secure you in every possible way, the plan provides various benefits, such as critical illness benefit, major surgical benefit, minor surgical benefit, in-hospital benefit for accident and sickness, and convalescence benefit. Aside from these standard coverage benefits, the plan also includes value-added services such as a health line, health portal, and health and wellness e-newsletters, among others.
3. Wellsurance Family Health Insurance
The Wellsurance Family Policy from TATA AIG is a one-of-a-kind health plan that combines critical illness and hospital cash benefits with additional coverage benefits. Classic, Supreme, and Elite are the three options for the plan. The plan's minimum and maximum entry ages are 18 and 65 years old, respectively. The plan's major coverage is for specific critical illnesses. The money insured is paid in a lump payment if the insured is diagnosed with any of the specified illnesses. Aside from critical illnesses, the plan also pays a daily benefit if you are admitted to the hospital.
4. Wellsurance Women Health Insurance
Tata AIG Wellsurance Women is a women-centric health insurance plan that covers everything from a simple illness to a life-threatening emergency. Critical illness benefits, in-hospital benefits for accidents and sickness, ICU benefits, and convalescence benefits are all included in the plan. The plan also covers ambulance, ICU, and cosmetic reconstructive surgery costs, as well as value-added services like a free health line, a health portal, a health inquiry, discounted health and wellness services, and an e-newsletter.
5. Critical Illness
This plan provides coverage for 11 critical illnesses namely cancer, heart attack, stroke, kidney failure, open chest CABG, organ transplant, blindness, coma, bone marrow transplant, major burns, multiple sclerosis, and paralysis. It also covers the costs of seeking a second opinion from a doctor or a hospital for a critical illness. Moreover, the plan's 'Sum Insured Enhancement' option allows you to raise your coverage amount.
6. Corporate Health Insurance
Tata AIG's Corporate Health Insurance plan enables you to cover your employees' health insurance at a low and affordable cost, and it can be very useful in the event of hospitalization, disability, or even death as a consequence of an accident. What's more, it doesn't come at a significant expense to your company. The plan is tailor-made to allow the customer to leverage customizable benefits. Moreover, it also provides hospital cash benefits in the event of hospitalization.
7. Arogya Sanjeevani
It is an indemnity-based plan in which Tata AIG General Insurance pays for cashless treatment or reimburses the actual amount spent on hospitalization charges. You can purchase the coverage as an individual or as part of a family floater. The policy covers you, your spouse, dependent children, parents, and parents-in-law under a single sum covered if you have a family floater. Anyone between the ages of 18 and 65 is eligible for the coverage.
8. MediCare Plus (Super Top-Up)
Tata AIG's Medicare Plus Policy is a cost-effective top-up policy that reimburses claims if the total of covered medical expenses exceeds the deductible specified in the policy document. If you're between the ages of 18 and 65, you can propose this policy for up to 7 family members, including yourself, your spouse, up to 3 dependent children, and up to 2 dependent parents. Different sum insured and deductible options are available with this plan, ranging from Rs. 3 lakh to Rs. 1 crore and Rs. 2 lakh to Rs. 20 lakh, respectively. You can get a policy for one year, two years, or three years, depending on your budget and needs.
9. Corona Kavach
The Tata AIG's Corona Kavach Policy is a typical indemnity-based health insurance policy that covers medical expenses incurred as a result of COVID-19 testing positive at a government-approved diagnostic lab. This policy is accessible to anyone between the ages of 18 and 65. Under the plan, the sum insured options vary from Rs. 50,000 to Rs. 5 lakh (in multiples of Rs. 50,000). The policy is available in three durations: 3.5 months, 6.5 months, and 9.5 months. You can use the policy to get coverage for in-patient hospitalization bills, AYUSH therapy, cashless hospitalization, and tax benefits, among other things.
TATA AIG Motor Insurance Plans
When it comes to motor insurance, Tata AIG offers a wide range of motor insurance policies, such as car insurance, bike insurance, commercial vehicle insurance, and much more, all of which are available at budget-friendly premium rates.
Let's have a look at the types of motor insurance policies provided by Tata AIG General Insurance company.
Tata AIG offers three Car Insurance policies, each tailored to the specific needs of drivers and the coverage they require: Comprehensive Car Insurance Policy, Stand Alone Own Damage Car Insurance Policy, and Stand-Alone Third Party Car Insurance Policy. The plan provides wider coverage against various circumstances, such as theft of the car, damage due to natural disasters, damage due to man-made calamities and fire, damages caused to the car by an accident, damages incurred in transit, third-party liability cover, etc. In addition, the plan provides 13 add-on covers to choose from.
2. Bike Insurance
In India, Tata AIG offers three basic forms of Two-Wheeler/Bike Insurance: third-party insurance, comprehensive insurance, and standalone own-damage insurance. The plan covers a range of circumstances, such as theft of the bike, third-party liability, damages and losses to the bike, etc. Furthermore, the 8 add-ons extend your two-wheeler insurance policy to provide 360-degree coverage.
3. Commercial Vehicle Insurance
The Commercial Vehicle Insurance Policy from Tata AIG covers vehicles used for business purposes. It safeguards you and your business against any damage or loss to your vehicle as a result of an accident or theft. The policy provides coverage to passenger-carrying vehicles, goods-carrying vehicles, taxies, and other classes of vehicles like cranes, tractors, and trailers. Moreover, the plan provides extra benefit with the help of its 6 unique add-on covers.
4. Long Term Two-Wheeler Package Policy
Tata AIG's Long Term Two-Wheeler Package Policy provides protection against loss of or damage to the vehicle insured, liability to third parties, and also provides personal accident cover for owner-driver for up to the Capital Sum Insured of Rs. 15,00,000. For the purpose of this policy, the Insured's Declared Value (IDV) of the vehicle will be assumed to be the 'SUM INSURED,' which is fixed separately for each year of insurance during the policy period as specified in the policy schedule.
5. Auto Secure-Commercial Vehicle Package Policy
The Auto Secure-Commercial Vehicle Package Policy from Tata AIG provides third-party liability coverage as well as theft and accidental damage coverage for your vehicle. As a result, this policy provides comprehensive coverage for your commercial vehicle. You can additionally broaden the policy's coverage with 6 different add-on covers, namely master policy program, spot issuance of policies, dedicated relationship manager, automated renewal reminder service, structures review of the fleet on-demand, and co-ordination of insurance renewals to a single date.
6. Liability Only Policy
As the name implies, this coverage covers any liability that may emerge as a result of your vehicle's use, such as third-party property damage. The plan provides coverage to any damage to a third-party vehicle due to the insured vehicle. It also covers any injury or death of the owner or driver of the third-party vehicle caused due to the insured vehicle.
7. Motor Third Party Liability
The Motor Third Party Liability from Tata AIG offers protection against the death of or bodily injury to any person carried in the vehicle as well as damage to the property other than the property belonging to the insured person. This policy is available for 2 wheelers, 4 wheelers, and commercial vehicles.
TATA AIG Travel Insurance Plans
TATA AIG ensures that all of your travel requirements are met. The organization provides travel insurance for various types of trips, including business, leisure, and study. The insurance plans are tailored to provide comprehensive travel insurance for various sorts of trips.
Let's have a look at the types of travel insurance provided by Tata AIG General Insurance Company!
1. International Travel Insurance
TATA AIG International Travel Insurance covers you against any unforeseen occurrences that may arise when traveling abroad. The plan covers accidents and sickness, baggage loss or delay, travel assistance, personal liability, hijack cover, and automatic extensions. In addition, you can leverage various benefits of the policy, such as COVID-19 coverage, instant policy purchase, affordable rates, etc.
2. Domestic Travel Insurance
When traveling within the country, TATA AIG's Domestic Travel Insurance will offer you the necessary help. If you lose your luggage or are involved in an accident, TATA AIG's Domestic Travel Insurance will cover you. The plan will take care of a number of situations, such as delayed trips, loss of tickets, missed departure, accidental medical emergency, accidental death and repatriation, etc.
3. Student Travel Insurance
TATA AIG's Student Travel Insurance coverage was created with each student's specific needs in mind. Your student travel insurance plan will reimburse you if you are forced to interrupt your studies due to a medical emergency, in addition to offering coverage for lost baggage, COVID-19, lost passport, compassionate visit, and medical emergencies.
4. Senior Citizen Travel Insurance
With medical coverage up to $ 50,000, Tata AIG's Senior Citizen Travel Insurance Policy prioritizes senior citizens' interests and requirements. The policy will cover particular age-related health conditions that aren't covered by standard travel insurance. The senior citizen travel insurance plan will be with you at every step of the journey, from delayed luggage to missing passports to being identified with COVID-19.
5. Business Travel Insurance
The Tata AIG's Business Travel Insurance Policy covers lost bags (including passports), personal accidents, hospitalization, and other expenses. Premium rates are per day, per person, so you only pay for what you use, saving you money. Travel days can be replaced by paying an extra premium – and your invoice can be reconciled monthly to assure accuracy.
TATA AIG Home/Rural/Corporate Insurance Plans
Tata AIG also offers various other types of insurance policies. Let's discuss them one by one:
1. Accident Insurance
Tata AIG's Accident Insurance policies meet the needs of a large number of customers who want to protect themselves and their families from future mishaps and related expenses. The plan comes in four variants: Accident Guard Policy, Accident Shield, Secured Future Plan, and MahaRaksha-Personal Injury Policy.
2. Home Insurance
Tata AIG's Home Insurance policies are meticulously created and crafted to cover a wide range of unexpected catastrophes, such as fire, lightning explosion, riot strike, storm, typhoon, cyclone, bush fire, etc. Under the plan, three optional covers are available to the policyholder, namely Burglary, Money In Safe, and Money In Transit. Major types of home insurance policies offered by Tata AIG are Home Guard Plus Policy, Home Secure (Householders) Policy, Bharat Griha Raksha Policy, and Private Client Group Home Secure Policy.
Tata AIG's Rural Insurance Plans are low-cost plans tailored to the special life insurance needs of persons living in rural areas. The plan comes in four variants for rural people: Property Insurance, Motor Insurance, Health & Accident Insurance, and Livestock (Cattle) Insurance.
4. Private Client Group Insurance
Tata AIG's Private Client Group Insurance safeguards your unique assets and irreplaceable possessions. And if any unthinkable happens, you will also receive adequate compensation for the loss. The plan comes in 5 variants: Motor Insurance, Home & Contents, Fine Art & Valuables, Art Collection Management, and Exceptional Value.
5. Pradhan Mantri Fasal Bima Yojana (PMFBY)
The Pradhan Mantri Fasal Bima Yojana (PMFBY) from Tata AIG intends to boost sustainable agriculture production by guaranteeing crop production at a predetermined level for specified insurance units. The plan provides coverage to food crops (cereals, pulses, and millets), and annual commercial/annual horticulture crops. The coverage is available to all farmers, including sharecroppers and tenant farmers, who grow the notified crops in the notified areas.
6. Small Business Insurance
Tata AIG provides a wide range of insurance packages for small businesses, including office insurance, shop insurance, hotel insurance, and more. The plan covers the property against damage or loss due to fire, storm, cyclone, lightning explosion, riot strike, bush fire, etc. All small business owners should consider buying this plan for wider coverage and protection.
7. Fire & Engineering Insurance
Businesses can get basic solutions like Fire & Allied Perils Insurance and Fire Consequential Loss Insurance from Tata AIG General Insurance Company Limited. Engineering insurance is also available from the company, which protects businesses against a variety of risks like plant and machinery, erection of machinery, equipment and boilers, electronic equipment, and so on.
8. Marine Cargo Insurance
Tata AIG offers two types of Marine Cargo Insurance to its customers: Marine Insurance Sales Turnover Policy (STOP) and Innovative Marine Solutions. AIG is genuinely a worldwide network with local expertise, with a presence in more than 130 countries. With TATA AIG Marine Cargo Insurance, you get various benefits, such as marine loss control engineering, automatic insurance protection, cargo protection for specific voyage risks, assistance in identifying potential hazards, marine cargo underwriting service, and a multinational cargo transport program.
9. Financial Liability Insurance
Tata AIG provides the Indian corporate sector with worldwide and cutting-edge liability insurance solutions with local expertise. The company provides four Financial Liability Insurance, namely Directors and Officers Liability Insurance (D&O), Professional Indemnity/ Errors and Omissions Insurance (PI / E&O), Crime / Fidelity Insurance, and Public Offering of Securities Insurance (POSI).
10. Casualty Insurance
Liability coverage is included in Tata AIG's Casualty Insurance to help protect you if you're proven legally responsible for an accident that results in another person's injuries or property damage. The plan specializes in delivering customized liability insurance solutions that assist policyholders in dealing with a variety of liability exposures that exist in today's corporate environment. The plan comes in four variants: Public Liability Insurance, Workman's Compensation Policy, Commercial General Liability Insurance, and Umbrella Liability Policy.
Why Choose Tata AIG General Insurance?
With so many insurance companies to choose from, finding the right insurance plan can be a challenging task. Here are a few reasons why you should choose plans from TATA AIG General Insurance company. TATA AIG Insurance provides a variety of services to its clients. The following are a handful of them:
The insurer has ties with over 47200 hospitals in its network, allowing policyholders to receive cashless care with ease. Cashless claim settlements are simple and hassle-free thanks to the extensive reach of the company's cashless hospital network.
In over 7500 garages across the country, the Tata AIG General Insurance firm offers cashless insurance. It increases the chances of policyholders being able to find a garage in the event of an emergency.
Around 20 Years Of Experience
TATA AIG General Insurance is a well-known name in the insurance market, with nearly 20 years of experience. The insurer has been involved in the market for nearly two decades. Thanks to its great service and products, the insurance company has earned the trust of millions of customers.
190+ Destinations Covered
Under the Tata AIG Travel Insurance plan, more than 190 destinations are covered across the globe. This simply means that you can travel wherever you want and enjoy your journey without any difficulty.
A co-payment is the policyholder's part of the claim amount. TATA AIG's health insurance policies do not include a co-pay component; therefore, policyholders are relieved of this responsibility.
Excellent Incurred Claim Ratio
The Incurred Claim Ratio, or ICR, is the ratio of an insurer's total value of claims resolved to the total value of premiums received over a certain time. Any policyholder who has less than a 50% incurred claims ratio is losing money. The ratio of incurred claims should be between 75 and 90%.
When we talk about Tata AIG General Insurance, the company has an excellent Incurred Claim Ratio of 77.44 (2019-2020), which itself indicates the profit of the company.
Higher Number Of Served Customers
A company's performance is primarily measured through the number of happy customers it has served. When we talk about TATA AIG General Insurance, the company has served more than 5 crore customers since its inception.
A solvency ratio is a tool for determining a company's capacity to satisfy its financial obligations. Every insurer must maintain a health solvency ratio of 1.5, according to the IRDAI.
While talking about Tata AIG, the company maintains healthy insurance of 1.84, which fulfills the criteria of IRDAI.
Buying Process Of Tata AIG General Insurance?
One can buy an insurance plan from Tata AIG either through an online or offline method. Let's take a look at both of the processes:
ONLINE METHOD
Visit the official website of Tata AIG General Insurance company.
Select the type of general insurance you wish to purchase from the company.
Enter all the necessary details, such as car registration number, trip start date, etc. under the "Get Price" or "Get Plan" tab.
Now enter your mobile number and email address, and press "See Plan".
The premium details of the plan will be displayed on the screen.
Click on "Buy Now At…" and your policy details will either be sent to you at your registered mail address or phone number. 
Another place to get these insurance coverages is Probus Insurance. Simply fill out the above form and get your desired policy.
OFFLINE METHOD
You have two options to buy the plan through the offline method: visit the branch office or call the insurance company (Tata AIG). A customer service representative from the company will listen to your problems and assist you in choosing the best insurance plan for you. Choose a plan that meets your needs, fill out the relevant paperwork, and pay for the plan.
If you are dissatisfied with the services or plans provided by the insurance provider company, you can contact Probus Insurance.
Claim Process For TATA AIG's Insurance Plans
Let's take a look at the claim process for each type of TATA AIG's insurance plan!
TATA AIG Health Insurance Claim Process
TATA AIG's health insurance claim can be filed in one of two ways: cashless or reimbursement.
CASHLESS CLAIM: In the event of planned hospitalization, notify TATA AIG Health Insurance at least 48 hours prior to your admittance to the hospital. In the event of emergency hospitalization, you must notify the insurer within 24 hours of admission. Policyholders should then provide a detailed description of the ailment, treatment information, and any relevant confirmation from a doctor or hospital. The records will be shared with the insurer by the network hospital. The claim settlement staff of the insurer will then verify the papers given. The claim would be allowed or refused based on the verification process. If the claim is approved, the insurer will give the network hospital pre-authorization for a cashless facility and pay the admissible claim amount.
REIMBURSEMENT CLAIM: Seek medical treatment at a non-network hospital affiliated with your insurance company and pay all hospital bills and other expenditures. Collect all bills, receipts, paperwork, reports, and so on. After you've been discharged from the hospital, provide all of the essential documentation listed in the policy terms to your insurance provider. To ensure the accuracy of the information or documents submitted, the insurance provider will conduct a verification process. When all of the reports and medical documents are found to be accurate and legitimate, the insurance provider will accept the insured person's claim request and reimburse the full amount of the claim after deductions.
TATA AIG Motor Insurance Claim Process
You can file a claim against motor insurance either through cashless or reimbursement method.
CASHLESS METHOD: It is first required to notify the insurer as soon as possible following the incident, whether it be a theft, an accident, or any other type of vehicle damage. Within 48 hours of receiving notification, the company's claim representative calls the policyholder. You must inform him of the incident, as well as your personal information and other pertinent details. The insurance company will then send a surveyor to analyze the amount of damage done to the vehicle during the accident. You must then hand over the documentation and a completed claim form to the surveyor. After considering all factors, the insurer verifies its liability and pays for all costs associated with the insured's vehicle repair at the network garage.
REIMBURSEMENT METHOD: The first step is to notify the insurer about the accident or theft of the insured's vehicle. Within 48 hours, an insurance company executive will contact you. You must tell the executive of the policy number as well as the specifics of the accident. Before the vehicle is sent for repairs, the company sends a surveyor to check its condition. After determining the degree of the damage, you must complete the claim form and submit it to the surveyor together with the necessary documents and proofs. You can now send your vehicle to whichever garage you like. You must pay the garage after the repair has been completed. These bills and receipts, along with insurance documentation and a certificate of registration, must be given to the insurer to file a reimbursement claim. The company validates the information before disbursing the claim amount, which includes any deductibles and depreciation.
TATA AIG Travel Insurance Claim Process
For filing a claim against your travel insurance, you need to follow the below-mentioned steps:
Inform the company immediately after any of the listed incidents happen.
For Americas Policies
Toll free within US & Canada: +1-833-440-1575
Email: tata.aig@europ-assistance.in
For Non-Americas Policies
Call: +91 – 022 68227600
Email: ea.tataclaims@ europ-assistance.in
Submit all the required documents along with the duly filled claim form.
Re-submit any other document asked by the company.
The company will then verify the documents and then make the payment to the insured person. 
Other Insurance Claim Process
For any other insurance plans of TATA AIG, you can follow the following ways:
Contact the insurance company by any of the following methods:
WhatsApp: +91-9136160375
24/7 Toll-Free Number: 1800-266-7780
Toll-Free Number for Agent & Intermediaries: 1800-267-7233
Email: customersupport@tataaig.com
The company's customer care representative will talk to you and you will need to provide all essential details to him/her, such as policy number, your name, details of the insured event, etc. 
The customer care representative will then ask you to upload all the necessary documents as well as your bank account details. 
The rest of the claim process will be taken care of by the company.
Frequently Asked Questions