Cover Your Health in 5 mins
Compare Premium.
Buy Now.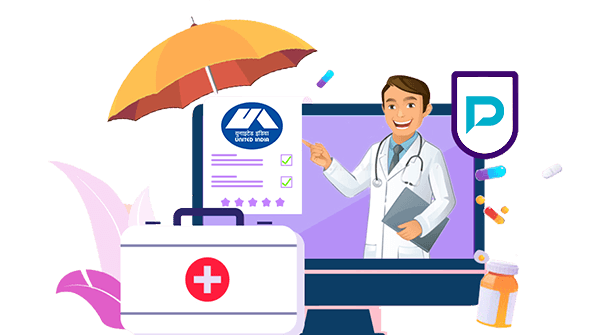 Compare

Individual Health Insurance Plans
Download United India Health Insurance Policy Document
The United India Insurance Company provides multiple services to its online clients. You can quickly purchase United India health insurance policies, obtain the policy copy, and pay the premiums. Without needing to go to the regional office, you can get the policy brochure, the Claim form, and other papers online. A printed copy of the policy is also useful for future reference. 
Here is all you need to know about the United India health insurance download process.
What Does United India Health Insurance Policy Document Contain?
An agreement between the policyholder and the insurance company is represented by the United India health insurance policy. And just as with any other agreement, having a written record of the terms of the agreement is crucial. Keeping the hard copy following the United India Health Insurance policy download is crucial. Understanding the specifics of the United India Mediclaim policy will be made easier by knowing what to do in an emergency when processing a claim or giving up insurance.
Once you have finished the policy download online, you may find the following information in your policy copy.
Policy name and type
Policy term
Name/age/DOB/ and other details of insured
Policy number
Coverage benefits and exclusions
Sum insured amount
Premium amount
Premium payment term
Tax benefits
Cumulative bonus details
Terms and conditions of claim settlement
Policy renewal conditions
Policy portability
Grievance redressal procedure
Process of policy cancellation
Free look period
Grace period
How To Download Your United India Health Insurance Policy?
It is usually preferable to have a hard copy of the policy and any relevant documents, even if everything is done in the right way. You can easily complete this by downloading a copy of the United India health insurance from the web along with other receipts.
Go to the official page of United India Insurance.
At the top of the page, there are several options to choose from.
Choose the 'Customer Service' tab. Now choose 'Check Payment Status/Download Policy Document' from the drop-down.
A new page will open; where you will have to enter your policy number to download the policy document.
For the United India Health Insurance receipt download, you can enter their transaction ID on the same page.
What is the Offline Method to Obtain Your United India Health Insurance Policy Document?
Though the online method is far more convenient and easier, you can still opt for the offline method and get your United India health insurance policy without any difficulty. All you need to do is simply call their 91-044-28575200 number to inquire about your health insurance policy document. Alternatively, you can visit their branch.
United India Insurance Co. Ltd.
24, Whites Road,
Chennai- 600014
Frequently Asked Questions
You can download the United Health Insurance Policy wordings, Proposal forms, Policy Prospectus, claim forms, and Premium rate chart from the United India Insurance Website's Download Centre.
A digital copy is the next best thing if you don't have a hard copy or printout. It is possible to keep it in your DigiLocker account. The Government of India supports and offers this account as a free service to assist citizens in saving and storing digital copies of their papers.
In such cases, you should contact United India Insurance at: customercare@uiic.co.in