Cover Your Health in 5 mins
Compare Premium.
Buy Now.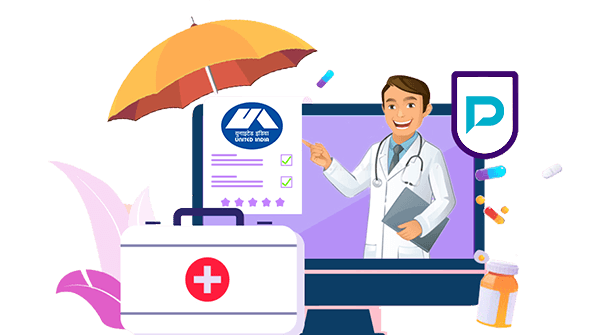 Compare

Individual Health Insurance Plans
How To Renew United India Health Insurance Policy Online?
On-time and hassle-free renewal of health insurance policy is important nowadays to continue availing the unique and useful benefits. To avoid customers getting irritated or confused scanning through the website, United India has designed a convenient and interactive renewal process for its health insurance.
Renewal Process of United India Insurance
Follow the below easy steps to avail of an easy and successful renewal process under this company.
Go to the official website of United India Insurance Limited.
Scroll down and click on the 'Health Insurance Policy' tab.
You will be directed to a new page. There you will find multiple options related to your health policy.
Scroll down a bit and find out the 'Renew' tab. Click on that.
Again, you will be directed to a new page, and there you need to fill the form with the required details such as your policy number. Remember, you need to put your policy number.
After that, click on the 'Next' option.
Put the necessary details and submit.
The renewal amount for your chosen health policy will be displayed before you. Pay the amount by availing of the convenient method of online payment.
Upon successful payment, you will receive a notification about the same in your registered mobile number and/or email ID.
What Happens If You Don't Renew Your United India Health Insurance Policy on Time?
If you do not pay the renewal amount on time regularly for your United India Health Insurance Policy, then there are lots of things that may happen to your policy. Here are a few glimpses.
Expired policy – Failing to renew your health policy on time may lead your policy to be expired. And, once the policy is expired, you will fall into much trouble.
Loss of benefits – Once your policy is lapsed due to not paying the renewal amount on time, you will lose all the benefits and facilities that your policy has to offer.
Loss of Money – If you fail to renew your policy even within the grace period, your policy might be void. In that case, reviving your policy is a bit complex and time-consuming. And, you also have to pay extra money as fine charges. Additionally, the revving of the policy will also have to qualify the terms and conditions of the insurer.
Loss of Financial Security – With an expired health insurance plan, you can never get financial security or help in the face of any medical emergency. So, you have to pay the entire medical bill out of your own pocket which may pose a financial burden on your shoulder.
Loss of mental peace – Once you know that you have not renewed your policy on time and you have no active health policy with you, automatically you fall into anxiety as you have lost its support.