Cover Your Health in 5 mins
Compare Premium.
Buy Now.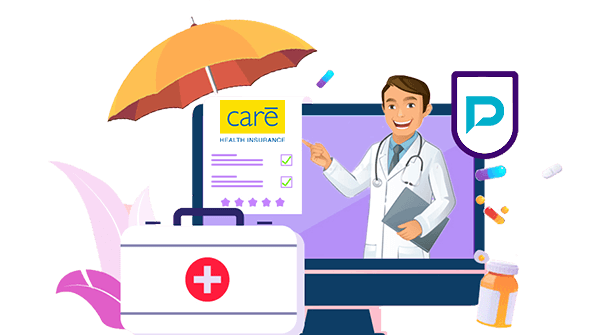 Compare

Individual Health Insurance Plans
Care Health Advantage Plan
Care Advantage is a comprehensive medical insurance policy that offers a wide sum assured of up to 6 crores to you and your family so that you are adequately covered at all times. If your hospital stay lasts longer than 24 straight hours, your insurance will pay for your hospital expenses. The plan offers a variety of coverage benefits, such as daycare costs, organ donor costs, re-hospitalization & post-hospitalization costs, in-patient hospitalisation costs, and much more.
Anyone who is at least five years old may buy this policy on an individual or floater basis for themselves and their family. With the Care Advantage health plan, you will get unlimited e-consultation with a general physician. 
Read below to understand more benefits and features, exclusions, buying process, premium illustration, claim process, renewal method, and other important aspects of the Care Advantage Health Plan.
Here are the eligibility criteria for the Care Advantage Health Plan.
Parameters
Details
Age

Minimum- 5 Years (Adult) and Child 91 Days (Floater Policy)

Maximum- Adult Lifelong and Child 24 Years

Sum Insured
Up to 6 crores
Pre-Hospitalization Medical Expenses and Post-Hospitalization Medical Expenses
Pre-Hospitalization for 60 days & post-Hospitalization for 180 days; Maximum up to SI
Air Ambulance Cover
Up to 5 Lacs
Co-Payment Option
Option to opt 5% / 10% / 15% / 20% per claim, for all customers whose entry age is below 61 years
Co-Payment Waiver
Option to waive off the mandatory 20% co-pay per claim for customers whose entry age is 61 years and above
Health Check-Up
Annual
Room Rent Modification
Single private room category
30 Days Initial Waiting Period
Yes
24 Months Specific Diseases Waiting Period
Yes
48 Months Specific Diseases Waiting Period
Yes
Key Features and Benefits of Choosing the Care Advantage Health Plan
Choosing the Care Advantage Health Plan may let you reap countless benefits. Here are some of the important ones mentioned below. 
Automatic Recharge of the Sum Insured
The amount will automatically be recharged once per policy year for up to 100% if the sum insured is used up in a claim and can then be used for another claim. If you choose the Unlimited Automatic Recharge cover, you can recharge the sum insured indefinitely.
Annual Health Check-up
If a policyholder chooses this coverage under the Care Advantage plan, they can take advantage of a free annual health check-up service.
No Claim Bonus
For each year without a claim, the policyholder is given a No Claim Bonus (NCB) of 10%, up to a maximum of 50%. To receive 50% NCB for each year without a claim, the policyholder may also purchase the No Claim Bonus Super optional cover.
No Sub-limits
The hospital room rental or ICU costs are not subject to any sub-limits under the Care Advantage plan.
Co-payment Waiver
If they choose this coverage, the policyholder may opt out of the required co-payment for policyholders over the age of 60.
Cashless Hospitalization
The insured may use the cashless hospitalisation services at any of Care Health Insurance Company's more than 19000 network hospitals in India under the terms of the policy.
. Tax Benefits
Under Section 80D of the Income Tax Act, policyholders may receive tax advantages on the Care Advantage plan premium they have paid.
Smart Select
It offers the policyholder a 15% premium discount. However, a 20% co-payment will be required if the treatment is received at one of the insurance company's non-network hospitals.
Reduction in PED Waiting Period
It shortens the 48-month waiting period for pre-existing disease coverage to 24 months.
Room Rent Modification
It guarantees that, in the event the insured is hospitalised, the insurance company will cover the cost of a single private room in a hospital.
Deductible Option
If the policyholder decides to opt for a voluntary deductible, it offers a discount on the premium.
Daily Allowance
If the insured is hospitalised for more than a predetermined number of days, it offers a daily cash allowance for a maximum of 30 days. If the insured is admitted to the ICU, the daily allowance doubles.
Exclusions Under the Care Advantage Health Plan
Any condition, treatment, or item listed in the non-medical items list.
Costs associated with any form of treatment, including surgical intervention, to change a person's physical characteristics to those of the opposite sex.
Treatment for addiction-related conditions like alcoholism, drug addiction, or substance abuse, as well as their effects.
Charges for any treatment, services, or supplies that have not been clinically proven to be effective.
Costs associated with infertility and sterility.
Screening, counselling, or care for any external congenital disorder, illness, or defect, as well as care for external birth defects.
The treatment of mental retardation, impaired mental growth, substandard intelligence, or mental intellectual disability.
Premium Illustration Of Care Advantage Health Plan
Let's take an example to understand!
Mr. Nitin Mathur, a resident of Delhi, has decided to buy the Care Advantage Health Plan to protect himself from multiple health ailments. Since he is from the middle class, he is keenly aware of the fact that any mishap can happen anytime. To avoid such circumstances, Mr. Mathur opted for the Care Advantage Insurance Policy. Here is the premium illustration according to his age and policy coverage.
| | | | | | |
| --- | --- | --- | --- | --- | --- |
| No. of Adults | Age | Total Coverage | Policy Tenure | Additional Coverage | Premium Amount |
| 1 | 30 Years | 1 Crore | 1 Year | No | Rs. 15716 (Including 18% GST) |
| 1 | 30 Years | 2 Crore | 2 Years | No | Rs. 57788 (Including 18% GST) |
How To Buy the Care Advantage Health Plan?
Health insurance helps you combat the effects of inflation by covering a wide range of costs, from the cost of equipment to the cost of treatment, medications, and diagnosis. If you are looking to buy the Care Advantage Health Plan, listed below are the steps you will need to follow:
Step 1: Visit the official website of Care Health.
Step 2: Then, you will need to "View All Products" in the middle. You can easily see it the moment you open the page. Then, click on it.
Step 3: Then, you will see the "Care Advantage" Plan. Click on it to open the plan page.
Step 4: You will see a small window, asking you to enter your mobile number to calculate the premium. Then, you need to enter your contact number and then click on "Calculate Premium".
Step 5: After that, you need to select the person you want to cover and then select your age from the list. Once you are done selecting all the details, ensure you click on "Continue".
Step 6: Then, you will need to enter your 'Pin Code" and select your "Citizenship".
Step 7: When you continue, then you will see the premium amount that you need to pay along with the details on the right-hand side.
Step 8: If you are satisfied with the information and willing to buy the policy, then all you need to do is simply click on "Buy Now" at the top in the yellow colour button.
Step 9: Then, you will see a page asking you to select any one of the IDs to verify your identity. For example, if you choose "PAN Card", then you will need to enter your PAN no. and date of birth and then click on "Verify". On the same page, you need to enter your details like first name, last name, mobile number, pin code, DOB of the eldest member, and PAN Number, and then click on "Next". Ensure you entered the correct details to avoid miscommunication in the future.
Step 10: Once you have checked all the details, you then need to buy the policy using your credit card, debit card, or via Net Banking.
How to File a Claim for Your Care Advantage Health Plan?
If you are looking to file a claim for your Care Advantage Health Plan, you then may need to follow these steps:
Provide a copy of the patient's medical ID card, e-health card, pre-authorization form, and valid government ID proof to the hospital insurance help desk or billing counter.
By downloading the Care Health-Customer App, you can easily access your e-card whenever and wherever you are.
The billing counter/TPA desk shares submitted documents with the company for pre-authorization approval.
The insurance company may contact the hospital for any missing or incomplete information.
The company will make a pre-authorization decision following a review of the terms and conditions of the policy.
The hospital/TPA submits the post-treatment discharge summary and other pertinent documents to us for final approval.
The company evaluates the basis of the bill, the insured amount, and the terms and conditions of the plan to settle the bill with the hospital directly.
Reimbursement:
Despite the cashless claim, the insured member can initiate the treatment and file for a reimbursement claim after discharge.
The insurance company must receive the reimbursement claim form and all necessary supporting documentation, including a discharge summary, medical reports, hospital and pharmacy bills, prescriptions, and so forth.
The claim management team will send a letter of approval. For a smooth claim processing experience, you will need to respond to the claim management team's inquiries.
Following approval, the claim's payment will be sent to the insured member.
List of Documents to be Submitted for Reimbursement
Please scan and upload the following documents that were sent to you by your hospital. Include any additional documents you may have.
Original discharge summary
Original final hospital bill with the item-wise break-up
Original paid receipt against the final hospital bill
MLC/FIR copy (if applicable)
Alcohol history (if applicable)
Investigation reports (like X-Ray/MRI/CT scan etc)
Attested copy of indoor case papers
In case of implant surgery, invoice & sticker
Please submit a copy of one of these KYC documents (Aadhaar Card, Passport, Driving Licence, Voter ID, etc.) for all claims totalling Rs. 1 lakh or more. Please check that the address on your KYC documents matches the address on your policy.
How to Renew Your Care Advantage Health Policy?
Regular policy renewals guarantee that the coverage doesn't expire and that its benefits are still available. If the date of expiry is near and you want to renew your Care Advantage Health policy, then you may need to follow these steps.
Firstly, you will need to go to the official website of Care Health Insurance.
After that, you need to locate the "Renew" button on the top. Click on it.
In the third step, you need to continue with the renewal process by entering your Policy Number, Date of Birth, and Contact Number, and then enter the captcha code. Click on "Let's Renew".
After that, you will see your policy details. Ensure they are correct and you then will need to make the payment using your credit card, debit card, or via Net Banking.
Congratulations- Your Care Advantage Health policy has been renewed.
Frequently Asked Questions