Cover Your Health in 5 mins
Compare Premium.
Buy Now.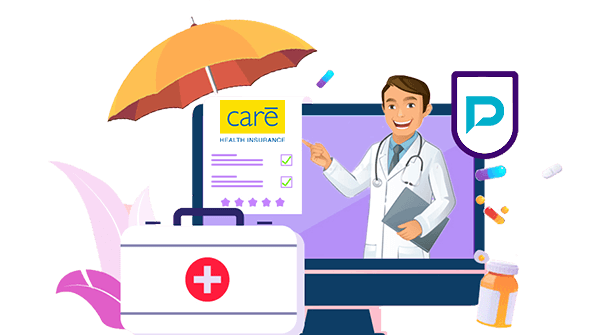 Compare

Individual Health Insurance Plans
Care Cancer Mediclaim Plan
Care Cancer Mediclaim Policy is a policy by Care Health Insurance that is specially designed to pay for hospitalization and cancer-related medical costs. It offers thorough protection, including hospitalization, chemotherapy, radiation, surgery, OPD, and other related expenses. With the help of this policy, one can access the best medical resources for treating cancer at any stage. This is a very affordable policy where one has to pay a minimum premium amount. To know more about this policy, have a look at the following mentions.
Age at entry

Minimum – 5 years

Maximum – 50 years

Exit age
No exit age
Age of the proposer
18 years or above
Cover type
Individual, maximum up to 6 members
Policy tenure
1, 2, and 3 years
Premium payment mode
Single, monthly, and quarterly
Sum insured options
Rs. 10 lakhs, Rs. 25 lakhs, Rs. 50 lakhs, Rs. 100 lakhs, Rs. 200 lakhs.
Pre-hospitalization and post-hospitalization
30 days and 60 days, respectively
Key Highlights of Care Cancer Mediclaim Policy
This plan has come up with a sack full of benefits and facilities specially designed for cancer treatment. The main features of this policy are as below.
Chemotherapy and Radiotherapy Cover:
Both covers are available maximum up to the sum insured.
Ambulance Cover:
For emergency transportation of the insured patient, ambulance cover is available up to Rs. 3000 per hospitalization.
Organ Donor Cover:
Organ donor cover is available up to the sum insured, or Rs. 15 lakhs, whichever is lower.
Alternative Treatment:
Covered up to 25% of the sum insured.
Second Opinion:
Once per covered condition per policy year.
In-patient Hospitalization and Daycare Expenses:
Both are covered up to the sum insured.
Health Services:
The followings are the salient features.
Quick recovery Counseling – Up to Rs. 1000 per person, maximum 8 sessions post-hospitalization per policy year.
Doctor on call – Available (Telephonic, or online)
Health Portal – Value-added services through the company's website.
Global Coverage – Outside India, 45 continuous days in a single trip. Maximum 90 days on a cumulative basis in a policy year. Up to sum insured only.
OPD Expenses – Up to 1% of the sum insured. Maximum up to Rs. 25,000.
Exclusions Under the Care Health Mediclaim Policy
When choosing to purchase Care Heart Mediclaim Insurance, the insured should be aware of the relevant exclusion:
Any illness or injury resulting from dangers such as nuclear contamination, terrorism, or war-related perils is also not covered.
All cosmetic procedures and surgeries are also not included.
Diseases caused by drug abuse or intoxicants are not covered.
The policy shall not apply to self-harm, suicide attempts, or actual suicide.
Any illness directly linked to using tobacco, drinking alcohol, smoking cigarettes, having HIV or AIDS, or having other sexually transmitted diseases.
Complications of pregnancy, miscarriage, childbirth, and maternity care, including C-section, or abortion.
Participation in hazardous activities necessitates all treatments.
Illness or injuries brought on by the insured's violation of the law
Premium Illustration Of Care Heart Mediclaim Insurance
Let's take an example to understand!
Mr. Dilip Ahuja looking to buy a plan that can protect him from heart-related surgeries. Since his father expired from cardiac arrest, he now become cautious and want a plan that can protect him and save money in case of such a mishap. After getting abundant suggestions and conducting thorough research, he stumbled upon Care Heart Mediclaim Insurance. Currently, he lives in the New Delhi area with his family. Here is the premium illustration according to his age and policy coverage.
| | | | | | |
| --- | --- | --- | --- | --- | --- |
| No. of Adults | Age | Total Coverage (in Rs) | Policy Tenure | Pre-Existing Conditions | Premium Amount |
| 1 | 30 Years | 25 Lakhs | 1 Year | No | Rs. 2125 (Including 18% GST) |
| 1 | 30 Years | 1 Crore | 3 Years | No | Rs. 16807 (Including 18% GST) |
| 1 | 30 Years | 2 Crore | 2 Years | No | Rs. 13018 (Including 18% GST) |
How To Buy the Care Heart Mediclaim Plan?
Like every other basic necessity, health expenses have also become exceptionally high in India in recent times. And to protect your savings and financial health from an unexpected medical emergency, proper medical insurance for you and your family has become one of the fundamental requirements of life today. If you are looking to buy Care Heart Mediclaim insurance, you will need to follow the steps mentioned below:
Step 1: To start, use your laptop or smartphone to access the official Care Health Insurance website.
Step 2: Then, you will need to "View All Products" in the middle. You can easily see it the moment you open the page. Then, click on it.
Step 3: Next, search for "Heart Mediclaim" under the Mediclaim tab. Simply click it when you find it.
Step 4: You can calculate the premium by entering your mobile number in the "Get a Free Quote" box on the plan page. Enter your mobile number after that, and then click "Calculate Premium" to proceed.
Step 5: Next, decide which members you want to include in the plan. Select the members, then click "Continue" to purchase the plan for yourself, your spouse, your son, your daughter, your father, or your mother.
Step 6: It will then prompt you to choose your age from a list of available ages. Make sure you choose the appropriate age to prevent future misunderstandings. You will then need to select your citizenship and enter the name of your city. Press the "Get a Quote" button.
Step 7: A new page will open with the required premium amount (including GST) and other policy information on the right side, including the scope of coverage and the length of the policy.
Step 8: Click the "Buy Now" button, which appears clearly at the top and is yellow in colour, if the information is satisfactory to you and you are ready to purchase the policy.
Step 9: A page will then show up asking you to select one of the IDs to verify your identity. If you choose "PAN Card," for instance, you will be asked to enter your PAN number and birthdate before clicking "Verify."
Step 10: On the same page, complete the form by providing your personal information (first and last names, phone number, pin code, eldest member's birthday, and PAN number), then click "Next". Verify the details you entered are accurate to avoid any misunderstandings in the future.
Step 11: After verifying all the information, you must purchase the policy online using Net Banking, a credit card, or a debit card.
How To File a Claim for Your Care Heart Mediclaim Insurance Plan?
The Care Mediclaim insurance policy allows for two different kinds of claims. These are listed below:
Let's understand the meaning and the processes involved in both these types of claims.
Cashless Claims
When receiving medical care, you have the option of a cashless hospital stay. This indicates that the hospitalization expenses will be covered by the health insurance provider. Only the portions that the health insurance provider does not cover by insurance regulations will be the responsibility of the policyholder. According to the terms and conditions of the health insurance plan, the claim is approved. The hospital in question should also be a part of the insurer's network of medical facilities.
Check the list of network hospitals in your area and choose one if you have a medical problem and need to be admitted.
When you are admitted, you must fill out and turn in a pre-authorization form to the third-party administration (TPA) counter. Informing your insurance provider in advance is a good idea since the TPA sends the form to them for final approval.
Any relevant documents will be accepted for submission at the Third-Party Administration counter. This might include the cashless medical care your insurer offers. Additionally, copies of some KYC documents will be kept for verification purposes.
By this point, your hospitalization has received the insurance company's cashless approval. They keep track of all the paperwork related to your care and during your stay. People should get a copy of the same document as well for record-keeping purposes.
If you adhere to the above recommendations, the claims will be resolved without incident. Make sure you have all of your discharge paperwork, physiological test results, and medical reports with you. All of this paperwork must be preserved for upcoming needs or references.
Reimbursement Process
Here are the steps involved in availing reimbursement of your Care Heart Mediclaim insurance plan.
To receive treatment, the insured would need to be admitted to a hospital that is not affiliated with the insurance provider.
The insured should keep all original medical records and invoices. The insured should also foot the bill for any medical expenses.
The insured should request a discharge certificate or discharge summary from the hospital where treatment was received after being released from the hospital.
Following that, the insurance company should receive this discharge certificate or summary along with a properly completed claim form, original copies of all medical records and bills, and any other pertinent paperwork that they may request.
The insurance provider would then review the claim, associated paperwork, and outlay of funds. After that, the costs would be reimbursed.
Documents Required for Filing Reimbursement Claim
Listed below are the documents needed for filing a reimbursement claim for your Care Heart Mediclaim Plan.
Original Hospital Discharge Summary
Investigation Reports like scans, X-rays, blood reports, etc
Cash Receipts from Hospitals
If an accident happens, then FIR or medico-legal certificate (MLC)
Doctor's Consultation Papers and Pre-Admission Investigations
Contact Info, NEFT details
Invoices of pharmacy supported by respective prescriptions.
How To Renew Your Care Heart Mediclaim Policy?
The insured person will forfeit all accrued benefits, including waiting period benefits, if the policy is not renewed on time and it lapses. You shouldn't take the chance of going uninsured, given the increasing risk of serious illnesses and skyrocketing medical costs, because you never know when you'll need a health plan.
If you don't know how to renew it, here are the steps to renew your Care Heart Mediclaim Policy.
The first thing you should do is visit Care Health Insurance's official website.
Next, you must find the "Renew" button at the top of the home page.
Before entering the captcha code in the third step of the renewal process, you must enter your Policy Number, Date of Birth, and Contact Number. Select "Let's Renew" from the menu.
Following that, your policy's specifics will show up. Before using a credit card, debit card, or net banking to make the payment, double-check that the information is correct.
Your Care Heart Mediclaim policy will be renewed after you complete these steps.
Frequently Asked Questions