Cover Your Health in 5 mins
Compare Premium.
Buy Now.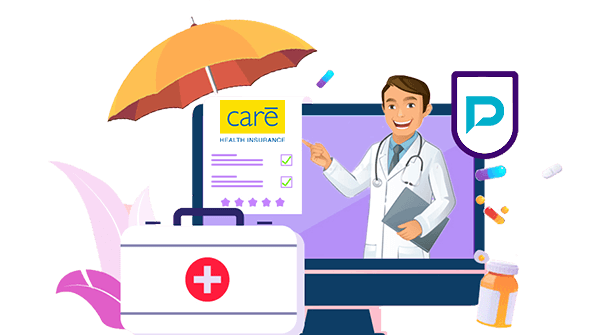 Compare

Individual Health Insurance Plans
Download Care Health Insurance Policy
Care Health Insurance offers a multitude of health insurance plans that seamlessly cater to the needs of the customers. Earlier known as Religare health insurance, Care Health Insurance Company Limited is one of India's major health insurance companies, offering a comprehensive range of health insurance products. Due to its robust distribution channels, the company has a distinct business position in the health insurance sector, ranging from healthcare delivery to preventative health solutions.
Customers who are interested can easily buy the policy and get a copy of their health insurance policy easily. However, to avoid unnecessary hassles and convenience, you must know the right steps to download the care health insurance policy.
Why Should Have Your Care Health Insurance Policy Document With You at All Times?
Here's the list of the reasons that ensure you must have care health policy documents at all times.
Ensures Appropriate Reimbursement: In the event of a technical failure, having a duplicate of the policy document speeds up the claim's procedure. A well-documented medical record can help with successful revenue cycle operations, accelerate payment, decrease claim processing "hassles," and ensure proper compensation.
Long-Term Effectiveness: If your records must be kept for more than a few decades, policy copy preservation may be preferable to digital information. While data can be transferred from one type of electronic storage to another, there is a danger of losing quality throughout the process.
Track Record: Policy copies also serve as future evidence for parents or children in the event of the policyholder's death. It becomes extremely impossible to access the insurance buyer's inbox and locate the policy if there is no physical/soft copy. Physical/soft copies also protect the insured from cyber frauds and crimes.
Policy copies are easy to reproduce and distribute: For reprints, policy copies are ideal. They're also simple to share, and because they don't require external drives, they may be viewed by anyone at any time (assuming they understand the topic). Important business documents are typically archived in this manner to create a record of the information. Physical/Soft copies make it easier to pass on to other organizations, generations, or those in positions of authority.
Steps To Download Care Health Insurance Policy Documents
To download your Care Insurance policy documents, make sure you follow these steps:
First, go to the Care Health Insurance Company's official website or you can also download their mobile application on your smartphone.
From the home page, go to the "Already a Customer" section tab at the top of the page.
After that, you need to click on "Self Help".
You will then be directed to the page wherein you will see different headings like Know Your Policy, File Claim "Claim Genie", Change Request in Policy, Book Health Checkup, Renew Your Policy, Customer Service, and Others.
Followingly, simply click on the "Policy Certificate- Hard Copy" Under "Know Your Policy Section".
Then, you need to correctly enter your Policy Number and Captcha Code.
Now check your Care health insurance policy status from the page that opens next
Tip: You can even opt for a softcopy of the policy document. All you need to do is simply click on "Policy/80D Certificate- Soft Copy" under the Know Your Policy section.
Offline Method
To get the Care Health Insurance policy offline, you can call on the toll-free number of Care Health Insurance i.e., 1800-102-6655, and share your requirements. You can also visit the nearest Care Health Insurance branch and get your policy documents in person.
The branch address is Unit no 604-607, 6th Floor, Tower C, Unitech Cyber Park, Sector 39, Gurgaon – 122001.
What Does Care Health Insurance Policy Document Contain?
Once you have understood the steps to download the care health insurance policy, customers need to know the details of their policy details. Let's take a look at what all information does your Care Health Insurance Policy document contains:
Policy number
Policy type
Name of the Policyholder
His/her age
Contact details of the policyholder
Health Plan details
Inclusions and Exclusions under the plan
Sum Insured
Cumulative Bonus details
Cancellation policy terms and conditions
Information on the free-look period
Process for resolving grievances