Cover Your Health in 5 mins
Compare Premium.
Buy Now.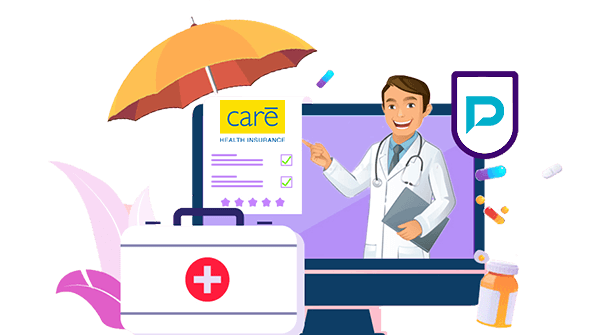 Compare

Individual Health Insurance Plans
Joy Maternity plan is a type of health insurance plan offered by Care Health Insurance, which is specially designed for the expecting mothers and their newborns, keeping in mind their needs of them to provide them with a healthy life without any anxiety and financial burden. This plan offers benefits and facilities that cover delivery-related expenses during the most beautiful time in a woman's life and comes with the promise to offer you joyous parenthood. It is a new-age insurance product that comprehensively addresses your maternity and health needs, today and tomorrow by offering you access to quality healthcare facilities.
Parameters
Key Highlights
Minimum Entry Age

Adult 18 years

Child 1 day

Newborn 1 day

Maximum Entry Age

Adult 65 years

Child 24 years

New-born 90 days

Exist Age
Lifelong
Cover Type
Individual and family floater type
Renewal
Lifelong renewal. The policy can be renewed under the then prevailing health insurance with maternity benefit product or its nearest substitute approved by IRDA
Co-payment
If you enroll at the age of 61 years o more, you will have to pay 20% of the claim amount under the policy.
Waiting Period

30 days for any illness except accident
9 months for maternity
2 years for specific treatment or ailments
4 years for pre-existing diseases

Grace Period
30 days from the date of expiry to renew the policy
Policy Tenure
3 years
Maternity Cover
Available only up to the age of 45 years
Free look Period
15 days
Care Joy Maternity Policy Details
As Care Joy Maternity policy has come up with a sack full of benefits and facilities, you need to keep a good knowledge of the details of the policy. For your better understanding, the details are mentioned in the below table.
Parameters
Related details
Sum insured options on an annual basis
Rs. 3 lakhs
Rs. 5 lakhs
Hospitalization expenses (room charges, nursing expenses, and intensive care unit's charges to surgeon's fees, doctor's fees, anesthesia, blood, oxygen, operation theatre charges, etc.)
Yes, available. Up to the sum insured
Variants of the plan
Joy Tomorrow and Joy Today
Room category
Single private room with AC.
Pre-hospitalization medical expenses
Up to 30days
Post0hospitalization medical expenses
Up to 60 days
Emergency ambulance cover for transportation of the patient from the hospital to another
Up to Rs. 1000 per claim
Maternity cover (including pre-natal and post-natal expenses)
Up Rs. 35,000
Up to Rs. 50,000
New-born baby cover (up to the first 90 days under health insurance with maternity cover)
Up to Rs. 30,000
Up to Rs. 50,000
No Claim Bonanza (Optional Cover)
Yes, available
Cashless hospitalization and hassle-free claim procedure
Yes, available
Day care treatment
A wide range of day care treatments is covered, which do not require hospitalization for 24 hours.
Advance technology method
Yes, available
Discounts
You can get a discount on the premium amount of up to 10% while opting for a multi-year policy.
New-born birth defects
Only available with the Joy Tomorrow plan up to Rs. 50,000
General Exclusions Of Care Joy Maternity Policy
Though the Care Joy Maternity plan has come up with a wide range of benefits and facilities for its customers, it still has some exclusions too for which the plan does provide any cover. To understand a plan, it is very important to know about its exclusions too to avoid future complexities. Here are the mentions of the exclusions of this plan, below.
Any diseases contracted during the first 30 days from the inception of the policy, except if it is arising out of an accident, are not covered under the plan.
If you receive any non-allopathic treatments, the company will not take responsibility for that expenses.
Any self-inflicted injury, suicide, or suicide attempts and the expenses arising out of that will not be covered.
The cost of contact lenses, spectacles, artificial eyes, and dental treatment will fall into the category of exclusions.
Congenital diseases and the treatments for AIDS will not be covered by the plan.
If you receive any treatment related to infertility or in-vitro fertilization, the company will not compensate for the expenses.
Any health conditions arising from the consumption of drugs, tobacco, alcohol, or any intoxicating substances, will not be covered by the policy.
War, war-like situations, riots, human unrest, or any kind of participation in hazardous activities, or adventurous sports such as scuba diving, para-gliding, rock climbing, etc. will not be covered.
Things To Consider Before Buying a Maternity Health Insurance
While an expecting mother deserves to receive the best care and health facilities during the most joyous phase of life, the skyrocketing expenses of maternity care can put her and her family in financial crisis, without any maternity health insurance. But, while choosing the most suitable maternity health insurance, you need to keep in mind a few parameters, and here are the mentions.
First, look for the benefits and facilities that are offered by the particular maternity health insurance. You can compare the plans online easily. Evaluate those and only go for that plan, which offers you the maximum coverage.
An insurance plan is meant to offer you financial relief. It should not be a burden on you. So, choose that one, which you can avail of without any economic constraint.
To make the plan more pocket-friendly, look for the discounts that the plan may offer such as a multi-year policy that can offer you a discount on the premium amount.
Always check whether the insurer has a cashless claim facility. If it has, then, look for the list of the network hospitals within your vicinity so that at the time of emergency, you do not have to travel a long distance.
It is very crucial that you read the policy document, and policy wordings very carefully and understand the inclusions, exclusions, waiting period, sub-limits, etc. to avoid future complexities.
Understand your needs and convenience, and only then go for any insurance with a maternity health insurance plan.
Get a clear idea about the claim procedure of the insurer, so that, you do not face any problems at the time of filing a claim.
Do check the background, history, and the claim settlement ratio of the particular company to assess and evaluate the strength of the insurer.
Premium Calculation of Care Joy Maternity Policy
By visiting the official website of Care Health Insurance, you can easily calculate the premium amount that you need to pay for your given data for Care Joy Maternity Insurance Policy as it is important to find out the premium value for your convenience. For your better understanding of the plan, here is an example to let you know about the premium value for the same.
Mrs. Bose a 32-years-old businesswoman has bought Care Joy Maternity Insurance Plan for herself. Let us find out how much premium amount she has to pay for given data and for different sum insured options.
Age of the insured person
Age of the spouse
Age of the daughter
Waiting period
Total coverage
Policy term
Premium amount including 18% GST
EMI starting from
32 years
35 years
4 years
9 months
Rs. 5 lakhs
3 years
Rs. 86159
Rs. 2859 per month
Rs. 3 lakhs
Rs. 64057
Rs. 2125 per month
Frequently Asked Questions