Cover Your Health in 5 mins
Compare Premium.
Buy Now.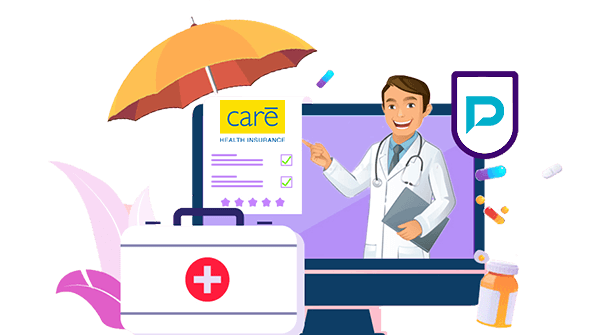 Compare

Individual Health Insurance Plans
Care Supreme Plan from Care Health Insurance is a comprehensive health insurance policy with unique and extensive benefits, that too, at a budget-friendly value. One of the primary aims of the Care Supreme Plan is to assist families in creating robust safety nets without breaking their banks.
Since the plan offers extensive coverage, it takes care of major healthcare expenses, such as daycare procedures, organ donor expenses, domiciliary care, and so on. Due to this, the plan is a well-liked option in the market. Read on to know more about the eligibility, features, benefits, coverages, and other details about the plan.
Parameters
Details
Minimum Entry Age

Adult: 18 Years

Child: 90 Days

Maximum Entry Age

Adult: Lifelong

Child: 24 Years

Exit Age

Adult: Lifelong

Child: 25 Years

Tenure Options
1/2/3 Years
Premium Payment Term
Single
Sum Insured
Rs. 5 Lakhs/Rs. 7 Lakhs/Rs. 10 Lakhs/Rs. 15 Lakhs
Age Of Proposer
18 Years OR Above
Cover Type
Individual: Max Up To 6 Persons; Floater: Up To 2 Adults & 2 Child
Features & Benefits Of Care Supreme Plan
Here are some of the key features and benefits of the plan:
Annual Health Check-Up: The policy offers free annual health check-ups once for all insured members every policy year.
Cumulative Bonus: The policy offers a cumulative bonus of 50% of the Sum Insured per year, for a maximum of up to 100% of the Sum Insured.
No Reduction In Cumulative Bonus: There is no reduction in cumulative bonus even if the policyholder makes a claim.
Optional Benefit Of Cumulative Bonus Super: This optional benefit offers 100% of the Sum Insured, for a maximum of up to 500% of the Sum Insured.
Unlimited Automatic Recharge: The plan also offers unlimited automatic recharge of the sum insured for unrelated or the same illness. This feature is to help families to get continued coverage.
Unlimited E-Consultations: For diagnostics and consultations, the plan provides unlimited e-consultations, which are only available for consultations with general physicians.
Wellness Benefits: For encouraging the fitness levels of its insured members, the plan offers a 30% discount on the premiums paid.
Coverage Details Of Care Supreme Plan
The plan offers coverage for the following:
In-Patient Care
Up To Sum Insured (SI)
Day Care Treatment
Covered
Room Rent
Up To SI
ICU Cover
Up To SI
Pre-Hospitalization Expenses
Up To SI; For 60 Days Before Hospitalization
Post-Hospitalization Expenses
Up To SI; For 180 Days After Discharge
AYUSH Treatment
Up To SI
Domiciliary Hospitalization
Up To SI
Organ Donor Cover
Up To SI
Ambulance Cover

For SI Below Rs. 15 Lakhs: Up To Rs. 10,000

For SI Of Rs. 15 Lakhs & Above: Up To SI

Air Ambulance
Up To Rs. 5 Lakhs Per Year
Advance Technology Methods
Up To SI
Add-On Covers With Care Supreme
To enhance the coverage of the Care Supreme Plan, the policyholder can select any of the following add-on covers. Some of these add-on covers are already mentioned above in the post.
Cumulative Bonus Super Cover: With this add-on cover, the policyholder can boost his/her insured amount for up to a maximum of 500% of SI in 5 consecutive years. On the base sum insured amount of the plan, a basic increase of 100% of SI is applicable.
Air Ambulance Cover: This add-on benefit covers the expenses of shifting patients through an air ambulance. Therefore, the patient need not worry about availing the right treatment, as this cover enables him/her to reach a suitable treatment place if the treatment is not available in the patient's region.
Claim Shield Cover: This add-on covers the expenses for non-payable items, such as masks, gloves, and so on.
Instant Cover: After selecting this add-on cover, the insured can claim hospitalization expenses related to asthma, diabetes, hypertension, and hyperlipidemia, after the initial waiting period of 30 days has passed.
Exclusions Under Care Supreme Policy
The following expenses are not covered under the plan:
Any self-inflicted injury
Artificial life maintenance
Sterility and infertility
External congenital anomaly
Cosmetic or plastic surgery
Obesity or weight-control treatments
Any treatment related to alcoholism, drug abuse, or any other intoxicating substances
Injuries occurred due to hazardous or adventurous sports
Hormone replacement therapy
Sample Premium Illustration Of Care Supreme Plan
Before purchasing the Care Supreme Plan, it is very important to have an idea of how much the plan will cost. Therefore, the table below will give an estimate of the premium amounts to the prospective customers so that they can make a wise decision.
Let's suppose an individual wants to purchase the plan for himself/herself. Here are the premium details for different conditions:
| | | | |
| --- | --- | --- | --- |
| Age Of The Insured | Total Coverage | Policy Tenure | Premium Amount |
| 30 Years | Rs. 10 Lakhs | 1 Year | Rs. 10,592 |
| 18 Years | Rs. 7 Lakhs | 2 Years | Rs. 18,430 |
| 40 Years | Rs. 5 Lakhs | 3 Years | Rs. 34,494 |
| 50 Years | Rs. 15 Lakhs | 2 Years | Rs. 48,149 |
| 86 Years | Rs. 10 Lakhs | 1 Year | Rs. 1,20,198 |
How To Buy Care Health Insurance Supreme Policy?
In order to purchase the plan, adhere to the below-mentioned steps:
Go to the home page of the company's official website.
Scroll down and click on "Care Supreme" under the "Our Products" section.
Now a page will be displayed with all the basic information. Enter your mobile number and press "Calculate Premium".
Select the family members you wish to cover.
Select the age of each family member.
Enter your pin code and press "View Quote".
The premium details will be showcased on the screen. Now press "Buy Now".
Now the next page will ask you to confirm the proposer details. Fill in all the details and then press "Next".
Complete the payment and the purchase will be successful.
Claim Process Of Care Supreme Plan
In case the insured needs to raise a claim against the policy, he/she can do so by following the below-mentioned steps:
Imitate the insurance company within 24 hours if it's emergency hospitalization and 48 hours if it's planned hospitalization.
For a cashless claim, the insured is required to complete the pre-authorization form, which is available at the hospital's TPA desk, and then send it to Care Health Insurance. For reimbursement claims, the insured is required to submit the claim form along with some necessary documents.
Now the insurance company will verify all the details and documents and then send an approval letter to the insured.
The team members of the insurance company will now raise some queries raised by the claim management team of the company.
Once approved, the claim amount will reflect in the insured's bank account. And in case of rejection of the claim, the company will inform the insured accordingly.
Frequently Asked Questions