Cover Your Health in 5 mins
Compare Premium.
Buy Now.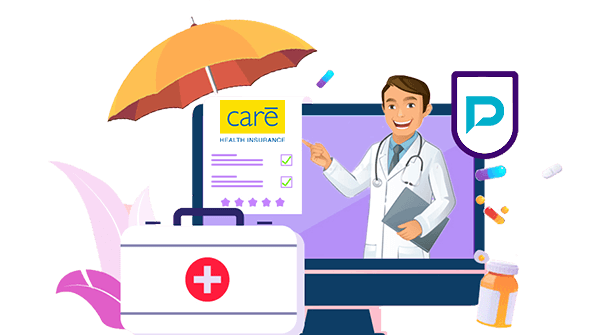 Compare

Individual Health Insurance Plans
Care Critical Mediclaim Plan
Care Critical Mediclaim policy is comprehensive coverage for 32 critical illnesses, including heart ailments, cancer, etc. The plan offers coverage on an indemnity basis and is specifically designed to mitigate the financial liability of the insured members in case they contract such illnesses. 
The plan cannot only help its insured members in treating the disease through financial security but also help in keeping their savings intact. It is also important to note that the plan is one of the four subsets of the Care Super Mediclaim policy: Critical Mediclaim, Cancer Mediclaim, Heart Mediclaim, and Operation Mediclaim. To know more about the plan, continue reading the post!
| | |
| --- | --- |
| Parameters | Details |
| Entry Age | 5 To 50 Years |
| Age Of Proposer | 18 Years Or Above |
| Policy Tenure | 1/2/3 Years |
| Sum Insured Options | Rs. 10 Lakhs / Rs. 25 Lakhs / Rs. 50 Lakhs / Rs. 1 Crore / Rs. 2 Crores |
| Premium Payment Mode | Single/Monthly/Quarterly |
| Exit Age | No Exit Age |
| Cover Type | Individual: Maximum Up To 6 Persons |
Key Features & Benefits Of Care Critical Mediclaim Policy
The policy comes with a host of features and benefits. Some of them are discussed below:
Lifelong Renewability: The plan can be renewed by the policyholder for a lifetime.
Second Opinion: The company will arrange a second opinion from a doctor in India if the policyholder has been diagnosed with, has undergone, or is currently undergoing any of the covered conditions and is unsure about his/her diagnosis or treatment without it having any impact on the sum insured amount. Every insured person is entitled to a second opinion once for each illness or surgery throughout a policy year.
Annual Health Check-Up: The company offers a yearly health check-up for all insured persons covered by the policy starting with the second policy year on continuous coverage at the company's network provider/empanelled provider in India on a cashless basis in an effort to prevent the insured from ever needing to visit a hospital. Only one insured person may get this benefit during a policy year.
No Claim Bonus: When a policy year ends without a claim being paid by the plan, the company gives the insured a bonus in appreciation for his/her good health. As a No Claims Bonus for each finished and continuous policy year/s, the plan will increase the sum insured by 50% at the end of the first claim-free policy year, 25% at the end of the second claim-free policy year, and 25% at the end of the third claim-free policy year.
Global Coverage Benefit: Through this benefit, the insured members can get hospitalization expenses for the covered conditions incurred outside of India, up to the sum insured, after selecting a specified amount of insurance under the policy. In a policy year, this benefit is accessible for 90 days cumulatively and for 45 consecutive days starting from the date of travel for a single trip.
International Second Opinion: The plan also has the advantage of offering an international second opinion on the listed conditions (apart from India). Every insured person has access to one international second opinion per illness or surgery during a given policy year. This add-on benefit can be availed after paying an extra premium.
Premium Illustration Of Care Critical Mediclaim Policy
In case one wishes to buy the plan, he/she must be aware of how much it will cost approximately. Therefore, here is a sample premium illustration for the plan:
Name
Age
Policy Tenure
Sum Assured
Premium Amount
Mr. Madan Kumar
30 Years
1 Year
Rs. 25 Lakhs
Rs. 2471
Mrs. Dimple Singh
18 Years
2 Years
Rs. 10 Lakhs
Rs. 1883
Mr. Abhishek Singh
44 Years
3 Years
Rs. 50 Lakhs
Rs. 29,302
Ms. Kavita Verma
50 Years
2 Years
Rs. 100 Lakhs
Rs. 76,409
Mr. Sushil Kumar (Father)
34 Years
2 Years
Rs. 50 Lakhs
Rs. 14,436
Mr. Shubham Kumar (Son)
Up To 5 Years
Mr. Ankit Sharma (Father)
39 Years
3 Years
Rs. 10 Lakhs
Rs. 8641
Ms. Sushma Sharma (Daughter)
12 Years
Coverage Details Of Care Critical Mediclaim Policy
Here are the expenses that are covered under the policy:
| | |
| --- | --- |
| Category | Status |
| In-Patient Hospitalization | Covered |
| Day Care Treatment | Up To SI (Sum Insured) |
| Pre-Hospitalization Expenses | 30 Days |
| Post-Hospitalization Expenses | 60 Days |
| Dialysis Cover | Up To SI |
| Ambulance Cover | Up To Rs. 3000 Per Hospitalization |
| Chemotherapy & Radiotherapy Cover | Up To SI |
| Organ Donor Cover | Up To SI Or Rs. 15 Lakhs (Whichever Is Lower) |
| Alternative Treatment | Up To 25% Of SI |
| Quick Recovery Counselling | Up To Rs. 1000 Per Session (Maximum 8 Policy Per Year) |
| Air Ambulance Cover | Up To Rs. 5 Lakhs |
| ICU Charges | No Limit |
Exclusions Under Care Critical Mediclaim Policy
The following expenses are excluded under the policy:
Self-inflicted injury or suicide
Illness related to consumption of alcohol, drugs, etc.
HIV or any other STDs (Sexually Transmitted Diseases)
Plastic or cosmetic surgeries
Nuclear, biological, or chemical attacks
Pregnancy or other related treatments
Breach of law or criminal intent
How To Buy Care Critical Mediclaim Policy?
To buy the plan, one can adhere to the following steps:
Visit the home page of Care Health Insurance.
Click on the "View All Product" banner.
Select the "MEDICLAIM" section and then press "Critical Mediclaim".
Now a page will be displayed on the screen with some information on the plan. Read it carefully, enter your mobile number in the given space, and then press "Calculate Premium".
Now select the family members you wish to cover and click "Continue".
Select the age of each family member and press "Continue".
Now enter your city or pin code, select your citizenship, and then click on "View Quote".
The next page will display all the premium details according to the policy tenure and sum insured options chosen at the right of the page. Read it thoroughly and then click on "Buy Now".
The next page will ask to confirm KYC and some proposer details. Fill them all and then press "Next".
Complete the payment method and the policy details will be sent to the policyholder to his/her registered mail address or contact number.
Claim Process Of Care Critical Mediclaim Policy
If the insured needs to make a claim under the policy, they can do so by the following steps:
Intimate the insurance provider within 48 hours for planned hospitalization and 24 hours for emergency hospitalization.
The insured must complete the pre-authorization form, which is accessible at the hospital's TPA desk, and mail it to Care Health Insurance in order to submit a cashless claim. However, for a reimbursement claim, the insured must submit the claim form and a few relevant documents in order to make a reimbursement claim.
The insurance provider will now confirm all the information and supporting documentation before sending the insured a letter of approval.
The insurance team members will now address some concerns brought up by the company's claim management team.
The claim payment will appear in the insured's bank account once it has been approved. Additionally, the company will notify the insured accordingly if the claim is rejected.
How To Renew Care Critical Mediclaim Policy?
Follow the below-mentioned steps for renewing the policy:
Go to the home page of Care Health Insurance.
Press "Renew" at the top banner of the page.
Now enter your policy number, date of birth, contact number, and captcha code, and then click "Let's Renew".
Complete the payment by any of the listed payment methods, and then the policy's renewal details will be sent to the registered contact number.
Frequently Asked Questions