Cover Your Health in 5 mins
Compare Premium.
Buy Now.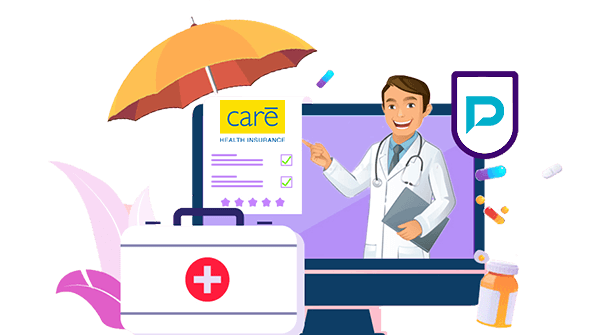 Compare

Individual Health Insurance Plans
Care Health Insurance Customer Care
Care Health Insurance is a specialized health insurer offering a range of health insurance solutions to its policyholders. With its operating philosophy being based on the principal tenet of 'consumer-centricity', the company has consistently invested in the effective application of technology to deliver excellence in customer servicing, product innovation and value-for-money services.
If you have already purchased a health insurance policy or you are about to purchase one, you must know the ways you can connect with Care. Let's understand- What would you do in case of making a claim? What if you find any error in your policy? What if you want to change your address in your policy later?
Yes, you thought it correctly! And once you understand the importance of Care health insurance customer care, you must know how to contact them.
Care Health Customer Care Details
You can contact Care health insurance customer care via different methods. Let's discuss each of them one by one.
If you want to connect with the customer care team of Care Insurance, then all you need to do is simply download their mobile app available on Google Play Store (for Android) and Apple App Store (For Apple devices).
With a dedicated mobile app, you can simply contact their team, raise your query, and get solutions right from the comfort of your home.
In addition to the mobile app, there's an additional method that you can use to contact Care customer care via WhatsApp. Simply text "Hi" to 8860402452.
There's another method that you can use to contact the customer care of Care Insurance is via email. Simply drop your query at customerfirst@careinsurance.com and you are likely to get an instant response on the same working day.
Alternatively, you can use the chatbot to contact the customer care team of Care. When you visit the website, you will see the option in the bottom left corner. When you click on it, you will see a little chat box opened on the left, wherein you will need to click either on "Purchase a New Policy" or "Existing Customers" according to your need.
As the name suggests, this self-help portal allows you to help yourself and manage your insurance policy or contact the team, whatever you want.
Simply visit the official website of Care Insurance.
After that, hover over "Already a Customer", then click on "Customer Service".
Then, scroll down and you will see a "Self Help Portal" (a portal for managing your policy online). You will need to click on "Click Here".
You will then be directed to the window, being a multitude of options displayed on the screen like Know Your Policy, File Claim, Change Request in Policy, Renew Your Policy, and more.
What if Care Insurance Fail to Solve My Query Through Online Method?
Even if you fail to contact customer care, you have another option, i.e., via the offline method.
Under this method, you can either visit the branch at their registered office address, i.e., Unit no 604-607, 6th Floor, Tower C, Unitech Cyber Park, Sector 39, Gurgaon – 122001.
Alternatively, you can call them on Care Health Insurance toll-free number at 1800-102-6655 or 1800-102-4488.