Cover Your Health in 5 mins
Compare Premium.
Buy Now.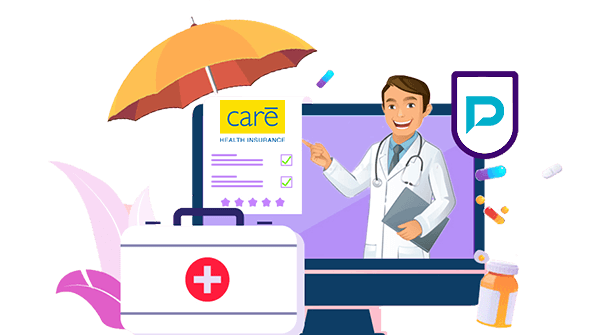 Compare

Individual Health Insurance Plans
Care Operation Mediclaim Insurance Plan
Care Operation Mediclaim Insurance is a health insurance plan that covers medical expenses incurred during surgery. It also goes by the name "operation insurance" and pays for any surgical procedures needed to treat a disease or other health issue. Both daycare surgeries and surgeries requiring in-patient hospitalization are covered by health insurance plans for surgery.
The major selling point of Care operation insurance is that it will always easily cover the cost of surgery. Taking the plan into consideration will serve as a much-needed financial cushion to safeguard your hard-earned money.
Read on to know more about the Care Operation Mediclaim Insurance policy in detail!
Here are the eligibility criteria for Care Operation Mediclaim Insurance.
Parameters
Details
Age

Entry Age

5 years to 50 Years on an Individual Basis

Age of the Proposer

18 Years or Above

Exit Age

No

Cover Type
Individual" Maximum up to 6 persons
Policy Tenure
1/2/3 Years
Pre-Policy Insurance Medical Check-Up
No Medicals
Premium Payment Mode
Single/Monthly/Quarterly
Who are covered
Individual: Self, legally married Spouse, Son, Daughter, Father, Mother, Brother, Sister, Mother-in-Law, Father-in-Law, Grandmother, Grandfather, Grandson, Granddaughter, Uncle, Aunt, Nephew, Niece, Employee or any other relationship having an insurable interest
Key Features and Benefits of the Care Operation Insurance Policy
Here are the key features and benefits of considering the Care operation Insurance Policy.
Tax Benefits – Under Section 80D of the Income Tax Act, the premiums paid for a surgery insurance plan may be written off.
Day Care Treatment: If a hospitalization lasts less than 24 hours, the Mediclaim plan will cover all of the aforementioned day care treatments through a cashless or reimbursement facility, up to the maximum amount insured.
Pre-Hospitalization Medical Expenses: For a period of 30 days before the date of your hospitalization, the company will pay for any examinations, tests, and medications that are medically necessary (to a maximum of the Sum Insured).
Post-Hospitalization Medical Expenses: Care Health Insurance will pay for any medically necessary costs you incur at home or until you are fully recovered for a period of 60 days following your hospital discharge (up to a maximum of the Sum Insured).
Organ Donor Coverage: If the donation complies with the relevant laws and regulations and You have already claimed for the same Covered Condition under Hospitalisation Expenses, the Company will pay You through Cashless or Reimbursement Facility up to a stipulated amount/limit for medical bills that are incurred by You towards Your organ donor, while You are undergoing the organ transplant surgery.
Annual Health Check-up: Many insurance plans like Care Operation provide annual health checkup benefits upon renewal so that the insured can regularly monitor his or her health.
No-Claim Bonus: The company will reward you with a bonus if you haven't filed a claim during the preceding policy year. This is done to celebrate your good health. As a No Claims Bonus for each finished and continuous Policy Year/s, they will increase the Sum Insured by 50% after the First Claim-Free Policy Year, 25% after the Second Claim-Free Policy Year, and 25% after the Third Claim-Free Policy Year.
Life-Long Renewability: You can renew your health insurance coverage thanks to a clause without having to reapply for coverage. The option to renew the policy for all of one's life provides the required lifetime health insurance coverage.
Coverage for a Wide Range of Surgeries: Whether they are minor procedures or life-saving surgeries, it protects the insured against medical costs incurred during a range of surgeries.
Dialysis Cover: Some serious illnesses just show up without warning! But don't worry; the company will take care of your health by paying for any necessary medical expenses, including those related to dialysis, up to the insured amount, even after you leave the hospital.
Global Coverage: By selecting a specific amount of insurance under the policy, this benefit entitles you to reimbursement for hospitalization costs for covered conditions incurred outside of India, up to the selected amount of insurance. This benefit is available for 45 nonstop days starting on the date of travel for a single trip and for a total of 90 days cumulatively during a policy year.
Key Exclusions Under the Care Operation Mediclaim Insurance
Listed below are the things that are not covered under the Care Operation Mediclaim Insurance.
Any medical intervention resulting from or linked to pregnancy, such as abortion, childbirth, maternity (including Caesarian section), miscarriage, or complications of any of these.
Treatment is obtained from anyone who is not a licenced medical professional, from a licenced medical professional who is practising in a field other than that for which he is certified, or through any form of self-medication.
Self-inflicted or self-destructive act Injury caused by attempted suicide, suicide while sane or insane, illness caused by using intoxicating drugs, alcohol, or hallucinogens, or consumption, use, misuse, or abuse of any of these substances.
Any product or procedure mentioned in the non-medical products list.
A nuclear, chemical, or biological attack or use of weapons that was a result of, contributed to or resulted from another cause or event that occurred concurrently with or after the loss, claim, or expense.
Any adjustments made as a result of routine ear, eye, and denture exams, as well as any other similar external devices or appliances used for diagnosis or treatment.
Experimental, investigational, or unproven therapies that are not necessary for or incidental to the identification and management of any illness for which hospitalisation is necessary. Any illness or treatment that develops as a result of receiving such an unproven or experimental treatment.
Any illness or injury that occurs as a direct or indirect result of, arises from or takes place during the commission of any criminally motivated law violation by the insured person.
Investigation and Evaluation
Any admission-related costs that are primarily for diagnostic and evaluative purposes are not included.
Any diagnostic costs that are not incidental to the current diagnosis and treatment or that are unrelated to it are excluded.
Premium Illustration Of Care Operation Mediclaim Insurance
Let's take an example to understand!
A young entrepreneur, Mr. Satish Kaushik, is looking to protect himself from huge medical expenses later. Since he just has a startup, he doesn't have enough funds. So, he decided to buy Care Operation Mediclaim Insurance to avoid such unfortunate things happening in the future. Currently, he lives in the New Delhi area with his family. Here is the premium illustration according to his age and policy coverage.
| | | | | | |
| --- | --- | --- | --- | --- | --- |
| No. of Adults | Age | Total Coverage (in Rs) | Policy Tenure | Pre-Existing Conditions | Premium Amount |
| 1 | 30 Years | 25 Lakhs | 1 Year | No | Rs. 7899 (Including 18% GST) |
| 1 | 30 Years | 50 Lakhs | 2 Years | Yes (Diabetes) | Rs. 20788 (Including 18% GST) |
How To Buy the Care Operation Mediclaim Plan?
To protect your savings and financial stability from an unforeseen medical emergency, it is now imperative that you and your family have adequate health insurance. If you are looking to buy Care Operation Mediclaim insurance, you will need to follow the steps mentioned below:
Step 1: Firstly, you will need to go to the official website of Care Health Insurance using your smartphone or laptop.
Step 2: Then, you will need to "View All Products" in the middle. You can easily see it the moment you open the page. Then, click on it.
Step 3: Then, you will need to do the Mediclaim tab under find "Operation Mediclaim". Once you find it, simply click on it.
Step 4: On the plan page, you will see a small section, "Get a Free Quote", asking you to enter your mobile number to calculate the premium. After that, fill in your mobile number and then you need to click on "Calculate Premium".
Step 5: Then, you need to select the members that you want to cover under the plan. Whether you want to buy the plan for yourself, your spouse, son, daughter, father, and mother, choose the members and then click on the "Continue" button.
Step 6: Then, it will ask you to select your age from the age list. Ensure you select your correct age to avoid miscommunication in the future. After that, you will need to enter your city name and choose your citizenship. Click on "Get a Quote".
Step 7: A new page will open showcasing the premium amount (including GST) that you need to pay along with other policy details like total coverage, policy tenure, and other information on the right side.
Step 8: If the information has satisfied you and you are ready to purchase the policy, all you need to do is click the "Buy Now" button, which is prominently displayed at the top and is yellow in colour.
Step 9: After that, a page will appear asking you to choose one of the IDs to confirm your identity. For instance, if you select "PAN Card," you will be prompted to type in your PAN number and birthdate before clicking "Verify."
Step 10: On the same page, enter your information (first and last names, phone number, pin code, date of birth of the eldest member, and PAN number), then click "Next". To prevent future misunderstandings, double-check that the information you entered is accurate.
Step 11: After verifying all the information, you must purchase the policy online using Net Banking, a credit card, or a debit card.
How to File a Claim for Your Care Operation Mediclaim Insurance Plan?
You must submit a claim to your chosen health insurance company for the costs associated with your medical treatment, including hospitalisation if you are admitted to the hospital due to a health issue. This claim may take one of the following forms:
Cashless claims submitted for the payment of medical bills at hospitals in your insurer's network.
Reimbursement claims filed for the reimbursement of medical expenses incurred at a non-network hospital.
Let's discuss the Cashless Claim Process of Care Operation Mediclaim Insurance:
Step 1: Inform the insurer: Ensure you intimate within 24 hours of your hospitalization. The insurance company must receive the cashless claim form via email or letter.
Step 2: Wait for the letter: The insurer will notify the hospital and send you a confirmation letter as soon as they have received your cashless claim form. A confirmation letter for a cashless claim is good for seven days after it is issued.
Step 3: Submit the Letter: You must submit your health card and the letter of confirmation on the day of admission. Your task here is complete. Your insurance company will pay the hospital directly for the medical expenses.
Reimbursement:
You will be responsible for paying the hospital bills in full at the time of admission if the insurer does not offer a cashless claim option or if the hospital is not one of its network hospitals. The insurance company will later pay you back for the medical expenses. The following steps must be followed when filing a reimbursement claim for your Claim Operation Mediclaim policy.
Step 1: Intimate the Insurance Company
The first step is to let your insurance provider or TPA know about your hospitalisation, whether it's an emergency or planned. You must notify your insurer or TPA at least 48 hours in advance of admission if you intend to receive medical treatment in a hospital.
Step 2: Obtain Treatment
Once you've let your insurer know, all you need to do is go to the hospital for care and concentrate solely on getting better.
Step 3: Pay the Hospital Bill
Make sure to pay the entire hospital bill in full at the time of your discharge from the hospital.
Step 4: Collect All Your Documents
When you are getting discharged from the hospital, be sure to get all the medical records related to your treatment, including the hospital bills and discharge summary.
Step 5: Fill Up the Claim Form
Fill out the health insurance claim form provided by your insurance provider as soon as you are released from the hospital. The form is readily available on the insurance company's website.
Step 6: Send the Insurance Company All the Documents
You must provide your insurance provider with all necessary documentation within the allotted period (usually 15 to 30 days).
Step 7: Document verification and claim request evaluation
The insurance provider will check all of the submitted documentation and compare it to the benefits covered by your health insurance plan.
Step 8: Payment of Claim Amount
If your claim is approved, the insurance provider will reimburse you for the amount of the claim.
List of Documents to be Submitted for Reimbursement
The following documents were sent to you by your hospital; kindly scan and upload them. Include any other paperwork you may have.
Original discharge summary
Original final hospital bill with the item-wise break-up
Original paid receipt against the final hospital bill
For Accidental cases
MLC/FIR copy (if applicable)
Alcohol history (if applicable)
Investigation reports (like X-Ray/MRI/CT scan etc)
Attested copy of indoor case papers
In case of implant surgery, invoice & sticker
For all claims totalling Rs. 1 lakh or more, a copy of one of these KYC documents (Aadhaar Card, Passport, Driving Licence, Voter ID, etc.) must be submitted. Verify that the address listed on your KYC documents and the address on your policy are the same.
How To Renew Your Care Operation Mediclaim Policy?
Your coverage will expire if you don't renew by the due date for your health insurance. This means that any claim made during that time will be outright rejected by the insurance company, and you will be responsible for paying for your hospital bills. If you don't want to run into problems later, here are the steps to renew your Care Operation Mediclaim Policy.
The first thing you need to do is to go to the official website of Care Health Insurance.
After that, on the top of the home page, you need to locate the "Renew" button.
You must enter your Policy Number, Date of Birth, and Contact Number in the third step of the renewal process before entering the captcha code. Press the "Let's Renew" button.
The details of your policy will then appear. Make sure they are accurate before making the payment with a credit card, debit card, or through net banking.
After following these steps, your Care Operation Mediclaim policy will be renewed.
Frequently Asked Questions